Rockhampton greyhound tips & top odds | Wednesday, March 16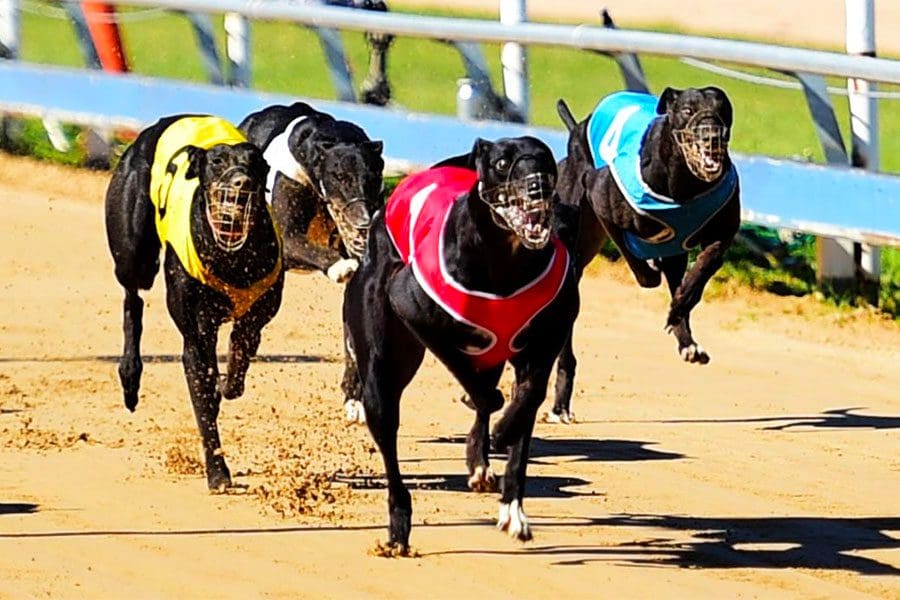 Rockhampton is set to host a dozen greyhound races this Wednesday night, and ARG's Queensland tipster has run his eye over the fields and picked out his top selections and value bets for the evening.
---
Race 1: TAB Maiden (407m)
A standard maiden event to start the night off. Protagonist (box 3) is a newcomer to the Rockhampton circuit tonight. This son of Fernando Bale has been placed six of his seven career starts so is overdue to break through soon. His latest few starts have all been over the longer distances at Ipswich and Albion Park, so he should be running the Rockhampton 407m out strongly. Goody Goody Yum (box 7) has been short in the betting in all of her three starts at Rockhampton but is yet to run a placing from inside draws. Based on her current style of racing, this outside draw should suit her, so expect a better run from her tonight. Most of the other runners have failed to break 25 seconds over this track and distance, so they should only be place chances – Ange's Girl (box 2) and Surprise Pocket (box 8) may be the best of them.
Selections: 3-7-2-8
---
Race 2: Sky Racing Maiden (407m)
Only five starters in this maiden race. Imploding (box 5) is another newcomer to the Rockhampton circuit. He is the litter brother to Protagonist in the first event tonight, both trained by Warren Nicholls. Imploding has been fast to begin in all two starts at Albion Park over the short distance of 331m but then has been luckless by finding trouble soon after. Expect him to ping the lids tonight and be very hard to run down. He looks a good bet, but we may need to take short odds. Shakey Country (box 2) improved sharply last Wednesday night at Rocky, having her third start here from box 8 and clocking 24.97 seconds, so a repeat run should see her finishing second again behind Imploding. Tarawi Opal (box 7) may get a good run across following Imploding early, but all three other greyhounds can lay claims for this third position.
Selections: 5*-2-7
| | | |
| --- | --- | --- |
| GREYHOUND | BET TYPE | SPORTSBET ODDS* |
| Imploding | Win | $1.40 |
*ODDS CORRECT AT TIME OF PUBLICATION
---
Race 3: Garrard's Horse And Hound Novice (407m)
A good novice field assembled in this race tonight. We have four runners who are coming off Rockhampton maiden wins in their first few career starts. All four have clocked good times when winning their maiden, so they look to have bright futures ahead and have all drawn well tonight (boxes 1, 2, 7 and 8). Zipping Raven (box 1) has only started from middle draws in her two starts to date, so she should enjoy wearing the red rug and may be able to hold the early lead and win this good race. Lovely Result (box 2) should get a good run from this inside draw and be in the winning mix. Zipping Fern (box 7) is a littermate to Zipping Raven (bred Zulu Zeus x Zipping Meg), who is my tip in this race. She beat Lovely Result at her debut start from box 4 here at Rocky, so if she can handle this good wide draw, she must also be a winning chance. Big Time Becky (box 8) won her maiden race from box 3 and placed second with the red rug, so she is also unknown from this wider draw. Scandalise (box 3) is becoming a veteran in these novice races as he doesn't win but seems to be in the first four placings every week. Warren Nichols has loaded his greyhound trailer and will be heading north from Brisbane with six greyhounds starting at Rocky tonight, but don't expect Future's Changed (box 5) to be one of his stars in this.
Selections: 1-2-7-3
---
Race 4: Diplock's Collision Repair Centre Other (510m)
All five of these greyhounds have only won one race so far in their careers, so it is not a strong field – maybe a good time to grab a coffee (or something stronger) and watch with interest. This is the first race over the 510m distance tonight. Dixie Gambles (box 5) won her first start last time here over 407m, winning by 10 lengths in a moderate time of 24.32 seconds on March 5. She should have benefited from that run, as that was only her fourth career start. Being by sire Fernando Bale, she should run the extra distance out well. Dr Kammi (box 8) finished second at her last start over this track and distance but did get beaten a long way. She has placed in all three starts from this box draw so can figure. Nomad Road (box 2) is well drawn with no.1 being an early scratching after the box draw; she is normally a slow beginner but can run home well so must be in the mix.
Selections: 5-8-2-4
---
Race 5: Rocky Feed & Seed 5th Grade (407m)
With slow beginners in boxes 4 and 6, On The Bayou (box 5) might not have drawn badly tonight. He should be able to take advantage of this, drive through early and get a chance to pounce on the lead and may win tonight. Rosa's Memory (box 2) fought the minor placings out with On The Bayou at their last encounter here on March 9 with only a small margin between them. From Rosa's good draw she looks the main danger again tonight. Five Putt Cal (box 7) is better suited from an inside draw but has handled box 7 well previously and can run good times when given clear running so could be a knockout chance. Go Again Bear (box 3) is a good, honest, consistent greyhound. She is trained by Rockhampton's leading trainer Ken Boody and has been luckless lately in this same company, so she is one to consider.
Selections: 5-2-7-3
---
Race 6: Newsxpress Richardson Road 4th/5th Grade (407m)
This looks a tricky 4th/5th Grade race. Warren Nichols has brought back Tennessee Betty (box 5), who has won four of her previous five starts over this track and distance. Her best time clocked was a fast 23.85 from this same awkward middle draw. Her latest form has been patchy at Ipswich but she must be considered a winning chance again tonight. Petite Olga (box 1) only weighs about 24.6kg. This little girl has consistently run well lately from inside draws no wider than box 3, resulting in one win, three seconds and one fourth from her last five starts. She must be included in all multiple forms of betting. All Of Daisy Cousins' (box 2) wins and placings have been over this track and distance. Ken Boody has placed her well, and from this low draw she must be included as a winning chance. Hear Footsteps (box 4) has a terrible record from this draw – no wins or placings from eight attempts. He is one of the veterans in this race, being over four years of age, but may record his first placing tonight as he is due for some luck from this box draw.
Selections: 1-5-2-4
---
Race 7: Dinky Di Web Design 3rd/4th Grade (407m)
Rosa's Laugh (box 3) can ping the lids and should be able to lead this field early in what looks a good race. She can also run slick times of under 24 seconds, so she should be hard to run down. Informality (box 5) has drawn awkwardly tonight but can never be ruled out as a winning chance. She isn't a quick beginner, but she has a big motor and can charge home given clear running. Barely Friendly (box 1) just keeps on drawing the red rug and running well – two wins and one third-placing from her last three starts. Red Card Bob (box 2) had his chance to beat Informality last Wednesday from the same draw but cannot be left out of trifectas or first-fours. Casey Dargusch has also loaded three greyhounds in her van and headed north to race at Rockhampton tonight. This is probably due to Capalaba and Albion Park being flooded when the rains came to Brisbane in late February. The Albion Park track needs to be resurfaced and may be out of action for a while, so Ipswich has been carrying all the load lately. Sorry Casey, we cannot place She's Hot Gossip (box 4) in our tips tonight.
Selections: 3-5-1-2
---
Race 8: Wendy Mulry 5th Grade (510m)
This is our second race tonight over the 510m. Unique Speed (box 2) and Pereira (box 7) look the two main winning chances here. Pereira led last Wednesday over this distance and had every chance but got run down by Maddison, although she still ran good time. Unique Speed was a great run from box 7 last Wednesday in the same race, only to be beaten a small margin by Pereira, so there shouldn't be much between them again tonight. Deadly Choice (box 1) is currently in good form and has drawn the red rug. He has a great record over this track and distance and has finished in the first two placings in all of his four starts here. He could be the knockout chance. Prosecutor (box 4) is only a place chance; he has run a place 11 times from 23 attempts over this track and distance without winning.
Selections: 2-7-1-4
---
Race 9: TAB Free For All (510m)
This is our Free For All race tonight, but it has attracted only a small field of six starters. Love You Peaches (box 4) is currently the Rockhampton champion and maybe she scared opposition away. This daughter of Thirty Talks has won her last four starts. One of those wins was when she represented Rockhampton in the country final at Albion Park back on February 3. She normally leads in her races but, uncharacteristically, she gave her rivals a head start and a beating. Her next start was back at Rocky on March 2, after about a three-week break, where she won and clocked 30.24 seconds. She should improve from this run tonight and be hard to run down. Blue Jeans Talk (box 8) returns back to the 510m this week after a run over the 407m here last Wednesday. Better suited over the 510m, he looks the main danger as he can handle this wide draw. Swift Titch (box 7) was disappointing last Wednesday when she finished seventh over this track and distance. Her form previously was great, winning three races and running good times, so take her on trust. Canary Wharf (box 1) rand third behind Love You Peaches last start and from this draw he must be considered a place chance.
Selections: 4-8-7-1
---
Race 10: Sandal Welding 5th Grade (407m)
Runners drawn out wide might hold the key to this race. Blazing Norman (box 6) is a big greyhound weighing in about 35kg. He has never drawn this box in his 19 career starts but has won and been placed from two start out of box 7. Being a large dog, he has trouble beginning fast, so this could be a tricky draw for him tonight. He currently is in good form and clocking good times, so given a clear run early he should be the greyhound to beat. Toyko Dreamer (box 7) won from this same draw last Wednesday but is better suited to an inside draw. Velocity Cazau (box 8) finished fifth last Wednesday from an awkward draw of six but still clocked a good time of 24.20 seconds. That was her first start since winning back on January 12, so expect some improvement here tonight. Perfect Mate (box 5) is poorly drawn tonight inside big Blazing Norman, but if she jumps well and clears the inside greyhounds, she could be a winning chance.
Selections: 6-8-7-5
---
Race 11: Garrard's Horse And Hound 5th Grade (407m)
Toyko Chief (box 1) has drawn the red rug tonight and looks the greyhound to beat. All nine career starts have been over this track and distance, resulting in two wins and six placings. Last win from this box draw he clocked 24.23 seconds on January 19, which should be good enough to win this race. Rosa's Kitchen (box 6) is poorly drawn tonight but still looks one of the main dangers, as she also has a good record over this track and distance. Paddy Hayze (box 3) looks the other danger. All seven starts have been here, resulting in two wins over the Rocky 407m. From this low draw, he could get a good run around the first turn and be a winning chance. Erratic George (box 5) is always a place chance at odds. He has been placed 27 times from his 74 career starts but doesn't win many races.
Selections: 1-6-3-5
---
Race 12: Sky Racing M5 (407m)
Warren Nicholls might win the bookends of this meeting by winning the Masters race tonight. Ready To Rumble (box 2) has clocked some good times in the open-class races down the grass straight track at Capalaba. This is his first start at the Rockhampton 407m, but he may be able to lead all the way if he jumps well and handles the turns on this track. Mystery Train (box 5) has been running okay in 4th Grade races and drops back into an easier race tonight. He has a tricky middle draw to contend with but has won over this track and distance from this same draw. The Ken Boody-trained Won't Win Larson (box 6) has drawn poorly as well. He has only won once from 13 attempts over this track and distance but has managed to place on five occasions, so he should be in the mix. Chase Man (box 1) has drawn well but only looks a place chance based on current form.
Selections: 2-5-6-1
---
Similar Greyhound Racing News