Wentworth Park betting tips & best value bets | March 16, 2022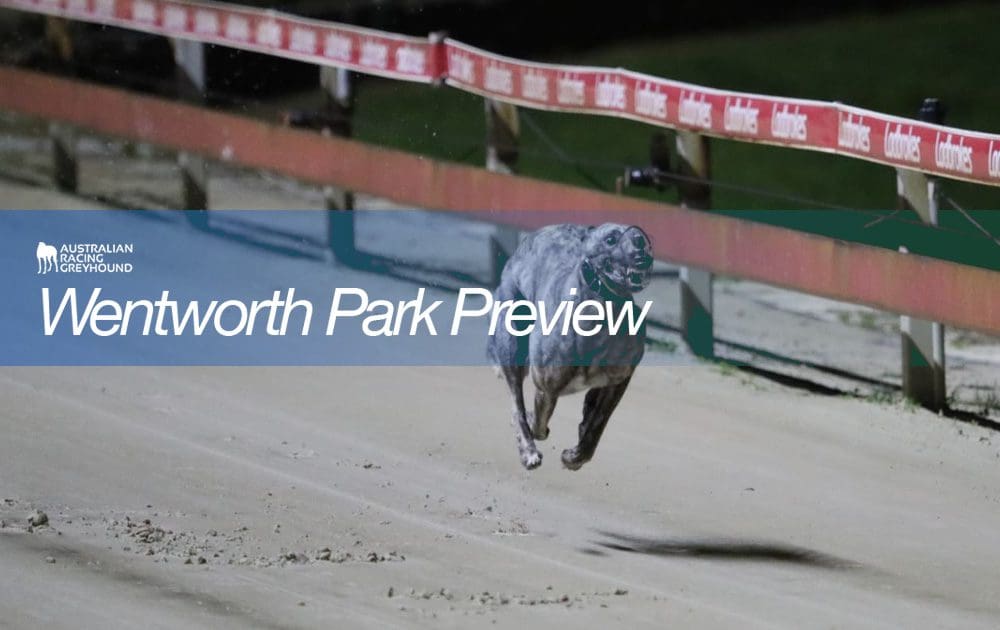 The racing is heating up in NSW as the weather cools off. The Golden Easter Egg heats are only 10 days away, and all the good dogs are plotting and planning their way to take away the most prestigious trophy on the greyhound racing calendar. Let's get stuck into the 11 races scheduled for Wentworth Park on Wednesday night.
---
Race 1: NSW GBOTA Welcome Maiden (520m)
The maidens are first up tonight and an interesting race with the two newcomers from the astute Owen Langley kennels. They are both well-bred bitches and I expect them to be up for this tonight and only due to box draw we are leaning slightly towards Without Glory over Without Power but definitely watch for any markets moves either way by the kennel or connections. Fantastic Felix must be a chance although has been tardy at box rise lately and Mount Victoria another newcomer from the Charlie Micallef kennels must be a hope from out wide as well.
Race 2: Ladbroke It! 5th Grade (520m)
Grim Madara has been grim watching if you have been on him. He ranged up like a good thing last week and when he went to go to the front chopped a check and dropped out. Is probably the best dog but he has been expensive of late. Black Fox got crossed early and ran out at the first turn last week when 3rd. Box 8 probably suits a little better and is a chance to lead but there is pace inside in the form of Toongabbie Mae and Black Zambora the latter who is bringing some good northern short course form to town and might be able to use box 1 well tonight. Tractions' form has slipped lately but last week was his first go at 500m and Wenty so is bound to be improved is better off drawn outside and a return to his best would see him a fair hope.
Selections: 1-7-8-6
Race 3: Happy 21st Kyal Dash 5th Grade (520m)
Well Doonan's bubble burst last week when his was reasonably away but was squeezed up for room soon after and checked out of it at the first turn. However the move into box 1 will do him the world of good and with Bless Shoe who can be quick to begin but likes to stay wider on the track drawn outside of him think he gets enough favours to win this one tonight. Bless Shoe is progressing through the grades and distances beautifully and her B.O.N performance last Monday at Bathurst was impressive can definitely lead this race. Go Forward Polly gave Good Odds Buzz a start and a thumping here last week and that win had plenty of merit. Ig the inside brigade get tangled up at all there might be great value for this chaser. Both Boab and Bell Toller must be considered place hopes as they are both so honest and just keep trying but this is no easier than recent runs.
Selections: 1-4-3-2-7
| | | |
| --- | --- | --- |
| GREYHOUND | BET TYPE | SPORTSBET ODDS* |
| Doonan | Win | $1.35 |
*ODDS CORRECT AT TIME OF PUBLICATION
---
Race 4: Friday Night Racing @ Wp 5th Grade (520m)
Baci Baci and Rebecca Gay have the speed in this race but neither of them is particularly strong at the end of 520m. Roaring Rosa has beaten Fantastic Luna here and that dog has since franked that form. Alice Unchained had been off the scene for a bit and will be an interesting runner. Below Zero might get the favours from the box tonight and is likely to be good value and Cut the Line was sent out equal favourite on debut here and didn't enjoy the box nor the race .Will definitely be improved but would prefer him drawn closer to the fence.
Selections: 1-8-5-4
Race 5: Lgee Preludes This Saturday 4th/5th Grade (520m)
In a race that is devoid of any genuine speedsters early this race may well be decided on whoever brings there a game start tonight. Magic Flame did lead all of the way in good time at Gosford recently and was then stepped up to the 600m. If she leads she will be mighty hard to run down. She has never had box 1 but is 2 from 2 out of the 2. Devil Dodger has reasonable early pace and might find himself in the battle early would need to cross to win however. Outback Ugg pinged and led all the way recently and a repeat puts her right in the race and then there is Zipping Sapporo the class dog of the race who finally finds a race that doesn't contain Analysing or She's a Pearl. The massive drop in grade should suit as it has been a long time since she contested a 4th/5th grade race (early January) but she is 0 from 3 from box 8 which is the only concern.
Selections: 8-1-5-2
Race 6: Ladbrokes Easy Form Masters M1/M2/M3 (520m)
Nathan Goodwin will probably be happy to see a masters' without the champ in it as his two chasers Zipping Brady and Angry Blizzard have been very good of late. Angry Blizzard led all the way to win in 29.93 2 starts back and then made The Champ earn every cent of his 38th winners cheque chasing him hard all the way to get beaten less than 2 lengths. Looks very hard to beat. Zipping Brady chased Angry Blizzard the night he broke 30secs. Crazy Old Goat is a strong dog having his first masters' start and is a chance with an ounce of luck and should be kept safe. Latrell to Excel might enjoy the room to move out in box 8 and is a place hope.
Selections: 3-2-6-8
| | | |
| --- | --- | --- |
| GREYHOUND | BET TYPE | SPORTSBET ODDS* |
| Angry Blizzard | Win | $1.65 |
*ODDS CORRECT AT TIME OF PUBLICATION
---
Race 7: @wentworthparkgreyhounds 1-2 Win 5th Grade (520m)
Hope McGraw showed tremendous toe and zip early in her career before a fall halted her momentum. Michael Hardman is a crafty trainer and if he has this girl back to her best after a couple of gallops since that break she might disappear off into the night on these but she must come out running. Send It Tiger was good on local debut and chased hard all the way and will be improved by his first look at the tricky Glebe Circuit. Irinka Anna's last run was much better than it looks on paper and never really got a clean crack at any stage, she ran on nicely and did beat Hope McGraw in that race. Romantic Power is another strong dog but would need to improve a few lengths although last start was an improvement on his latest efforts.
Selection: 3-4-6-5
Race 8: Ladbrokes Switch Free For All (520m)
The early Golden Easter Egg favourite She's A Pearl gets a perfect box and is drawn inside the megastar winner Ritza Donna who is a moderate beginner and should be able to dictate terms and add to her impressive record around this track, having said that she may not get things ALL her own way tonight. Suzie's Face has exceptional early pace and led Wow last start and could very easily be testing She's A Pearl early and if that happens then the megastar Ritza Donna might have the fence early which is where she needs and loves to be and will get the dream run through to be 3rd through the pen and will be a supreme threat of running the speedsters down. Winlock On Top and Surprise Baby have ability but this is much harder for them and a place hope is best
Selections: 1-2-8-6
Race 9: #getyourgreyhoundon 4th/5th Grade (720m)
The stayers take centre stage for the 9th event and Hester has been showing good dash and determination over the middle distances and now steps up to have her first crack at the Wentworth Park 720m. She can begin well on her night and might be leading them at the judge the first time. Zipping Pearl was a tad disappointing at the gardens last start but that was a classic race against a classic field and this is a 5th grade. She usually displays good pace and there is no reason she can't cut them all off in the run to the first turn and lead all the way. Well what do you say about Lucky Dice? He got the job done for us on Saturday night and while it didn't look that impressive the time was very good considering everything the track has been through recently. He needs luck in his races and is probably the best dog in the race but will he get the luck he needs? In Your Time has the best P.B of the field and if he can capture the form of spring last year would be a huge hope in this he is honest but not sure as classy as some of these. Mr Ibrox is very strong and is one for exotics.
Selections: 5-1-8-2
Race 10: Ladbrokes Bet Ticker 1-2 Win 5th Grade (520m)
Fantastic Luna used the vacant box next to her to muster enough pace to lead here Saturday and after that she was racing the clock. She will not want to be tardy from box 8 but she will get the room to move down the middle of the track and will again be supremely difficult to beat especially if she finds the front. Can't Catch Ivy has been good recently and box 1 will help but will need to improve. Monkey Boom has been finishing his races of well of late and might be able to really again for another cheque tonight. Sinister Dreams comes to town off a Richmond straight track preparation? And Mount Gower is 1/1 in her early career and is a chance of leading these but the 520m might test but could cause some trouble.
Selections: 8-3-1-2
Race 11: Where Else but Wenty 1-2 Wins 5th Grade (520m)
The get out stakes is another extremely tricky affair tonight and yet another race where there appears on paper at least a complete lack of early pace. With that in mind maybe Cawbourne Magic can make full use of his inside draw to possie up nice and close and swoosh past them on the back straight to open his Wenty Park account. We Back is back and having only begun here once and falling when having absolutely no luck. His first run back after the fall, at the gardens was an amazing effort if you get to see it and there is no reason with an ounce of luck he can't be winning this race. Spring Gonzales goes well and must be an each way hope and Big Town Romeo is another with just enough early pace to have us thinking that perhaps he can lead this? Nordic Thunder has been over the sprints recently and might also have some early toe.
Selections: 7-1-2-8
---
Similar Greyhound Racing News