Wentworth Park greyhound tips & top value bets | March 9, 2022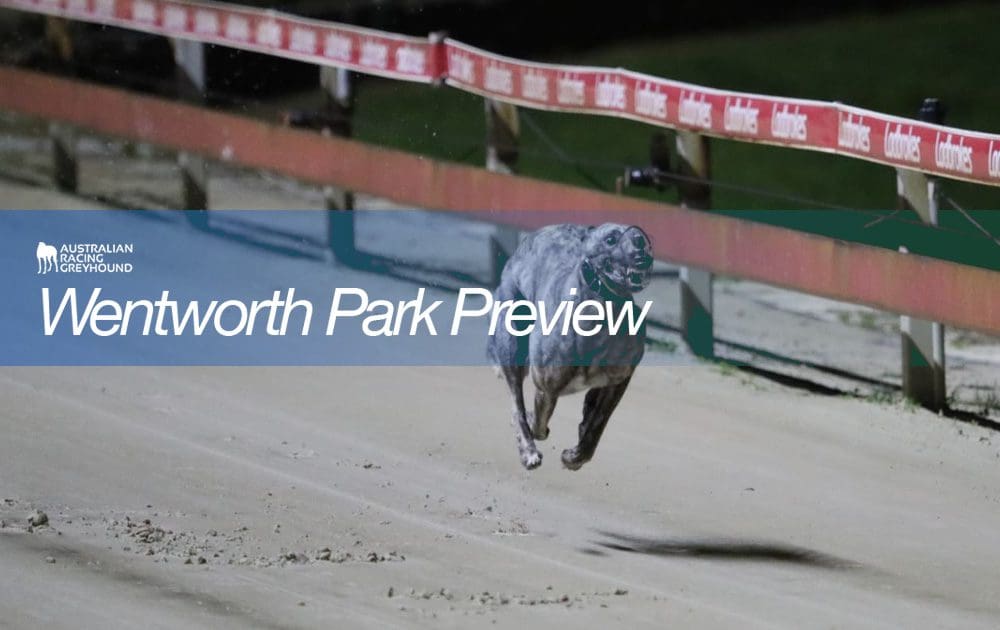 Hopefully the rain stays away, the Wentworth Park track can be maintained and we can get some greyhound racing in this Wednesday night. Here are ARG's top tips and value picks for the 10-race card at HQ.
---
Race 1: NSW GBOTA Welcome 5th Grade (520m)
A nice, tough 5th Grade to start things off with four last-start winners going around. Baci Baci showed his good pace to score in 30.28 last time out, while Outback Ugg posted good splits to post a 30.33 win. Kitty Keen also showed great pace for her 30.20 win and Redeem a Prize was moderate early but very strong late to win in 30.75. March Legend went 30.08 when he began well two starts back and if he begins can win again. We're leaning towards Kitty Keen, but anyone of six could probably win it with a clean get away and some luck.
Selections: 5-6-2-1
---
Race 2: Ladbroke It 1-3 Wins Heat 1 5th Grade (520m)
Grim Madara owes the punters some. He has been sent out short at his last two starts and been a bit disappointing. He needs to mend his box manners to be prominent in this but may get room and a cart across early. Elle Yeah was good when third here back in February. She is another who does her best work on the bunny, and she scorched around Nowra recently. Lucky Fernando has not been beginning either and a glimpse of his best was a slashing 30.9 run on the old Richmond track. Fernando Mae showed what good pace at Wenty can do and streeted them last start just may lead again, but this is tougher.
Selections: 5-6-4-2
---
Race 3: Friday Night Racing @ Wp 1-3 Wins Heat 2 5th Grade (520m)
Our Amelia is the one to watch. She sizzled around Dapto to win her maiden in B.O.N. time, and while we know about the curse of Maiden to 5th Grade, she draws a favourable race and a good box. She was only moderately away in that race but showed good dash down the centre of the track. Box 8 here should suit, but she will need to miss Exelero, who can show pace and likes to track wide; however, she is good enough to do that. Can't Catch Ivy has been honest and could find herself much handier in this. Exelero can show pace but would need to lift, so too Lika Light, while She's Shrewd might get a few cheeky runs if close enough.
Selections: 8-2-1-7
---
Race 4: Lgee Preludes This Saturday 1-3 Win Heat 3 5th Grade (520m)
Good Odds Emma was well supported in a two-dog betting war with Mr Determine last time and lost no admirers running that dog to a nose. She is a little awkwardly drawn with pace outside looking to cross her, but she is capable of winning this. Pocket Dynamite comes to town with two all-the-way wins at The Gardens in good times; if he puts it together, he is a definite threat. Hope McGraw is another that has shown good early toe early in her career; she has had a break since falling and might go OK first go back here for a while. Cawbourne Magic is the strong dog drawn down near the fence and will be sweating on runs and luck and might just be good enough to charge through and knock them all out. Dublin My Money is another coming for his first look in town and brings good Gardens form, although he is badly drawn with lots of pace under him.
Selections: 3-2-4-6
| | | |
| --- | --- | --- |
| BEST VALUE | BET TYPE | SPORTSBET ODDS* |
| Cawbourne Magic | Win | Best odds |
*ODDS CORRECT AT TIME OF PUBLICATION
---
Race 5: Ladbrokes Same Race Multi 1-3 Win Heat 4 5th Grade (520m)
The ultra-impressive Doonan steps out in Heat 4 looking to make it four wins on the trot and will be sent out as a short-priced favourite. There is no abundance of pace and he looks a good thing. Send It Tiger is looking to spoil the party and keep his streak alive. Flying Giuseppe may appreciate the fence but would need to find lengths. Likewise Monkey Boom, who has been good on the bigger tracks, but this will test. Romantic Power is strong but has been disappointing of late.
Selections: 5-7-2-1
---
Race 6: Stay Safe NSW 5th Grade (720m)
To paraphrase the great Paul Ambrosoli: Lucky Dice can find more trouble than Speed Gordon, but he gets his race here tonight. He has been racing some quality stayers and drops back to a small field gets box 1 and with any luck will win this. Mr Ibrox is the other strong runner who will appreciate the small field and will be running on, but he probably gives Lucky Dice a start. Jazz Party has been in those same races as Lucky Dice and will appreciate the drop in class, and In Your Time has won three races here over the trip and must be a minor chance.
Selections: 1-7-2-8
---
Race 7: Magic Maiden Heats March 23 Free For All (520m)
This is a quality Free For All with Ritza Donna, who has been superb recently in beating Wow two starts back and going close again Saturday night. She is only a moderate beginner and desperate for the fence but is a big threat here. Sound Of Silence has been for a bit of a break and will be interesting to see how he goes fresh. Analysing is another that has been flying of late and is well boxed to zip down the middle, lead this race and will prove very tough to run down. Winlock On Top can show good pace, but this is a tougher ask than recent runs, and Zipping Sapporo is always a hope but has been well below her best of late. Track conditions may play a part in the result of this race.
Selection: 3-8-4-2
---
Race 8: Lgee Heats March 26 4th/5th Grade (520m)
Coco Model has been working her way back to the 520m races from a sprint campaign. She is a classy Group 1 placegetter who can carve out sizzling sectionals. If she jumps, she will lead these and it is just a case of whether she can hang on. Murray's Way got back to her best here on Saturday, getting the job done after not leading, and is the obvious threat. Old Mate Koby beat Good Odds Emma two runs back, and that form may get franked earlier in the night. Key Bob can show pace, but 520m sees him out. Claretown Rocky has not been here since 2020 and is a minor hope.
Selections: 4-7-3-1
Race 9: Sponsor a Race @ Wenty 5th Grade (520m)
Roaring Rosa took on short-priced favourite Fantastic Luna here on Saturday and produced a great run to win. A repeat of that would go close enough to winning this. Redhead Rider did nothing wrong in winning off box 8 here two weeks back, and box 5 is not terrible for dogs that can begin. Doubt you will see the $30 that was on offer that night again any time soon, but he can't afford to blow the start tonight. Cut The Line is the interesting runner he is in the very strong Darryl Thomas kennel and has some good form at Grafton to bring to town. Sure to be well educated here and has a dog the wants the fence under him so may get plenty of room early to muster down the middle of the track. Boab is that dog aforementioned and wants the fence but is as honest as they come and is another place chance tonight.
Selections: 8-2-7-5
---
Race 10: wentworthpark.com.au 5th Grade (520m)
Good Odds Buzz steps up to the 500m for the first time. He has good form in slick times at Bulli, and box 8 is probably a good thing for his first look at the Wenty 500m. No doubt he will be a long way in front after 400m, so he will win it if he can see out the trip. Traction had been going good before failing at his last two. Black Fox will appreciate being back near the fence and has been trying hard; he has been well supported of late and only needs an ounce of luck. Impress Hassan is the strong dog with good middle-distance form for young Chloe Bilal, and if the 400m dogs get tired late, he might just be the knockout dog. Go Forward Polly is another honest chaser that has each-way hopes and might get a tail to follow from the no.8.
Selections: 8-1-3-4
---