Rockhampton greyhound tips & top value bets | 23/3/2022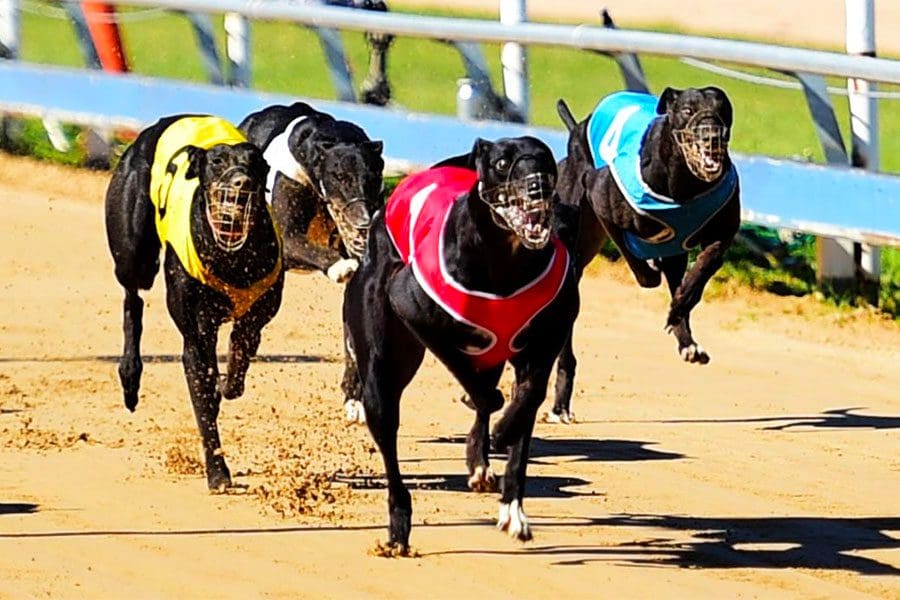 Rockhampton hosts 10 greyhound races this Thursday night, and we've gone through the card and picked out our top selections for the evening.
Race 1: TAB Maiden (407m)
Our standard maiden event to start the night off. Only a field of six starters as the debutant Francis Geoffrey is an early scratching. Pressure (box 1) ran third beaten 5.5 lengths last Wednesday behind Shakey Country from the red rug clocking a moderate 25.07 seconds. He is normally a slow beginner but this race might be his chance to break his duck. Goody Goody Yum (box 2) ran an improved second from box 7 last Wednesday but beaten a long way clocking 24.95 seconds. She gets here chance to win her maiden race tonight. Kremlin (box 6) hasn't started for over three months so there must have been a problem after his last start. He has placed twice in 11 career starts – all at this track and distance. Ange's Girl (box 7) can show early pace but struggles to run the 407m here.
Race 2: Sky Racing Novice (407m)
Zipping Raven (box 5) drew the red rug last Wednesday in a strong novice but didn't begin well. She has slow beginners drawn inside her tonight, so she may not be badly drawn if she pings the lids tonight. Big Time Becky (box 7) ran in the same novice race as Zipping Raven last week. Big Time Becky was luckless early last week when vying for the early lead. She may get across tonight outside Zipping Raven. Scandalise will be a scratching in this novice event as he won a novice race Sunday March 20 – that makes him ineligible for this race tonight. Lovely Result (number 9 into box 8) should now get a run from box eight. Darren Taylor trains this daughter of Barcia Bale. This youngster has only had four career starts and ran second to Scandalise last Sunday clocking a good 24.26 seconds over this track and distance, so must be considered a winning chance. Dr Kammi's (box 3) last three start have been over the Rocky 510m but switches back to the 407m tonight. She should be strong late in this race and is another greyhound who doesn't win many races but has filled a lot of minor placings recently.
Race 3: Garrard's Horse And Hound 3rd/4th Grade (407m)
There are only six starters in this race but has attracted a good field. Informality (box 2) looks the greyhound to beat here. She loves inside draws, should hold an early position rounding the first turn and put her jets on down the back straight and win. Shian Ned (box 1) is well drawn and looks the main danger from the red rug tonight. He is currently in good form and has clocked a good 23.94 seconds when winning from this draw January 12. Red Card Bob (box 5) has been running well of late from inside draws but has drawn poorly tonight. From this middle draw I can only see him filling a minor placing. Exit Plan (box 4) and Five Putt Cal (box 7) should also be rated as good place chances, given clear running early in this race. Tonight, they will need luck from their bad draws.
Race 4: Diplock's Collision Repair Centre 5th Grade (407m)
The Clinton Thompson trained On The Bayou (box 3) missed the start here last Wednesday from box 5 and finish down the track. From box three tonight, and not fast beginners drawn inside, expect him to begin better and contest the early lead. He has yet to win in six starts over this track and distance but has been placed in three occasions. This looks his race to win. Rosa's Memory (box 7) is the other Clinton Thompson trained greyhound in this race but would prefer an inside draw. She is a good honest chaser at Rockhampton and never seems to run a bad race here. Leading trainer Ken Boody has Go Again Bear (box 1) in this race. She should get a good run tonight from this good draw and is considered as a good place chance. Hooper (box 4) has only one win from 28 attempts over the Rocky 407m so can only be rated as a minor place chance. His last two starts here have been good in similar company.
Race 5: Rocky Feed And Seed 5th Grade (407m)
Velocity Cazau (box 7) looks the greyhound to beat in this race. She drew box eight last Wednesday and ran well finishing third, one length from the winner Forever Words. This race looks devoid of early speed so expect her to come across and be vying for the early lead tonight. Tokyo Chief (box 3) was a beaten odds on favourite last Wednesday from the red rug. Tonight, he has normally slow beginners drawn around him so he must be considered a winning chance. Ken Boody has Perfect Mate (box 6) engaged here. She won from box 7 over this track and distance Sunday March 20 clocking 24.28 seconds. On the quick back up tonight but must be considered a chance on that run. The Darren Taylor trained We're Back Boys (box 5) is hit or miss. This daughter of Fernando Bale has been unplaced on both of her two starts after a seven week break. She is capable of clocking good times on her night but you will need to take her on trust.
Race 6: Newsxpress Richardson Road 5th Grade (407m)
This is a tricky race to assess. Most starters have not got good recent form to work with. Blazing Brothers (box 4) has the early speed to lead this field but is weak late in his races. He finished second last on Sunday March 20 from box five. On the quick back up tonight and would need to improve from that run. Camino Angel (box 8) ran second with the red rug last Wednesday night but only clocked a moderate 24.44 seconds. She is yet to be placed from five starts out of box eight but this may be the right race to improve on that statistic. Country Mist (box 7) can handle wide box draws and ran third Sunday March 20 clocking a moderate 24.54 seconds from box two. What An Outcome (box 3) is badly out of form lately. He is normally a slow beginner but has shown some talent a couple of months ago so take on trust only. Erratic George (box 1) has the red rug tonight so must be consider a chance as this draw is a great advantage. Sienna's Ace (box 5) has yet to win from outside box three so could struggle here. Might be a cup of coffee race and watch what unfolds here tonight.
Race 7: Anniversary Cup Heat 1, 4th/5th Grade (510m)
This is the first heat of the Anniversary 4th/5th Grade Cup over the 510m. We should only have a field of six starters in this heat as Mia Magic is an early scratching from box four. Ken Boody looks to have the key to this heat. Dixie Gambles (box 8) is a lightly raced daughter of Fernando Bale and is flying at present. Last Wednesday she ran a blistering first split of 4.78 seconds from box five and won by 11 lengths clocking an overall time of 30.14 seconds. A repeat of that run sees her winning this heat. Rosa's Laugh is having her first start over the Rocky 510m tonight. She is speedy and can run fast times over the 407m here but the last 100m might test here. She is trained by Ken Boody, so he will have her ready to qualify in tonight's heat. Canary Wharf (box 6) is poorly drawn in this heat but cannot be left out of trifectas and First4's. He ran second to the current Rocky champ Love You Peaches last Wednesday clocking 30.38 seconds and is yet to be unplaced over this track and distance from seven starts. Say Some Words (box 1) was a good win wearing the red rug over the 407m on March 5. She has never been unplaced over the Rocky 510m in five starts so must be considered when taking trifectas and First4's.
Race 8: Anniversary Cup Heat 2, 4th/5th Grade (510m)
This is our second heat of the Anniversary 4th / 5th grade Cup. Swift Twitch (box 1) has drawn the red rug in this heat and looks hard to beat. Yet to be unplaced from this great draw in four starts and bounced back to good form after a failure two weeks ago. Clinton Thompson steps Blazing Norman (box 2) up to the 510m distance tonight. He looked a good thing beaten last Wednesday from box 6 over the 410m. He is drawn to get a good run from this low draw and is a big strong greyhound so the Rocky 510m distance should suit him nicely. Ken Boody has Deadly Choice (box 6) in this heat. He is poorly drawn tonight but is yet to miss a place in five starts over this track and distance so must be in the mix. Velocity Tamika (box 7) is also yet to be unplaced in five starts over the Rocky 510m but is better suited with a low draw but cannot be left out of contention. Unique Speed (box 8) has only won once over this distance but has placed ten times from 15 attempts, so can be considered a place chance tonight.
Race 9: Dinky Di Web Design 4th Grade (407m)
This is only a field of six starters tonight. Clinton Thompson has Petite Olga (box 8) entered in this race. This daughter of Moreira (sire of the flying future star Cyclone Winston, who beat the promising young star Black Commanche in a Grafton heat last Sunday night) is an honest greyhound who handles wide draws and consistently clocks about 24.10 seconds around this Rockhampton 407m course. Running that time should win this race tonight. Darren Taylor has Pacific Bug (box 5) in this race. His greyhound has not won from wider than box four, so the small field may help his cause tonight to change this statistic. Forever Words (box 1) ran a personal best time Sunday March 20 clocking 24.28 seconds. On the quick back up but loves the red rug and must be considered a major chance tonight. Jackie Dee won the master's race on March 9 but should only be a place chance back to this 4th grade tonight. Hear Footstep (box 7) also looks only a place chance at best.
Race 10: Wendy Mulry Travel M5 (407m)
This is our master's race to finish the card off tonight and has only attracted six runners. The Ken Boody trained Won't Win Larson (box 1) looks the greyhound to beat tonight. He broke through for a well deserved win Sunday March 20 from box two clocking a good 24.22 seconds. A repeat of that run will win this race. Mystery Train (box 8) looks the obvious danger tonight. He has handled wide draws previously. His form has been average of late but this not an overly strong master's race tonight. Digger's Cove (box 5) and Black Maxie (box 7) are resuming after their breaks. Digger's Cove is a veteran greyhound being over five years of age.
1

WON'T WIN LARSON

Odds at Sportsbet

8

MYSTERY TRAIN

Odds at Ladbrokes

5

DIGGER'S COVE

Odds at Palmerbet