Sunday 6th August 2017 best greyhound racing bets & tips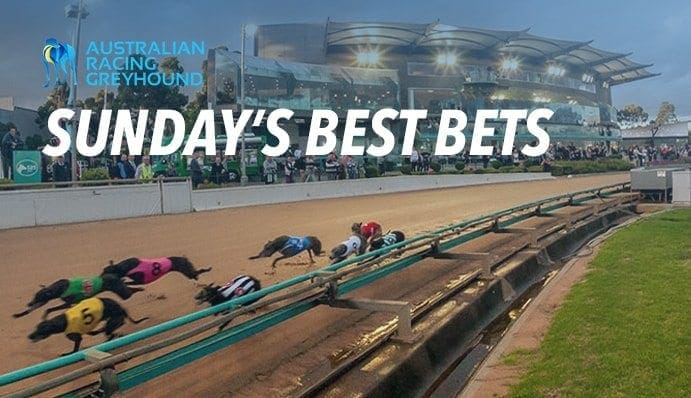 TWO of our three tips saluted the judge yesterday for a very nice 100% profit on turnover result. For those just starting out on their serious punting journey, profit on turnover or POT is a percentage measure of your results. Most professional punters benchmark their POT at around 4-8%. In other words for every dollar they bet, they are on average receiving $1.04-$1.08 back. POT returns of over 10% are rare in the long term. Of course it is quite realistic to be an extremely successful punter with a POT of just 1%, provided your turnover is high enough. Many large punting syndicates have extremely low POT figures, but receive rebates from the TAB which offset the low profit margins – but that is a story for another time.
Our most impressive winner from yesterday's greyhound racing tips was clearly Found A Diamond (Turanza Bale x Miata Oct '14) who did as we expected and held his position in the run to the corner and railed up under the early leaders before taking control of his heat of the WA state National Sprint Championship in 29.70 (best of night). He has drawn box two in the state final and looks a moral to head to Albion Park for the National Sprint Championship Final. He is our early tip to win the national final.

The most exciting aspect of yesterday's best bets was the prices we obtained for our winners. We managed to secure $3.70 about Found A Diamond who is easily WA's best sprinter of the moment, and in Melbourne they bet us $2.30 about Mystery Ride (Hot Grille x Space Power Jan'14) who was ridiculously well suited by the field and the draw. It was "money for jam" as they say with both assessed as being much shorter in the market. Again, its about finding value as well as winners.
Champion Model (High Earner x Clay Model May '15) was a victim of its own slow start and although she put in a huge effort to finish third, the race was marred by a major traffic jam early when the whole field was racing within two lengths of each other. The lesson to be learned yet again, is that these one track to another heats to final events are highly unpredictable and can often throw up strange results. They should be largely avoided, and we erred in trying to find value in that race.
Yesterday's Greyhound Tip Results
| Turnover (Units) | Our Avg Price | Avg SP | Avg Bet | Value (Units) | Return (Units) | Strike Rate | Profit/Loss (Units) | Profit On Turnover |
| --- | --- | --- | --- | --- | --- | --- | --- | --- |
| 9 | 2.2 | 2.60 | 2.70 | +0.50 | 18 | 67% | +9 | 100% |
Our best winning day through the greyhound tips so far, and one that claws back the unfortunate few days we've had to just poke our nose in front as far as profitability goes for the month.
August Greyhound Tip Results
| Turnover (Units) | Our Avg Price | Avg SP | Avg Bet | Value (Units) | Return (Units) | Strike Rate | Profit/Loss (Units) | Profit On Turnover |
| --- | --- | --- | --- | --- | --- | --- | --- | --- |
| 44 | 2.78 | 4.43 | 5.43 | +2.66 | 44.55 | 33% | +0.55 | +1% |
Gawler Greyhounds
Best Bet: Race 6 Box 4 Stitch 'Em Up – Deposit $50 & bet with $150 on Topbetta's Global Tote
On the quick back up from an impressive Angle Park win on Wednesday, Stitch 'Em Up (Bekim Bale x Niamh Premier Jun '15) is the winner of six of his 10 races. Most form guides and comments will have been done prior to that latest win which was a demolition 10.25 lengths win in 29.72 (best of day), so should be getting a slightly better price than would normally be the case with most punters being blind to that last win. Draw is a slight concern, but he has a conservative six lengths over his nearest rival here and should overcome any early trouble to beat this lot. With just the two bets today, we are going to bet up here as we're likely to get some strong value.

Stitch 'Em Up Betting Strategy
| Bet Type | Assessed Price | Bet Units | Confidence |
| --- | --- | --- | --- |
| Win | $1.50 | 6 | High |
Darwin Greyhounds
Best Bet: Race 8 Box 6 Invictus Rapid – $500 Free Bet at Ladbrokes
Invictus Rapid (Cosmic Rumble x Miss Fiesty Feb '14) has more ability than most of these in the 2017 Darwin Cup Final, and really felt his way around the track at his first start here when coming from behind to win his heat beating Zipping Zeus. Has a greyhound drawn to his outside who likes to step right from the boxes, and the likely leader Maurice Minor drawn to his immediate left. Should get plenty of room to move up and challenge in the back straight and will prove far too strong with a look at the track under his belt. Again we're going with quality and betting up for extra value.

Invictus Rapid Betting Strategy
| Bet Type | Assessed Price | Bet Units | Confidence |
| --- | --- | --- | --- |
| Win | $1.67 | 6 | High |
Today's Greyhound Tip Results
| Turnover (Units) | Our Avg Price | Avg SP | Avg Bet | Value (Units) | Return (Units) | Strike Rate | Profit/Loss (Units) | Profit On Turnover |
| --- | --- | --- | --- | --- | --- | --- | --- | --- |
| 12 | 1.59 | 1.95 | 2.20 | +0.62 | 0 | 0% | -12 | -100% |
More Greyhounds News