Bowles optimistic about Whodat Diva in Fanta Bale Super Stayers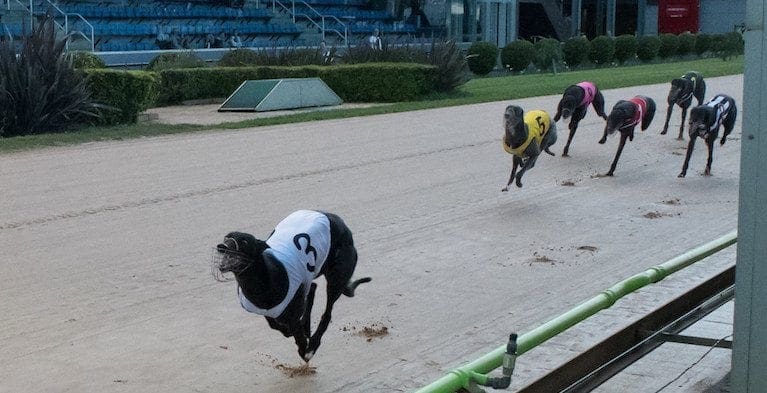 Just over 12 months ago, Emma Bowles and her partner Lachlan Scott relocated to Tatura with their two young sons, 15 greyhounds and stars in their eyes.
The couple had purchased a 22-acre property owned by legendary local trainer Max "Jimmy" Auld with a view to escalating their involvement in the industry to the next level.
Fast forward to February 2022 and they have upwards of 80 dogs in their care, comprising a racing team of 12, as well as pups, breakers and pre-trainers.
"We're full-time now," Bowles said proudly, explaining that the opportunity to grow had fallen neatly into their lap.
"Lachlan has known Jimmy since he was young and he has always been there to offer us help and advice," she said.
"When he started talking about winding down and potentially retiring, we mentioned that we'd be interested in purchasing the property if he wanted to sell and everything just fell into place from there.
"Jimmy (who recently turned 72) still has about seven dogs here including a couple of smart ones racing and it's worked out perfectly.
"We can look after his dogs if he wants to go away for a few days and we've got a wealth of knowledge on our doorstep, he's absolutely amazing and has so much experience."
Bowles heads to The Meadows on Saturday night with kennel star Whodat Diva, who lines up from box 3 in the fourth and final heat of the Fanta Bale Super Stayers Series over 725m.
The exciting up-and-coming bitch is rated a $7.50 second favourite and will deliver a career highlight to her modest young trainer if she can finish top two and advance to the main event seven days later.
"It's pretty big for us to have the chance to qualify for such a big race," Bowles said. "We haven't had a Group 1 starter yet."
Boasting five wins and eight placings from 24 starts, Whodat Diva goes into this weekend's race among the least experienced of the seven combatants, but Bowles is optimistic she can hold her own.
"She ran in a heat of the Bold Trease at Sandown late last year but got knocked down on the first corner and injured a front metacarpal," she said.
"We threw her in that race because we think she's got a fair bit of talent, but she's still getting there. She hasn't had a heap of starts and she just keeps getting better and better.
"Early on we weren't even sure she'd be much of a race dog at all."
Bowles said Whodat Diva is at her best over a genuine staying trip but has taken time to work her way back to an appropriate fitness level after her injury hiccup.
"Box 3 won't really worry her because she's slow out, I just hope she can put herself into a nice spot early; she likes to chase but obviously the closer she can settle, the better."
Bowles rates Jeff Britton's outstanding stayer Mepunga Ruby ($1.80) as the measuring stick in the race.
She will be out to atone for an entirely luckless fifth when an odds-on favourite in last Saturday night's Group 1 Zoom Top.
In Heat 1 of the Fanta Bale, Stanley Road ($2.60 fav, box 7) locks horns with local star Hank The Hustler ($2.80, box 3) and South Australian raider Fantastic Radley ($4.60, box 4).
Heat 2 brings together three-time Group 1 winner Gypsy Wyong ($2.50 fav, box 7), Knicks Bale ($3.40) who is ideally drawn in box 2 and Mepunga Warrior ($6.80, box 3), fresh from an impressive G1 placing in last Saturday night's Rookie Rebel.
The Dustin Drew-trained Untapped ($3 fav, box 3), Queensland visitor Micks Recall ($3.20, box 8) and Drako Bale ($4.60, box 4) hold top billing in an evenly matched Heat 3.
The $100,000 Fanta Bale Stayers Series Final will be run at The Meadows on February 26 – the culmination of the 2022 TAB Australian Cup Carnival.
Similar Greyhound Racing News