Gibbons hails 'improving' Ariarne Bale after Super Stayers win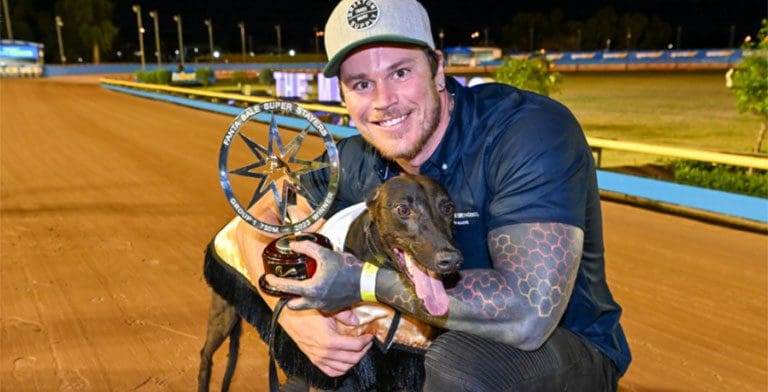 Daniel Gibbons admits he wasn't confident when Ariarne Bale was in third spot after going around the post for the first time in the Fanta Bale Super Stayers Final at The Meadows on Saturday night.
But he need not have worried.
His two-year-old bitch was sensational in the 730m race worth $160,500, going on to prevail by a stunning 7 ¼ lengths in a lightning-fast time of 42.31 seconds.
It was a deserved maiden Group 1 victory for him and wife Rebecca, the second-favourite with $3.90 winning odds showing what she's capable of when switched on.
After a slow start from box two, Ariarne Bale gradually made up ground and was in a good position to strike from third after the second turn.
She then reeled in eventual runner-up Golden Quest with ease on the turn for home, pleasantly surprising her 34-year-old conditioner.
"No I wasn't (confident), to be honest," Gibbons told Australian Racing Greyhound.
"I know she always likes the rail, and in many, many races she'll literally cling to the rail.
"And if there's something in front of her she won't go around it. She'll just wait for a break on the inside.
"It was the first time she's come off the rail to go around a dog. It just shows she's improving and getting better."
2023 Fanta Bale Super Stayers Final – Ariarne Bale (1st)
After shaking the monkey off his back by bringing up his first Group 1 title, Gibbons believes more elite-level glory awaits Ariarne Bale.
That could come in the Galaxy in Perth with the final on March 18.
"I'm heading over to Perth for the Galaxy," he said.
"She's definitely got it (more Group 1 wins) in her. It's just whether she shows up on her day.
"She does have her days where she doesn't really give all she's got.
"But when she's at her best I think she's hard to beat.
"It just shows that all our hard work pays off, and all the sacrifices."
Rounding out a memorable night for the Gibbons training duo, Ariarne Bale's half-sister Kelsey Bale also pulled off a remarkable triumph in the Australian Cup Consolation.
She won by 1 ½ lengths, storming home to win the 525m event in 29.56 seconds.
Kelsey Bale was seven lengths off eventual runner-up Electrified after the first turn, before igniting the after-burners on the back straight.
She then powered home after finding the rail from box four in a finish which would have captured the attention of greyhound trainers and fans across the nation.
"Oh, I don't know what to say about her. She's unbelievable," Gibbons said.
"She's been down the past month, so I was spewing she didn't come back from Queensland the same dog.
"That's because I think she could've won the Temlee and Australian Cup.
"She just wasn't at her best until (Saturday) night. It took us a lot to get her back to her best.
"(Saturday) night showed she's one of the best in Australia at the moment when she's on."
2023 Australian Cup Consolation – Kelsey Bale (1st)
Daniel and Rebecca put in plenty of hours getting Kelsey Bale back to full fitness so she could display her talent on Saturday night.
They would have loved for that to be at Group 1 level in the Australian Cup.
But with six wins now from just 13 starts – including the Group 2 Laurels Classic on December 15 – Gibbons knows she will have her chances at that level soon.
"She got a real bad virus and a skin infection," the young trainer said.
"She was on and off antibiotics for a couple of weeks. We raced her and she ran second to Baby Jaycee, which was a decent run.
"But the next day she pulled up really lethargic, and she just wasn't herself.
"I'm real close with her everyday, and I just knew she wasn't right.
"It's taken us another couple of weeks to get her to where she's at now.
"I think she's definitely back to 100 per cent, and you could see that (on Saturday) night."
Gibbons was also stunned at the way $7.70 chance Kelsey Bale beat Silver Chief winner Amron Boy by five lengths.
"It was crazy. I've been watching the races and I think Amron Boy wasn't himself," he said of the $1.40 favourite.
"Normally, they probably would've stayed a lot closer.
"I don't know, but the way she ran away from him I think there might've been something wrong with him."
Similar Greyhound Racing News