Britton impressed with Mepunga Ruby's Albion Park Gold Cup heat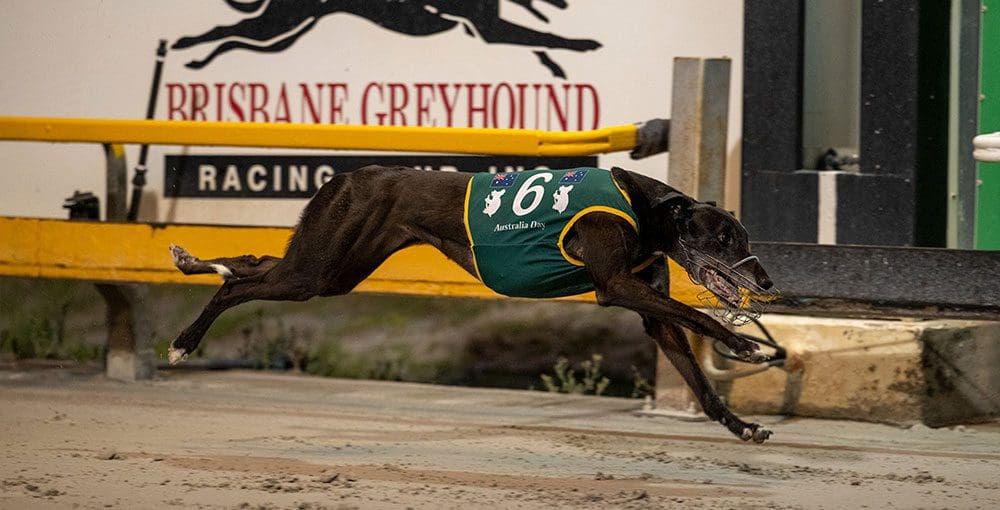 Mepunga Ruby just loves to race, but trainer Jeff Britton admits at times she doesn't exactly enjoy the journey to the track.
This was why he was so proud of her performance when she won her Gold Cup heat at Albion Park last week, with the final of the Group 3 feature worth $143,750 to be run on Thursday night.
The Victorian three-year-old bitch produced an impressive 41.95-second performance over the 710m journey, beating Stagger Out Lee by 3 ¼ lengths after a rough flight.
"The flight was about an hour late, so she was in the crate an hour too long," Britton told Australian Racing Greyhound, his long-distance star the $2.60 favourite across betting sites for the final.
"But she came out of it really well. There was no dehydration.
"So it went to plan last week, and she came out of the flight really well.
"I'm just hoping she gets to the track the same way she did last week."
Albion Park Gold Cup heat replay – Mepunga Ruby (1st)
Despite the fact Mepunga Ruby showed good professionalism to overcome her less-than-ideal interstate journey last week, Britton is hoping her flight north will be more smooth this time.
"I've always been a bit weary about travelling with her in flights because she's a lot happier staying at home," the 2021-22 GRV Metropolitan Trainer of the Year said.
"Even I find with certain vehicles – we've got four different vehicles. And if we don't take the right vehicle she's not happy.
"If there are a lot of rattles she comes out of it not happy.
"If she has a trip to Sandown and she's in the wrong vehicle, she comes out blowing her head off.
"So I was a bit worried about the flight to Queensland and then running the next day, but everything was fine – she was fantastic."
Mepunga Ruby's perfectionist nature is not a worry at all for Britton.
In fact, he believes her attitude is a good one because she is so focused on racing.
"We probably haven't done enough of it (travelling with her). The only other time she flew was going to Perth," he said.
"And she might've gone over there a couple of days before.
"She's a dog who's not overly affectionate. She just wants her bed.
"And then when she's there on the racetrack she wants to race.
"It's how you want your greyhounds – quiet in the kennel, and when there's something she wants she'll arc up."
Mepunga Ruby's love of competition was on show in her heat victory last week.
With 24 wins from 46 starts and over $444,000 in prizemoney, she showed all her experience and nous to poke her way through Oh Oh Range and Sorority on the turn for the home straight.
Elite dogs can make the most of a little bit of luck which comes their way, and Britton's consistent stayer did just that.
"There was probably a little bit of luck involved. You only need a dog to move out in front of her in that race last week," he said.
"She split a gap that wasn't really there, and she came out of it without being checked.
"It looked like a perfect, smart run last week. But nothing veered off and got her.
"I was really thrilled with her run last week."
Mepunga Ruby won from box six in her heat, comfortably beating home runner-up and Bold Trease Final winner Stagger Out Lee.
She has the benefit of the No.3 lane on Thursday night, with two wins and two places out of four starts from that position.
Kennelmate Korda ($11) will start from box four.
"She's well boxed. All I wanted was Korda to be outside her, and that's panned out well," Britton said.
"That's because he runs a straight line. And she runs a pretty straight line as well."
Britton is expecting Days Of Thunder and Stagger Out Lee to mount strong challenges from the one and two box respectively, but believes Mepunga Ruby will be up to the task of covering them in the first section.
"With the inside two, we should be able to lead, but that doesn't always happen," he said.
"So I'm hoping going around the first turn she can lob pretty close to them."
Britton said Mepunga Ruby and Korda had the skills and racing styles to avoid any potential outside traffic from speedsters Pocket Money, Sorority and Oh Oh Range.
"All the speed is outside. So I'm just hoping she gets a bit of a shepherd from Korda," he said.
"Because he's much the same – he's got early speed as well.
"He should hold his line, and hopefully she can run underneath him."
Britton has nominated Mepunga Ruby for the Group 1 Zoom Top as her next assignment over 730m at The Meadows on February 11.
"If everything goes well, she'll be in the Zoom Top, which is nine days later," he said.
"And then they have the Fanta Bale (Super Stayers Heats on February 18) over the Australian Cup period.
"They'll be the next two things to look at."
2023 Albion Park Gold Cup Final field
2023 Gold Cup Final Box Draw & Field

Albion Park720mGroup 3$100,000 to the winnerThursday, February 2, 2023Race 6

1

Days Of Thunder

T: Warren NichollsF: 434144Career: 54: 16-8-7Prizemoney: $205,785

2

Stagger Out Lee

T: Jack StruttF: 223352Career: 56: 10-16-9Prizemoney: $191,635

3

Mepunga Ruby

T: Jeff BrittonF: 311221Career: 46: 24-11-3Prizemoney: $460,205

4

Korda

T: Jeff BrittonF: 412323Career: 37: 8-11-7Prizemoney: $85,665

5 Superman

Keeping

T: Selena ZammitF: 113411Career: 34: 10-8-8Prizemoney: $79,465

6

Pocket Money

T: Ned SnowF: 852512Career: 39: 14-6-5Prizemoney: $110,845

7

Sorority

T: Jedda CutlackF: 744143Career: 21: 5-4-2Prizemoney: $21,575

8

Oh Oh Range

T: Ned SnowF: 524534Career: 42: 12-6-9Prizemoney: $135,565

Reserves

9

Me And You

T: David BaileyF: 311655Career: 52: 6-5-12Prizemoney: $38,465

10

Gin Shelf

T: Noel EvansF: 462225Career: 16: 1-6-0Prizemoney: $9,345
Similar Greyhound Racing News