Bravo Hones in on Easter Egg after Richmond Derby win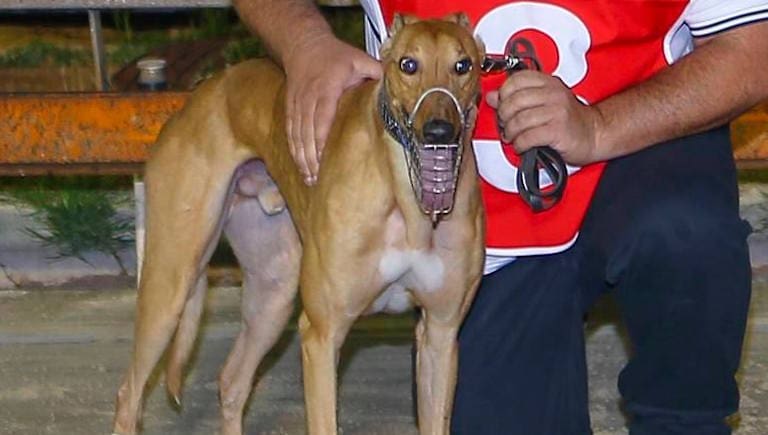 HONE In (Spring Gun x Benalla Doll Oct '14) will be aimed at the heats of the Group 1 Golden Easter Egg (520m) at Wentworth Park on Saturday night after his determined victory in the Richmond Derby (535m).
Trained by Brett Bravo, the red fawn dog started from box three as a $7.70 shot on Friday night, stepping well and racing through to take the early lead.
Despite battling throughout most of the event with Wild Walter (Magic Sprite x Takeover Teddy Jan '15), Hone In was too classy at the finish, finding the line half a length in front in a fast 30.51.
Queenslander Maurice Minor (Cosmic Rumble x Shabeky Jun '15) finished third ahead of race-favourite Aston Duke (Go Wild Teddy x Aston Elle Jan '16).
Bravo's wife Kelly, who co-trains Hone In for owner Stephen Lambert, was delighted with the triumph at just his fourth start since resuming from a two-month spell.
"I was really happy that he won – he is one of my favourites around the kennel," Bravo told Australian Racing Greyhound.
"I think he was a bit underrated in the final because of his heat time the week before – he didn't go as quick as some of the others.
"But looking at the run it was good all things considered – he didn't get out that well, he had never seen the track and he missed the turn a bit and found some trouble.
"It was also his first 500 since getting injured last December, so we thought he went well and we were expecting him to improve heading into the final."
Hone In was sidelined just before Christmas due to a hock injury, but has won three of his four starts since resuming in February. Bravo said Friday's Group 2 win was particularly impressive given his interrupted campaign at the start of the year.
"He won his heat of the Christmas Gift at Sale he pulled up with stress fractures in his hock, so he needed a couple of months off.
"We kept him fit by swimming him because he couldn't gallop at all, then he only had two trials and was straight back racing – so it's a big effort for him to be going as well as he is."

Hone In has now won 17 races from 53 starts with a further 16 placings. The Richmond Derby triumph was the first group win of his career and took his earnings to $93,970 – not bad for a dog which was sent to team Bravo with some questions surrounding his tenacity.
"We are his third trainers and when he came to us we were told that he was a non chaser, but to be quite frank he is probably one of the hardest chasers we have ever trained.
"I don't know why people had that opinion of him – we think he is a ripping dog – he just lives to race."
Bravo is hopeful Hone In can now continue to compete at the top level and says he is good enough to taste further feature race success.
"He isn't an old dog, but he certainly isn't a young dog and he has had a few issues with his metacarpals and now his hock.
"But he has proven he is up to this level now, so we have just got to focus on keeping him fit and sound – if we can keep him on the track until around the end of the year I definitely think he has a few nice wins in him."
Hone In's next target will be the Group 1 Golden Easter Egg, with Kelly and Brett aiming to go back to back after winning the 2017 edition with their kennel star Striker Light.
"He chases wherever he goes, but [Wentworth Park] can be a tricky track first up so hopefully he can get a bit of luck and make it through to the next round.
"He should improve on whatever he does in the heats and he is definitely capable of running time – he went 29.90-odd at The Meadows on a slow track so hopefully we can see what he can do."
Meanwhile, Striker Light (Kc And All x Pretty Fancy Mar '15) will be given the chance to defend her title when she returns to the Harbour City for the heats of the Egg.
The black bitch has had no luck in her recent runs since winning last month's Group 1 Temlee, but Bravo says she should relish being back at Wenty where she has already won twice at the highest level.
"She hasn't had much luck her past few starts – there was a bit of pace on her inside at Sandown last week which made things tricky.
"But she is feeling well and she loves Wentworth Park. She seems to nail the start there most of the time, so hopefully she can do that again this week."
More Greyhounds News