Cairnlea duo to represent SA in Launching Pad series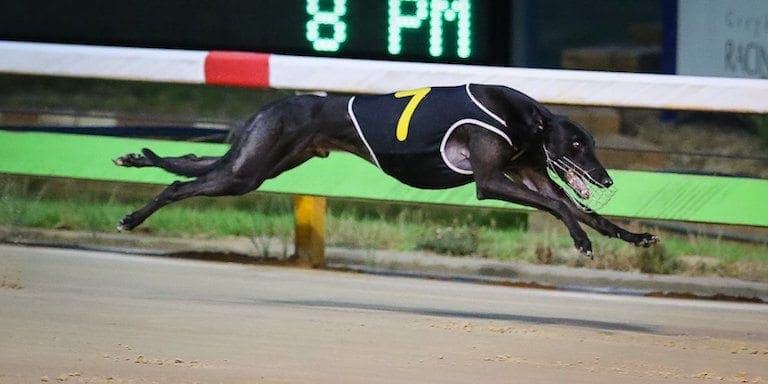 CAIRNLEA Jet (Bekim Bale x Cairnlea Ellie Mar '16) earned himself a ticket into this year's Group 2 Launching Pad (515m) at Sandown Park after winning the qualifying final at Angle Park on Thursday night.
Prepared by Petar Jovanovic, Cairnlea Jet settled in fourth spot off box seven, taking a gap between two of his rivals down the back straight and railing through into third position.
Once he found the fence Cairnlea Jet held his spot, pushing up underneath race leader Abuzz (Fernando Bale x Hope's Up May '16) around the home turn and sprinting clear to win by three and three quarter lengths in 29.75.
"I was very happy, it was a good win," Jovanovic told Australian Racing Greyhound.
"On what he'd been trialling I thought he was the fastest dog in the race, but he is still a baby and learning what to do in a field so you can never be too confident.
"I loved seeing him take that run between two other dogs – it showed some determination. Then once he found the fence he was far too strong."
Cairnlea Jet has now won four of his eight starts with two minor placings. He has won his past three appearances, making Jovanovic's decision to step him up to 600 last month a masterstroke.
"He is still learning and had been knocked around a bit, but I knew he'd run the 600 so I decided to put him in hoping he'd be able to get on the bunny and stay out of trouble," he explained.

"The plan worked and then I switched him back down to the 500 for the Launching Pad series to give him some more experience and education against other young dogs.
"In the heat he came out with a bit of gusto – he obviously got a bit of confidence out of the 600 and he is showing that he is learning with every start."
Cairnlea Jet is owned and bred by Jan Hubbard, who has had many thrills with his older brothers Cairnlea Kenny (x Premier Fantasy) and Cairnlea Ollie – the former a finalist in last year's Group 1 Adelaide Cup.
Hubbard and Jovanovic now look set to have plenty of fun with Cairnlea Jet, with the youngster set to make the trip across to Victoria with his equally-talented kennel mate Cairnlea Strider (Bella Infrared x Cairnlea Layla Mar '16) for the Launching Pad series.
"When he won his way into the series we decided to pay up for Strider who I think is as good as him," Jovanovic explained.
"Strider won at Angle Park on Monday and went 29.77 – but like Cairnlea Jet he is also learning what racing is all about.
"There are going to be some nice dogs which have been set to for this race and most of them will have that home track advantage, but I am heading over to trial to give them every chance.
"They are wonderful dogs to train and with a bit of luck I give them a chance in the series."
The heats of the Launching Pad will be run at Sandown Park on March 15. The series is eligible to greyhounds with 1-6 wins from no more than 30 starts, with connections required to have purchased one of the 64 entry forms for the series.
The final will be held on March 29, 2018, and is worth a massive $150,000 to the winner.
More Greyhounds News