High Eden Frost boxed to cause an upset in 2017 Adelaide Cup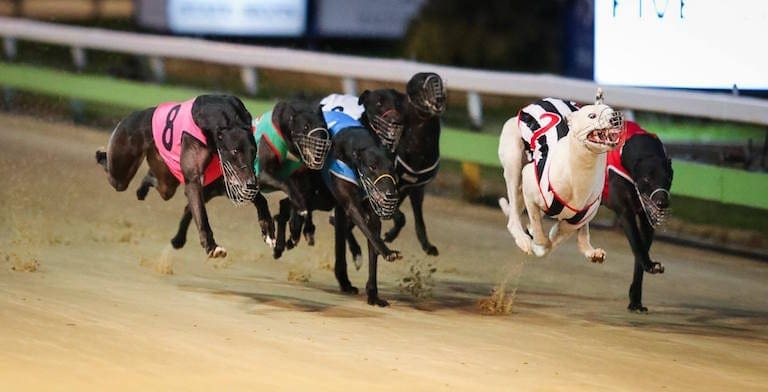 JANICE Jones says she is riding the crest of a wave after her talented greyhound High Eden Frost (Banjo Boy x Zardae Feb '15) was able to qualify for this Friday's Group 1 Adelaide Cup at Angle Park.
The local greyhound, trained at Eden Valley by Jones and her husband Tony, was able to lead his qualifier of the state's biggest race last Thursday before being tackled by powerhouse Victorian Bewildering (Black Magic Opal x Outlandish Feb '15) which strode clear to score in 29.52.
High Eden Frost was far from disgraced, finishing just over four lengths behind Australia's fastest greyhound, with the performance enough to book him a spot in the feature final worth $75,000 to the winner.
"It was a nerve-racking wait to see if he'd make the final as one of the two fastest seconds – but it was a tremendous thrill finding out he did make it," Jones told Australian Racing Greyhound.
"He has been a very consistent dog and has been racing in top grade here for quite a while; although there was a lot of hype around the Victorian dogs coming across for the series so we were a little bit unsure how the local dogs were going to perform up against them.
"But we had a big belief in our dog and he held his own on Thursday – he only knows one thing and that is to race and race hard. He is a very reliable dog and we couldn't be prouder of him."
High Eden Frost is the winner of 18 of his 35 starts with a further 10 placings, his prize money earnings sitting just above $40,000. Amazingly, 13 of his victories have been over the 515m distance at Angle Park where he boasts an impressive 29.63 personal best.

Whilst he undoubtedly holds a home track advantage along with fellow crow-eater Cairnlea Kenny (Premier Fantasy x Cairnlea Ellie Apr '15), the locals will face a tough challenge against what is arguably the best Adelaide Cup field in recent years.
Seona and Jason Thompson have qualified three through to the final – Bewildering in 29.52, Aston Dee Bee (Barcia Bale x Aston Elle Apr '15) in 29.60, and former SA greyhound Worm Burner (Oaks Road x Little Looper Dec '13) in 29.59.
Also qualifying was dual group 1 winner Striker Light (Kc And All x Pretty Fancy Mar '15) in 29.92 for Brett Bravo, Zara's Entity (Mogambo x Girl Aloud Apr '15) in 29.83 and Raw Ability (Barcia Bale x Bugatti Flyer Mar '15) which stopped the clock in 29.64 when being beaten by Aston Dee Bee.
Jones says she is under no illusion how tough the final will be, however she remains optimistic her kennel star can run a big race after coming up with the coveted rails alley.
"I know there are faster dogs in the race than he is, but if he gets any luck he will be a serious contender.
"He has the one which he loves. A good draw really makes the difference in these big races and he is the type of dog which can begin well and he doesn't give up the rail easily.
"Striker Light is the dog to beat out of the boxes, but it is going to be an exciting race because there is a real mix – some dogs are good beginners and others are strong finishers.
"We believe he is up to racing at this level and to me he is the perfect race dog. He doesn't get too stirred up before the races, he is very focused and he knows exactly why he is there – he just needs a little bit of luck."
Jones only has three greyhounds in work, all of which are from the Banjo Boy x Zardae litter, which Janice and Tony purchased from breeders Kay and Neville King when they were four months old.

A win in the Adelaide Cup would be a career highlight for the couple, who trained Strictly Mambo (Surf Lorian x Ask Any Dancer Sep '07) which ran second in the 2010 event behind Dyna Lachlan (Go Wild Teddy x Benden Flex Jul '07).
Seven years later Jones says she is once again pinching herself about making the final.
"Running second was so exciting and I am now re-living all those feelings again – we are on such a high and excited to be a part of it.
"The local trainers and breeders have been wonderful – we have a lot of people congratulating us and behind us wishing us well.
"It would be unbelievable if he were to win – its something you could never plan for."
The Group 1 Adelaide Cup will be run on Friday night with winning connections pocketing $75,000.
2017 Group 1 Adelaide Cup – box draw
1 – High Eden Frost
2 – Aston Dee Bee
3 – Striker Light
4 – Raw Ability
5 – Cairnlea Kenny
6 – Worm Burner
7 – Zara's Entity
8 – Bewildering
Reserves
9 – High Eden Snow
10 – Zipping Inglis
Similar Greyhound Racing News