Can Outside Pass secure an elusive group 1 in National Distance?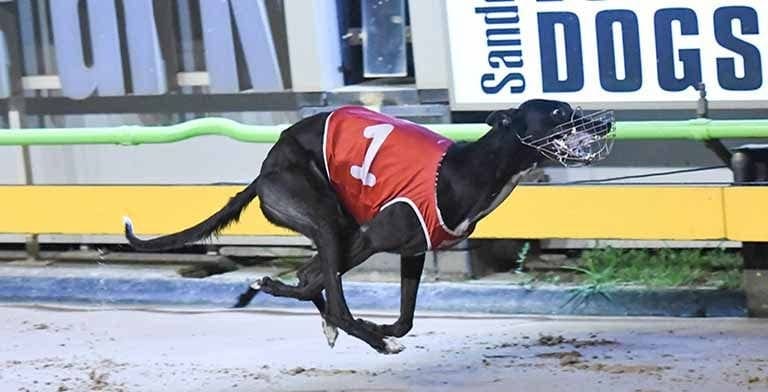 GATTON trainer Tony Apap says his bonny bitch Outside Pass (Head Bound x Tina's Show Aug '13) is due for a change of luck heading into this Friday's Group 1 National Distance Championship (710m) at Albion Park.
The black bitch qualified for the final when defeating seasoned stayer Big Easy Red (Barcia Bale x River Seine Dec '13) in the Queensland Distance Final last Thursday night – an amazing effort given it was just her second crack at the gruelling 'half-mile' trip.
Apap said he had no doubt that Outside Pass would run out the testing journey and that he was pleased with her effort to score in a slick 41.83.
Outside Pass too good in the QLD #UBETNationals Distance Final, holding off Big Easy Red. Both progress to next week's final @BrisGreys pic.twitter.com/vvHQVIGwKe

— Puntersland (@Puntersland) August 17, 2017
"It was my aim all along. Her best work over 500 and 600 has always been at the end of her races so I didn't think she'd have any problems with the 700," Apap told Australian Racing Greyhound.
"I thought her win in the final last week was a big run – you can't see it from side on but from behind you can see that she got into a bit of trouble – she got turned sideways – and yet she still came from behind and was able to run 41.81.
"It was a great effort."
Friday's final will be the sixth group 1 Outside Pass has contested throughout her 52 start career, having previously finished second in the 2016 Group 1 Winter Cup, third in the 2016 Group 1 Brisbane Cup, fourth in the 2016 Group 1 Melbourne Cup, fourth in the 2017 Group 1 Brisbane Cup and fifth in the 2016 Group 1 National Sprint Championship.
She has also been a finalist in the 2016 Group 2 Shootout (second), the 2016 Group 3 Speed Star (second), the 2017 Group 2 Maitland Cup (fourth) and the 2016 Group 2 Richmond Oaks (fifth).

A win in the National Distance will be career victory 26 and will take her earnings beyond $254,000 for Apap and her owners, the That Will Do Me Syndicate.
"She has been in five or six group 1s and she has run a few placings but she has always been unlucky and hasn't been able to win one," Apap said.
"She is definitely overdue for a change of luck and I think she deserves to win a group 1 before she retires – hopefully she is able to do that on Friday night."
The final is arguably the best to be assembled in recent years featuring three group 1 winners; Burn One Down (Buck Fever x Fancy Jaffa Jan '14), Fanta Bale (David Bale x Ucme Typhoon Aug '14) and Bogie Bekim (Bekim Bale x Bogie Skye Apr '14) as well as boom NSW stayer Ebby Ripper (Sh Avatar x Ebby Miss Feb '15).
Outside Pass will start from box eight in the National final, with Apap expecting a big performance from his 30.7-kilogram powerhouse.
Here's the box draw for the #UBETNationals Distance Final to be run 25 August at @BrisGreys pic.twitter.com/rS2AQlKvi0

— Puntersland (@Puntersland) August 18, 2017
"She has finally drawn where she wants to be – this will be the only group 1 final where she has drawn her favourite box," he said.
"But obviously its going to be a hard race. There are seven other dogs in with a chance and there are a couple of champions in there so she is going to have to be at her best to win.
"They are going to go hammer and tongs early so it is going to be interesting to see who gets the upper hand.
"If she gets to the front I will be very pleased because she is going to be running quick times and they are going to have to be very good to get past her."
The Group 1 National Distance Championship will be run this Friday night and is worth $75,000 to the winner.