Elite Machine's Perth Cup win top of the pile for Jamie Marsh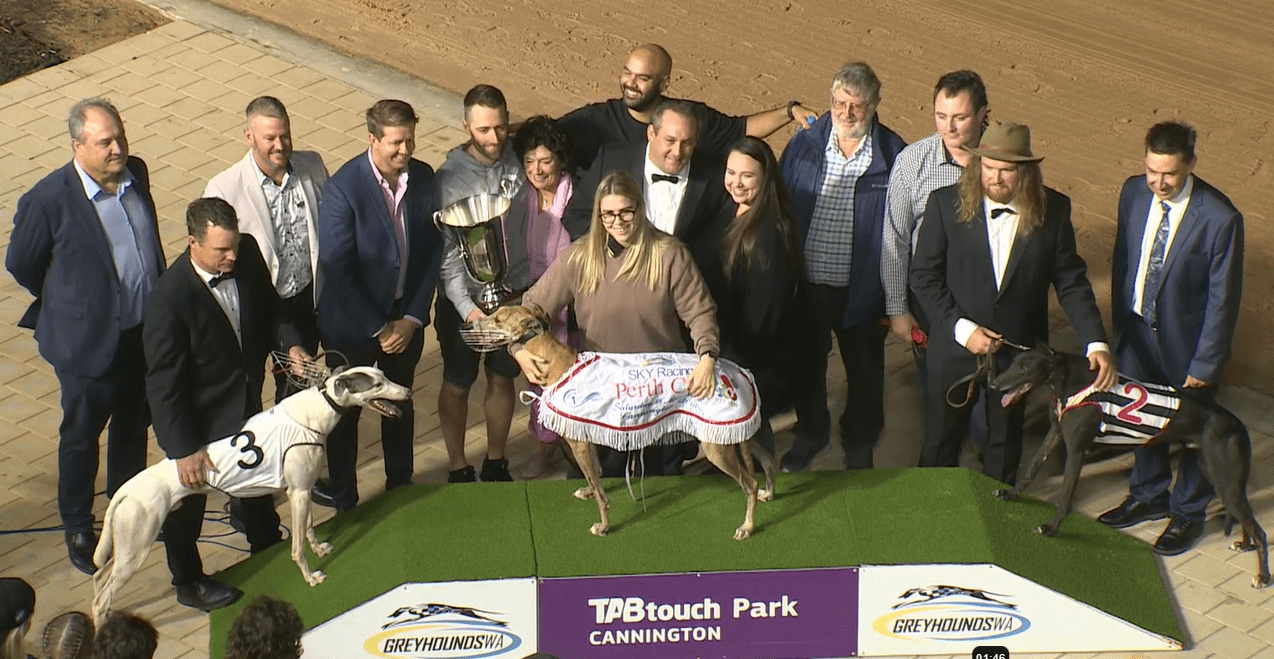 Jamie Marsh might have struggled to explain the feeling of winning his first Group 1, but his star dog Elite Machine certainly knew what he was doing in the Perth Cup at Cannington.
Among some early carnage at the first turn, the two-year-old showed racing nous beyond his years to hold his line with the bigger Electrified on his outside, before passing Rumblin' Moment on the back straight.
He wasn't headed from there, the $2.20 favourite winning the 520m feature worth $285,950 in 30.15 seconds, and comfortably beating runner-up Electrified by 6 ¼ lengths.
"I don't know how to explain it. It's amazing. You get up every morning and you race at night, and you just work hard," Marsh told Australian Racing Greyhound.
"It was definitely the highlight of my racing career."
He might have struggled to put the win into words, but Marsh knew his dog was a serious chance of giving him a life-changing victory after drawing the coveted box one.
Last week he told this publication Elite Machine had the ideal straight running style to beat Electrified, one of Western Australia's top sprinters for Krystal and Steve Shinners.
And indeed, that technique – which saw him win his heat in a scorching 29.55 seconds – served him well from the red lane in the final.
"We gave him the exact same week that we gave him before in his heat, and the week before with him going super," Marsh said.
"The one thing you probably don't want him to do was miss the kick off the red in a final.
"He probably did miss it by half a length, but he's just a super dog.
"The red was a massive advantage. If you were to give him any other box he probably doesn't win.
"But he also had every chance to throw in the towel, but to his credit he's a super dog and he found a way to win."
After bumping Electrified out of the way, Elite Machine then expertly got on the outside of Rumblin' Moment for Joe Dailly, who crossed over nicely from the eight lane.
And with his slick speed, it was a case of "shut the gate" from there.
"The eight came over and gave him a bit of grief, but to his credit he punched up hard up the fence and just found a way to win," Marsh said.
"Super dogs find a way to win, and he is a super animal who found a way to win.
"He's dead set just a good chaser and he's full of confidence.
"His few runs back have been super."
Marsh admitted in an interview after the race he closed his eyes and hoped for the best after the rough first turn.
But knowing the ability his dog possesses, he also never panicked.
"I missed what happened on the first bend. The adrenaline was pumping and there was a lot going on," he said.
"You're watching and hoping.
"His ability to just keep pushing and keep pushing, and find a way to get to the front when there were three super animals driving into that first bend – Electrified and Joe Dailly's dog.
"For him to keep pushing and find a way to get to the front, he was enormous.
"Electrified is a super animal. So for him to knuckle down and drive through that bend and find a way to get to the front down the back was enormous."
If Marsh did not have to get up so early on Sunday morning, he probably would have gone out celebrating.
After all, Saturday night – which also featured the Galaxy staying feature – is the only night on the Western Australian greyhound-racing calendar where Group 1 titles are up for grabs.
But he was content to just reflect on the magnitude of the moment with a few beers on the couch at home.
"I always thought if I won a Group 1, I'd end up at the casino and be partying for two days," he said.
"But after (Saturday) night, just the week you go through I had a couple of stubbies and sat on the couch watching the replays with some of my dogs in the other races.
"And that was it – I went to bed.
"I dead set don't know how to explain it. There are no words.
"I still don't really think it's sunk in that I won a Perth Cup."
Group 1 Perth Cup Race Replay – Cannington 18/3/23
Similar Greyhound Racing News