Equalizer on course for back-to-back Brisbane Cups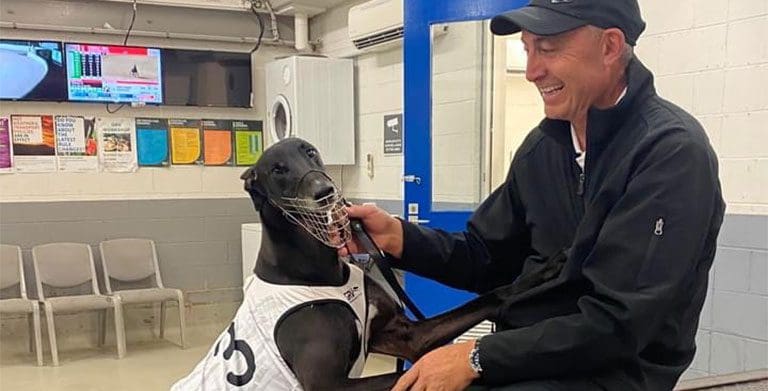 Having completed one of the most remarkable returns to the race track, Equalizer will line up this Thursday attempting to win his second consecutive Group 1 Brisbane Cup final.
After weaving his way through the field in his heat victory last Thursday, trainer Jason Thompson could not be more proud of his chaser's efforts, after succumbing to a serious injury.
"He was retired because he tore a triangle out really badly and pretty much retired him," he said.
"He was serving bitches and there was no plans at all that he would ever race again.
"We kept him in the race kennels and treated him to get him through the injury and just did everything as per normal, and the hope was he would just do alright as a stud dog.
"Because he was in the race kennels and getting worked with the other dogs, about three months beyond when he hurt himself, he was moving really well.
"I got my vet to have a look at him, he said it didn't feel good but for what he'd done, he was holding up really well, so we pressed on and started free galloping him and he held up really well."
Exiting from box four last Thursday, the son of KC And All and Captivating, who's currently under the temporary care of astute Queensland mentor Tony Brett, produced another classic come-from-behind performance to stop the clock in 29.88 for the 520m journey.
"It's been a big effort by the dog to get through what he has and get back to the highest level and considering his racing patterns, he's got to do it pretty tough every time he goes around," Thompson said.
Although not ideally drawn in box six in the $250,000-to-the-winner final, Thompson isn't overly concerned, given his well-known racing style.
"It probably didn't matter where he drew, it's a field with a lot of speed in it," he said.
"Wherever he drew, he will be near last at the winning post and he had box 5 when he won this race last year.
"As we've seen, he can work it out once he gets behind them."
Owned by the Buccilli family, who've experienced some incredible moments in the sport, in conjunction with Thompson, if 'Stan' manages to claim victory, his prizemoney earnings will surpass
Team Thompson will also contest the Group 1 Queensland Cup over the 710m journey with Collinda Patty an outstanding all-the-way victor in her heat last week, defeating staying star Zipping Kansas in a best-of-night performance of 41.51.
"She did find the front past the 600 boxes, but she had to really work to get there and run a length quicker than Bedrock Fred," Thompson said.
"She showed what she can do when she can find the front early. Her record shows when she can get to the front early, she can reel off very quick times.
"Even though she's got box 6, she's got dogs either side of her that I'm fairly confident will give her the bit of room early that she needs.
"If nothing else, I think she will get a clear run early and hopefully gets herself into a nice position."
Similar Greyhound Racing News