Grenfell snags back-to-back Graeme Hull Memorial Cup trifectas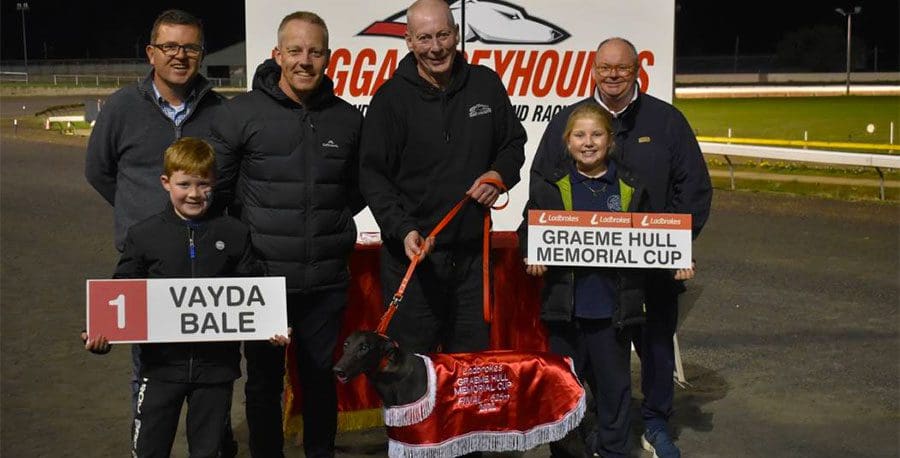 Correy Grenfell and his team have put countless hours into making their operation the success that it has become.
But, as he says, dreams are free, and they all have the same vision. This is what keeps them all on the same page.
And it was a big reason why Team Grenfell came up with a trifecta for the second year in a row in the $33,785 Graeme Hull Memorial Cup Final (525m) at Wagga Wagga last Friday night.
Vayda Bale – a $13 outsider with online bookmakers – saluted in 29.83 seconds, with kennelmates Xavien Bale and Nikoli Bale taking out second and third, respectively.
Yozo Bale, Xavien Bale and Usman Bale were the top-three finishers in this race last year, on both occasions the Grenfells entering four runners.
Reigning champion Yozo Bale was seventh at the line last Friday night, which did not disappoint the Grenfells too much because he drew box seven.
Indeed, scoring a trifecta two years in a row is an amazing achievement, and Grenfell has an excellent knowledge of greyhound racing.
But he was quick to deflect praise onto his wife Samantha, and team members Mark Johnson and Neil Jones for their tireless assistance.
"People say dreams are free. You go into the race with four and there's a chance you can do it (get a trifecta)," he said.
"But to pull it off again, it's a credit to the team.
"Without Samantha there's no operation here. She's the backbone of the whole operation.
"Mark Johnson and Neil Jones make it a happy team. I honestly feel like since these two blokes have worked for us in the past four or five months it's a happy team, and the dogs are going excellent because of it.
"It's a happy feeling on the property. We've taken things to another level and everyone works in well together.
"It's a happy workplace when the dogs are happy. We're all doing our part for things to run as smoothly as possible."
Grenfell said Vayda Bale was now capable of reaching the $525,000 Brisbane Cup Final (520m) on July 7.
"I'd be surprised if we didn't send something up for it," he said.
"We've got the right type of dogs with the right ability for those races. No doubt you'll see us up there.
"She's in a normal city race this weekend, but she's one we'll target feature races with."
Grenfell was full of praise for Vayda Bale after the way she took advantage of and jumped so quickly from box one last Friday night.
"It was excellent. She did what we thought she would, which was lead, and she proved to be too good," he said.
"When she came out four lengths in front from the boxes it made it hard for the other dogs to catch her.
"Her early speed is as good as it gets. She breaks dogs' hearts coming out of the boxes.
"Over her past couple of starts she's gone to another level. So it gives you confidence going into the big races with the way she comes out of the boxes."
Yozo Bale has overcome his fair share of injuries over 99 starts, the Victorian legend amassing $373,855 in prizemoney in that time.
Importantly, Grenfell said the four-year-old was well after he got pushed back into the field from box seven last Friday night.
"It was just the box draw. I expected him to go forward, but he crashed left a bit harder than what he normally does," he said.
"That took him out of the race, but he's pulled up well. There are no concerns with him.
"That was just one of those runs you forget about on the box draw."
Similar Greyhound Racing News