Grubb celebrates a treble at Hobart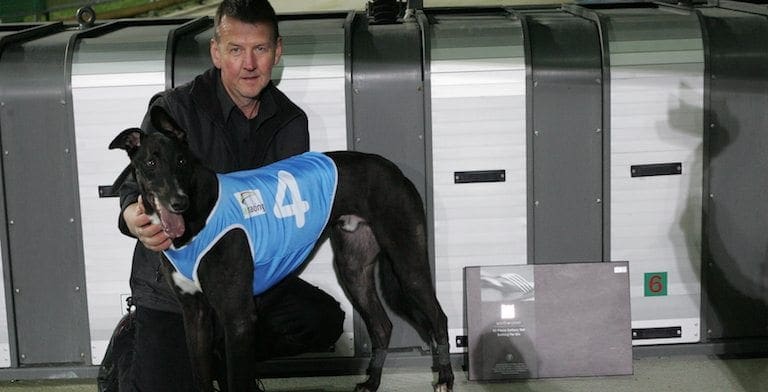 WHEN Robin Grubb took four of his six race dogs to Hobart on Thursday night the St Leonards-based trainer was in for a treat, leading in three winners including both heats of the Tas Bred series over 461m.
It was a career highlight for Grubb, who owns and breeds his greyhounds with his parents Bob and Bev Grubb, and has been training for the better part of 10 years.
"It was very exciting," Grubb told Australian Racing Greyhound.
"You go to the track hoping you have a chance and I thought I might have a couple of good place chances and maybe a winner – but you never expect to get three winners."
His first to salute was Hi Dixie (High Earner x Stylish Moon Dec '14) which showed good early toe to land the opening heat of the Tas Bred series in 26.33.
It was her sixth win at start 30, taking her earnings beyond $11,000 for the Grubb family, defeating Buckle Up Alex (Cosmic Rumble x Li Li Feb '15) and Kiss Me Victor (Fabregas x Stylish Abbey Oct '14) which finished second and third respectively.
"She is a good little honest bitch and she was suited in that grade," Grubb said.
"She is a nice beginner and she is quite strong so I thought she'd run well and although she has gone a bit quicker in the past it was a very cold winter night so I was very happy with the run."
Grubb bagged the running double, with Hi Dixie's litter brother Halo Henry saluting despite an ordinary beginning, running a personal best 26.16, defeating another litter mate, Hello Teddy.
A winner of five from 30, the black dog has now won two of his past four, having been lightly raced over the past few months. Grubb said Halo Henry is finally starting to put it all together on the race track.
"He can miss the start a bit like he did on Thursday night but he mustered up well around the corner – he is a very handy little dog.
"He is still a puppy. He is very excitable and is always wagging his tail – he thinks it's all a bit of a game – but they are getting close to three now and he is slowly growing up and starting to put it all together."

Grubb believes his duo will play a prominent part in next Thursday's $1,685 to the winner final, but says he will also be cheering on another pair which he bred.
"I'm looking forward to the final – there is four in there that I bred. Other than my two there is also Hello Teddy which is a brother to Halo Henry and Hi Dixie and I also bred Kiss Me Victor.
"Hello Teddy and Kiss Me Victor are both trained by my good mate Terry Ackerly. It is a big thrill to have them there in the final and there is not much between the lot of them so I expect it to be a very good race."
Thursday's success was rounded out by kennel star Hello Nugget (Fabregas x Stylish Abbey Oct '14) which took his record to 14 wins and 19 minor placings when saluting in race eight.
Now a winner of four of his past six starts, the 2016 Hobart St Leger winner has won more than $30,000 for connections.
"Nugget is very consistent and he has been a really good race dog for me," Grubb said.
"He won the St Leger last year and he is top grade nearly everywhere which makes it tough, but he is still racing well."
The treble continued Grubb's stellar run of form on the track, having trained 56 winners in the past 18 months from his small team in work.
He is hoping the success will continue on into the future with some more pups on the ground, with his father Bob in charge of ensuring the youngsters get the best start to life.
"Dad has been in the dogs most of his life and he only just gave up training at 89 – but he is still rearing and we currently have three Fernando Bale pups which are 12 months old.
"There are also some four-week old Magic Sprite puppies so there is plenty to keep us busy."
Similar Greyhound Racing News