Healesville Cup: Young gun sprinter could be the next big thing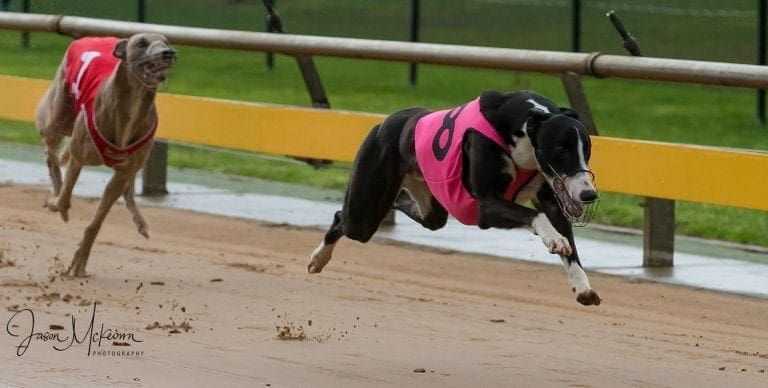 PETER Galo (Peter Rocket x Flossy Dec '15) will be giving away a stack of experience to his rivals when he contests this Sunday's Group 3 Healesville Cup (350m), but trainer Garry Selkrig reckons his boom pup has the ability to cause an upset.
Owned by the Terracotta Warriors Syndicate, Peter Galo was brilliant in his heat of the $25,000 to the winner series on the weekend, using box eight to perfection when defeating classy sprinter Judicial Man (Knocka Norris x All Fired Up Jan '14) by four lengths in a fast 18.88.
Selkrig, who has been training greyhounds for 45 years, said it was no shock to see the youngster perform so well – recording his fifth career win at just his sixth start.
"I wasn't surprised because he is a very smart puppy and he has been racing very well up the straight," Selkrig told Australian Racing Greyhound.
"The outside box helped him on Sunday. He can get out a bit ordinary at times but on Sunday he got a nice clear run out there and he got a good crack at them.
"He isn't like a pup at all – he has a smart head on his shoulders which is why I decided to go for the race against some of the more experienced dogs."
Peter Galo will move into box three for the final which is one of the best editions of the race assembled in recent years.
Also contesting the feature is National Sprint place getter Aston Dee Bee (Barcia Bale x Aston Elle Apr '15), Shepparton Cup winner Zinzan Brooke (Knocka Norris x All Fired Up Jan '14), group 2 finalist Kouta Mayhem (Fabregas x Belle's Melody Mar '15) and Melbourne Cup champ Ando's Mac (El Grand Senor x Brook's Doll Jun '14).

Selkrig says his charge will need to do everything right from box three to take home the prize from the draw.
"I'd prefer an outside draw but it is what it is," he said.
"After having a look at the other dogs drawn around him it probably isn't too bad. Zinzan Brooke seems to head to the fence, the four can be slow out and the five wants to get off the track a bit.
"If he can get a bit of luck at the start anything can happen."
Peter Galo is bred to run, being out of the lightly raced bitch Flossy (Primo Uno x Instructed First Aug '09) which was named after Selkrig's mother. Although she only won one race, Flossy is from a successful litter which includes Selkrig's former star chaser Stagger.
Stagger was one of the most consistent greyhounds to race in Victoria, winning 64 races from 137 starts with 38 placings – retiring in 2015 with $211,000 in earnings.
WHile it is early days with Peter Galo, Selkrig says the youngster has the ability to be even better than his group 2-winning uncle.
"At this stage he is shaping up to be a better dog than the old boy," Selkrig said.
"Without getting too carried away he looks like an exceptional dog this fella – I have a huge opinion of him to the extent that I sent back a few of the other dogs I had in my kennel to their owners so I could concentrate more on him."
With just four in work now, Selkrig is hoping his decision to focus on quality over quantity will pay off on Sunday – and the Devon Meadows trainer thinks he has a big chance.
"He is giving away a lot of experience but I reckon he can beat them on raw ability," he said.
"Don't get me wrong, I am not going there expecting to win but I know he is capable of doing so – he just needs a bit of luck in running.
"He is going to be a very smart dog."
Similar Greyhound Racing News