Hennessey qualifies fastest for Warragul Cup final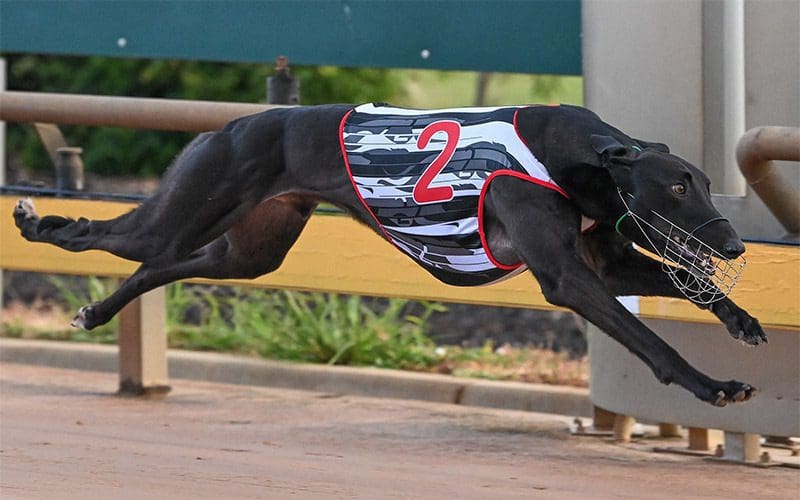 Hennessey has qualified fastest for the final of the Warragul Cup, with the Ashlee Terry-trained dog holding off several strong types to enter Friday night's final well in contention.
Hennessey, which won the Provincial Plate final on Melbourne Cup night in November, jumped from box 2 and clocked 25.53 to win the 2nd heat of the evening on Friday night.
Paying $3.30, Hennessey has now won six from eight starts at Logan Park and nine of his past 10 in total and is likely to enter Friday night's final of the Warragul Cup as favourite.
Hennessey outpointed Kinson Bale and Keep it Black to justify the bookies' bullish outlook on his prospects, with his second sectional of 11.08 indicating there might be further improvement.
Titan Blazer, which finished third in the G1 Silver Chief last Saturday, won a fifth race from six starts to book his ticket into the Warragul Cup final in a time of 25.57.
Trained by ex-pro wrestler Daniel Gibbons, Titan Blazer jumped at $2.80 and eventually proved too strong for the Andrea Dailly-trained longshot Indy Honey and Paua of Oscar.
Young gun trainer Kayla Cottrell has qualified her gun dog Robbie Rotten, who cut his teeth on the NSW country circuit, for the final with his seventh win from his last nine starts.
Andrea Dailly will also have two runners in the final as she seeks a second Warragul Cup, 17 years after she won her first with Sun Hero.
Gypsy Bun won the first heat of the night, while Indy Fido, which finished second to Robbie Rotten, has also been given a ticket into the $47,000 to-the-winner Warragul Cup.
Warragul Cup heat winners – fastest to slowest
25.53sec Hennessey
25.58sec Titan Blazer
25.59sec Robbie Rotten
25.73sec Gypsy Bun
25.87sec Ultimate Avenger
25.97sec Hamillson
More Greyhounds News