Kobble Creek: tenacious at the highest level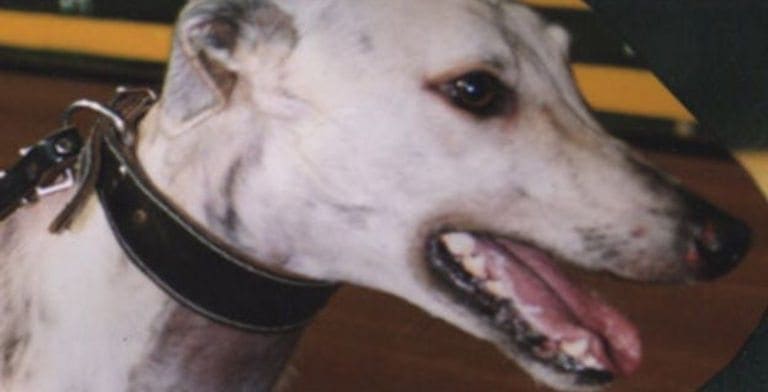 The National Distance Championship is meant to pit the very best 'half-milers' of each state against each other in a true test of racing skill and the list of winners down through the decades clearly reveals a long tradition of the great and near-great. Among the best is undoubtedly the Queensland champion Kobble Creek, the winner of the last National Distance Championship to be held in the twentieth century.
A brindle dog by Gun Law Osti out of champion stayer Trojan Tears, Kobble Creek was whelped in November 1996, a product of the prolific Michael and Helen Ivers kennels.
He commenced racing on July 17, 1998, aged 19 months, and scored a brilliant 15-lengths victory in a maiden over 520m at Albion Park. Kobble Creek then moved through the juvenile and lower grades with a set of three wins, a second, third and fourth at his next six outings, at Albion Park (three races) and over 512m at Ipswich.
His first attempt at a middle distance, a 630m race at Ipswich on October 2, saw him finish a two-lengths second behind Miss Peralta.
Given a three-week break, Kobble Creek resumed with a 10-lengths win over 512m at Ipswich and then gave a glimpse of what the future held when bolting in by 13 lengths over the 630m trip at the same course just four days later.
Taken back to Albion Park for the Molly Campbell Memorial Silver Dollars series, Kobble Creek could only run third in his heat, but as one of the two fastest thirds he made it through to the final. From box four, Kobble Creek recorded a narrow neck victory in the final, downing future sprint star Hahn Bale. Among the among unplaced division were future topline stayers Platinum Prince and Sabryn Bale, both of whom would clash frequently in the future with Kobble Creek.
Michael Ivers brought Kobble Creek to Wentworth Park for the NSW St Leger series (now the Paws of Thunder). After winning a graded race on November 21, Kobble Creek could only finish sixth in his St Leger heat a week later.
Returning to Ipswich and Albion Park, Kobble Creek cemented his position as a future topline stayer with four successive wins over 630m and 600m, including one over Sabryn Bale, during December and into January 1999.
Kobble Creek's first run beyond a middle distance, a 686m race at Toowoomba, came on February 3, but he was beaten into second place by Wicked Reward.
Taken back to Wentworth Park for his first genuine distance race, over 720m, Kobble Creek led almost all the way and scored by three-quarters of a length over Captain Percy, ironically the same greyhound he had defeated at his first Wentworth Park start, over 520 m, almost three months earlier.
In another irony, Kobble Creek returned to the 630m at Ipswich for his next outing and was beaten by Miss Peralta, the same greyhound who had defeated him at his first 630m, in October 1998.
Back at Wentworth Park, Kobble Creek defeated the classy Smart Attitude by just over four lengths on February 27 and was included in the field for the All-Star's Invitation Stake run at the track on March 13. At what was his first test in the top grade Kobble Creek chased the brilliant Dalalla for most of the race before running a solid third behind that greyhound and Anna Gee. Smart Attitude was fourth ahead of John Beam and Victorian stayer Moe's Tavern.
Wins over 555m at Beenleigh and 720m at Wentworth Park followed before Kobble Creek finished fourth behind Shady Macbeth in a heat of the Lord Mayor's Cup (now the Clem Jones Cup) over 520m at Albion Park.
A third behind Gallant Seagull and Smart Attitude (with Dalalla last of the six runners) at Wentworth Park was next and then Kobble Creek made his way into the final of the Wentworth Park Gold Cup by downing Smart Attitude by half a length in his heat of the race on May 15.

Kobble Creek acquitted himself well in the final, hitting the front briefly before fading to finish just over six lengths behind Dalalla in second place.
His next assignment was the 710m Albion Park Gold Cup, and after downing Platinum Prince in his heat, Kobble Creek was again runner-up in the final, behind the star all-distance greyhound Questions, going under by just three-quarters of a length. Smart Attitude was third, while Dalalla was fifth and Platinum Prince sixth.
Next it was down to Sandown Park for the John McKenna Memorial (Group 3) over 715m where Kobble Creek downed Sabryn Bale in his heat and then snared the final by just half a head from the second reserve Tanami to record his first Group success.
After winning by four lengths first-up over 725m at the Meadows, thereby completing a rather rare set of winning first-up at Wentworth Park over both 520 and 720m and Sandown (715m) and the Meadows, Kobble Creek was given a deserved break from racing.
He resumed on August 5 over 710m in the President's Cup (best 8) at Albion Park, scoring by five and a half lengths from Avoid Reality. A week later he again downed Avoid Reality in a heat of the Queensland division of the National Distance Championship.
In the final, at what proved to be his last race in Queensland, Kobble Creek once more defeated Avoid Reality to book his place in the September 4 National Distance Championship (Group 2) final, at Wentworth Park.
From box four, Kobble Creek turned the race into a procession, leading all the way to defeat the West Australian stayer Paradise Street by 11 and three-quarter lengths, the widest margin ever recorded in the history of the race. Dalalla was third. It was the fifth and last time the pair would clash, with Kobble Creek finishing ahead of Dalalla in three of their races.
Almost three weeks later, Kobble Creek made it eight wins on end as he cruised over the 618m trip at Richmond, scoring by five and a half lengths.
Staying in NSW, Kobble Creek next contested the Sydney Cup (Group 2), but was surprisingly beaten in his heat, running second behind Bigbad Jennie.
In the October 9 final, Kobble Creek held off a determined John's Fury to take the $25,000 first prize money cheque by half a length.
After running only fourth over 600m at Dapto almost two weeks later, Kobble Creek was given a month's break and sent to Melbourne to be trained by Peter Giles. He resumed on November 22 to score over 725m at The Meadows from Sabryn Bale.
A win and a fifth over 600m at The Meadows were followed by an easy victory in a heat of the Roy Maidment Memorial (Group 3) over 715m at Sandown. The final, held on January 6, 2000, saw Kobble Creek come from mid-field to register a one-length victory over Platinum Prince, in a race record time of 42.53. Sadly, despite the quality of his victory, it would be his last.
After running third in a heat of the Association Cup at Wentworth Park behind the brilliant Many Tricks, Kobble Creek did not race again for almost 10 months.
He resumed on November 11 in a heat of the Summer Cup at Wentworth Park, but could only run fifth. Seven weeks later, on December 30, he was beaten six lengths into second place by Flash Joan in the Neville Bailey Trophy (best 8) at Wentworth Park. His last start came on January 13, 2001 when he ran fifth to Flash Joan in an Association Cup heat.
Kobble Creek finished his career with 31 wins, nine seconds and seven thirds from 54 starts. He was unbeaten in four starts at Sandown Park.
At stud, Kobble Creek gave the lie to the belief stayers cannot throw good quality offspring. Tricky Tadmore, Laurie's Tigers, Sparkling Bubble, Mister Gee, Bustem, Super Bucks, Rolly's Run, As Said, Crimson Kobble, Rick's Reminder, Kobble Rock and Dyna Toyo were all sired by Kobble Creek and all won feature races across Australia.
Similar Greyhound Racing News