Just Browsing wins Launceston Breeders Classic final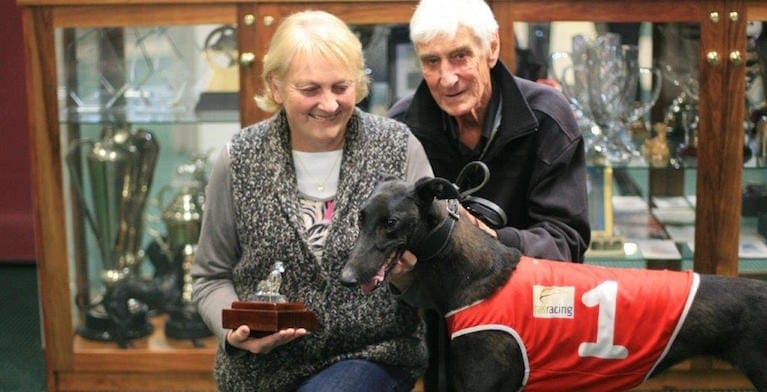 JUST Browsing (My Bro Fabio x Dennes Point May '16) returned from two months on the sidelines to score a commanding win in the Launceston Breeders Classic final (515m) on Monday night.
Trained and bred by Gary Fahey, Just Browsing stepped well off box one, racing through to take the early lead.
Despite finding the front it was no easy task, with the youngster battling with the well performed Dooper (Fernando Bale x Millie Grace Mar '16) throughout the majority of the race before prevailing to win by one and three quarter lengths in a smart 29.84.
Fahey, who owns the black bitch with his brother Greg, was full of praise, with Monday's $9,210 final being just her fourth official race start, and second since returning from injury.
"She had a nasty fall at Hobart at her second start and she was quite badly injured – it took a month for us to be able to start doing anything with her," Fahey told Australian Racing Greyhound.
"We persevered and got her to the qualifying trials for the series earlier this month and she was able to make it through even though she was very underdone.
"Since then she has just kept improving. She won her heat nicely and then last night she put it all together and it was a marvellous effort."

Just Browsing has now had four starts for three wins and has earned almost $8,500 in prize money. Fahey believes she has a bright future on the race track, as does her sister Sacred Shadow which ran fifth in Monday's final off an awkward box five draw.
"A lot of young dogs can have their confidence knocked about when they fall like that – but she is a bold little thing and not much worries her.
"She is a happy dog and she is always wagging her tail – she has a great attitude. I believe she has the makings of being a very good dog and her sister isn't far off her."
Just Browsing is bred to run, being out of prolific producer Dennes Point (Go Wild Teddy x Wooreddy Jan '09) which has thrown countless top race performers such as Breaker's Tip (x Mogambo), Rip And Tear (x Mogambo), Bruny Venture (x Mogambo) and El Grand Amigo (x El Grand Senor).
El Grand Amigo started favourite in the 2016 Hobart Thousand won by Zipping Bruiser and is currently on the come back after tearing his back muscle last year.
"All of her litters have produced some very good dogs, we have been very fortunate," Fahey said.
"She has had four small litters. All up 15 of her 18 pups have raced and all have them have been winners.
"Her 16th and final pup to race will be having his first start at Devonport [on Tuesday] and if he wins that will be her 150th winner."
Fahey is hopeful that the My Bro Fabio litter could be her best to date, with the youngsters all looking like strong 500m dogs.
"Dennes Point's other litters have lacked a bit of strength, but they have all been brilliant early.
"This litter probably lacks some of that early toe, but we went to My Bro Fabio hoping for some strength and it looks like it has worked.
"These days you need good, strong 500m dogs – all of the good races are run over 500m so that's what you have to aim for."
The next main goal for Just Browsing is likely to be the honoured Illingworth Classic which will be run and won at Launceston next month.
Similar Greyhound Racing News