Korda wins 2023 Group 1 Sandown Cup for Jeff Britton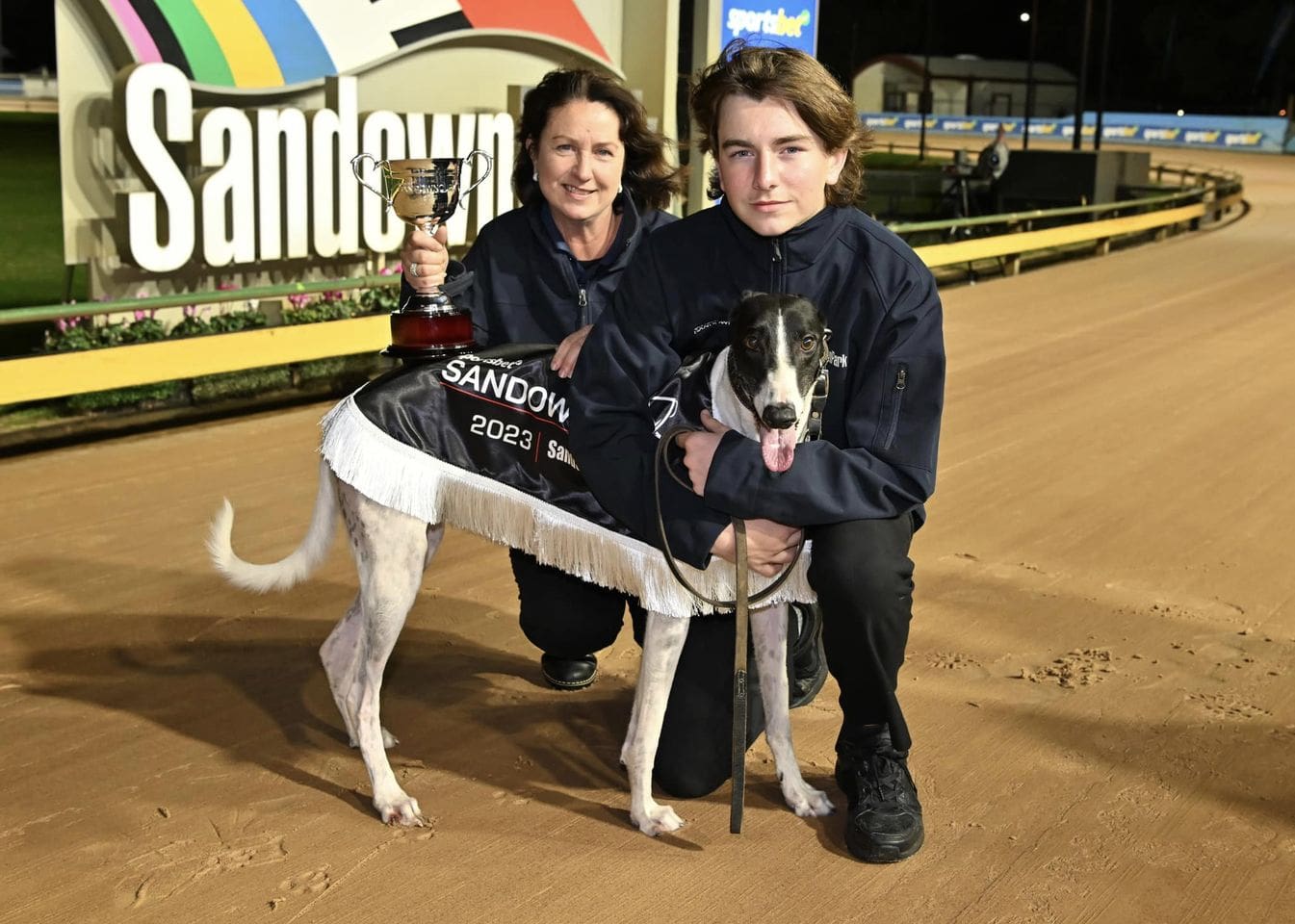 In a crowning glory of a race characterised as "The Battle of the Britton's", the Group 1 Sandown Cup, Australia's premier staying event, lived up to its anticipations.
Yet, the spotlight shifted to a new member of the Britton family, Jeff Britton, who edged out his elder brother Rob to take home the grand prize of $175,000 with Korda.
Rob Britton, a previous double victor of Sandown Greyhound Racing Club's marquee staying event with Fanta Bale (2017) and Tornado Tears (2018), had to step aside for his younger brother this time around, with Jeff winning his first Sandown Cup.
This win represented a moment of triumph for Jeff Britton, who finally overcame his Sandown Cup 'hoodoo' and seized his inaugural Sandown Cup trophy.
His earlier attempts had seen him finish in second place with True Detective (2020), and third place finishes with Tyler Durden (2021), Mepunga Tiara (2014), and Lady Moscato (2009).
Jeff lauded Korda for his consistency, saying, "He gives 100 per cent every time he starts; and he begins, which is the beauty with him".
In a thrilling finish, Korda, priced at +380 with greyhound betting sites, held off a late charge from First Picked (+950), finishing the race 0.6 lengths ahead in 41.83 seconds.
The up-and-coming NSW stayer Zipping Orlando completed the podium, finishing a further 5.1 lengths back.
2023 Group 1 Sandown Cup (Sandown, 715m) – Korda (41.83) T: Jeff Britton
---
Intriguingly, the starting prices for Korda and First Picked came as a surprise, given they were the quickest and second-quickest qualifiers with just a whisker separating them – First Picked had a time of 41.74 seconds and Korda had won his heat in 41.75 seconds.
This victory marked Korda's 13th win from 52 starts and his fifth win from 11 starts over 715m at Sandown Park, solidifying his standing as a five-time Group 1 finalist.
Korda has now won connections $326,490 in prizemoney.
Jeff Britton's partner, Angela Langton, who also had Osprey Athena (8th) in the final, stepped in for him, as he was indisposed.
Expressing her elation at the win, she said, "It's a race I've never won, and Jeff hadn't won either.
"To win it with a dog we own as well… It's really a super win. Yeah, very exciting.
"We've got great staff at home that help us, and the dogs are going really well." she said.
2023 Group 1 Sandown Cup
2023 Sandown Cup Results

Sandown Park715mGroup 1$175,000 to-the-winnerFriday May 26 202341.83

1st

4

Korda

T: Jeff Britton41.83 – $175,000

2nd

5

First Picked

T: Rob Britton41.870.75 lengths $50,000

3rd

8

Zipping Orlando

T: John Finn42.225.75 lengths $25,000

4th
5th

2

Cawbourne Magic

T: Andy Lord42.276.5 lengths $2,000

6th

3

Moraine Suzie

T: Brandan Pursell 42.307 lengths $2,000

7th

1

Untapped

T: Dusty Drew42.459 lengths $2,000

8th

6

Osprey Athena

T: Angela Langton42.6311.5 lengths $2,000
---
---
Similar Greyhound Racing News