Langton Looking For A Classic Trifecta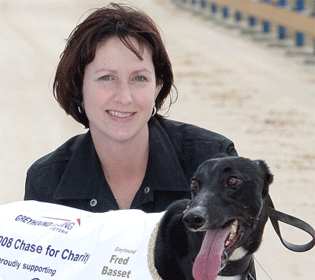 Anakie mentor Angela Langton – trainer of recently retired people's champion Fred Basset, who is owned by FOX FM's Hamish & Andy – could attain more celebrity status, this time at Warrnambool.

Langton has three semi-finalists – Lynlea's King, Next Chapter and Que Sera Sera – in the Macey's Bistro Warrnambool Classic (450m) on Wednesday night.
And she is chasing her second Warrnambool Classic in three years, having saluted with Auf Wiedersehen in 2006.
Meanwhile, Lara trainer Darren Brown has qualified five semi-finalists – including four heat winners from the 12 heats conducted last Tuesday.
His quintet is Classic Diva, Current Time, King Street, Like This and Victory Time.
And expect some sibling rivalry as the gang of five are members of an April 2006 Primo Uno-Innocent Eyes litter.
The Group 2 Warrnambool Classic final, worth $60,000 to the winner, will be staged on April 30.
Five heats of the Norlane Hotel Warrnambool Cup (450m) will also be decided on Wednesday night. Devon Meadows trainer Darren McDonald is ultimately aiming for back-to-back Warrnambool Cup wins with Axe Handle.
He also has Shanlyn Prince (winner 2007 Group 1 Melbourne Cup), Cool Effort (winner 2007 Group 2 Shootout and 2007 Group 2 Geelong Cup) and Ferly Gain engaged.
McDonald (who was born and raised on the Shipwreck Coast) has also won three Warrnambool Classics – Wild Pirate (1992), Brett Lee (2001) and Ace Hi Rumble (2005). But this year he only had one runner, Pink, progress to the semi-finals – albeit as a reserve.
Other top flight speedsters contesting the Warrnambool Cup series are El Galo, El Masri Bale, Lochinui, North Sea, Shooting Star and Taipan Bale.
The Group 2 Warrnambool Cup final, worth $25,000 to the winner, will be staged on April 30.
Similar Greyhound Racing News