Lenny looking for gold in National Sprint Championship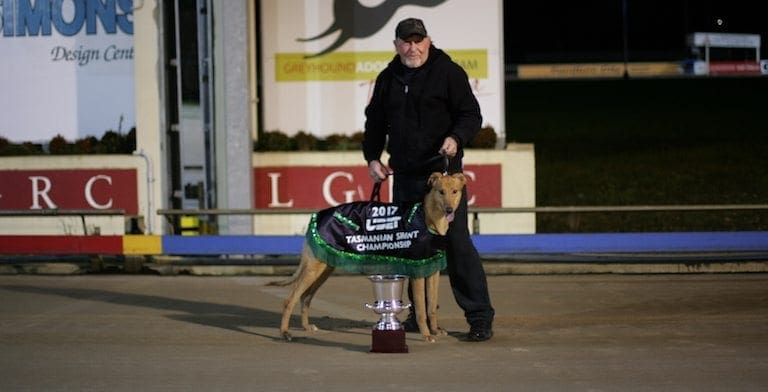 GOLD Lenny (Spring Gun x Marananga Moss Jan '15) will be aiming to improve his family's record in the Group 1 National Sprint Championship when he heads to Albion Park on August 25 to contest the $75,000 to the winner feature.
The Tasmanian greyhound, owned and trained at Bagdad by Rod Walker, is a grandson of Blackberry Moss (Awesome Assassin x Princess Alana Dec '01) which qualified for the 2005 National Sprint Championship, finishing eighth behind star greyhound Mantra Lad (Token Prince x Elusive Rebel Jan '03) at Wentworth Park.
Gold Lenny qualified for his shot at group 1 glory at Launceston on Monday, saluting as the $50 outsider of the field when running down odds-on shot Manilla Dawn (Cosmic Rumble x Tifia Feb '15) to score in a slick 29.78 over the 515m sprint.
Despite the big price of his charge heading into the state qualifier, Walker says he gave his red fawn chaser a chance of upstaging the favourite.
"I thought he was in with a good show heading into the final as I thought he was a bit unlucky in his heat," Walker told Australian Racing Greyhound.
"He began well but around the first turn the other dogs got underneath him and he had to race three wide around them the entire time.
"I definitely didn't think he was a $50 chance – I wish I would have known that's what he was paying."

Gold Lenny is one of five greyhounds Walker currently has in work, having bred the 32.5-kilogram greyhound from a line he has had since the early 1990s.
"It all started with the Wheeler line – I bred with a bitch named Belinda Bale, she was beautifully bred, and have just continued on with the same line.
"The breed has been very good to me; it has won about 15 classics here in Tasmania."
Now a winner of 11 of his 36 starts with 10 minor placings, Walker said he gives Gold Lenny a genuine chance heading towards the National Sprint Championship where he will meet the best 500m greyhounds from across the country, however he noted that drawing a good box will be imperative.
"He is a pretty good box dog so that should put him up there with them in the early stages, but he will need an inside draw," he said.
"The dogs in this series are all fast, so he can't draw on the outside of them, but if he is on the inside he should be with them on the first corner and if he can rail underneath them I give him a good chance."
Gold Lenny will trial at Albion Park in preparation for the Group 1 National Sprint Championship on Sunday August 20.
Similar Greyhound Racing News