Mario Briganti says Big Opal Rocks will only get better next Million Dollar Chase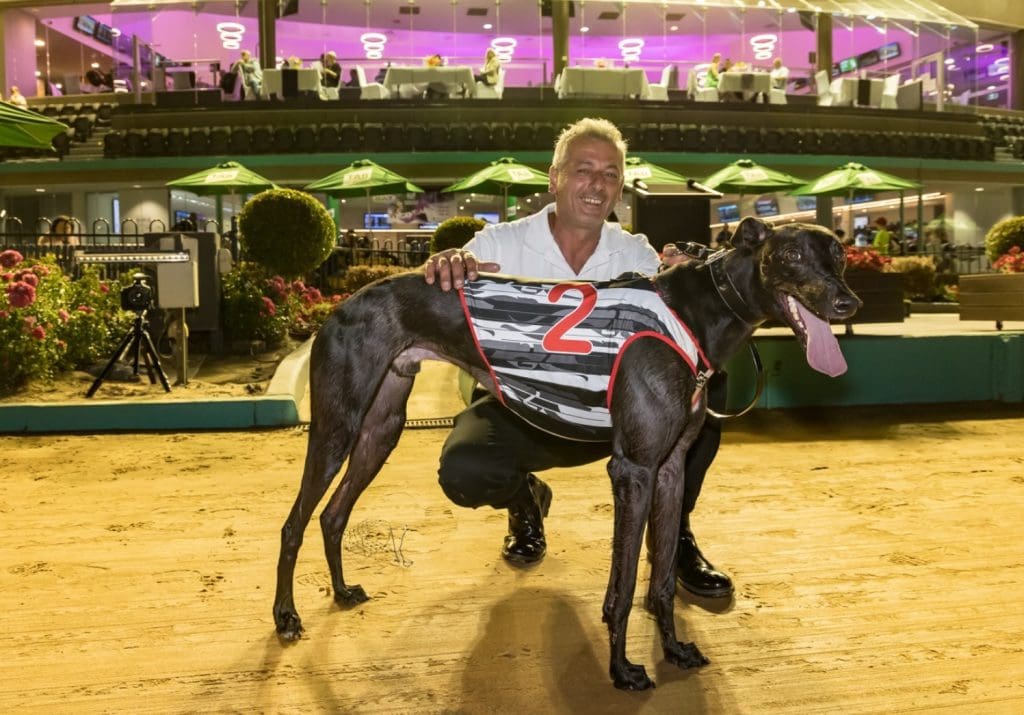 Victorian trainer Mario Briganti is not putting too much pressure on Big Opal Rocks heading into his $11,000 TAB Million Dollar Chase (MDC) (520m) semi-final at Wentworth Park on Friday night.
That is because his runner has already displayed plenty of talent and he's only 22 months old.
Big Opal Rocks was brilliant from the number two box in his heat on Saturday night, recording the fastest qualifying time of 29.64 seconds and saluting by 2.75 lengths.
But the going could be a lot tougher for him this week after he drew box six.
Which means Briganti will not be too nervous about the result.
"Box six is never a great box. If he drew one to four he'd be putting himself into it," he told australianracinggreyhound.com.
"Box six, he's going to need a lot of luck. But the ability is there – he can overcome it. But it's never a great draw."
And that is what excites Briganti – Big Opal Rocks' future after the natural ability he's displayed so far in his career.
He already has seven wins from just 11 starts.
Regardless of where he finishes on Friday night, Briganti believes that experience will help him for this year's second Million Dollar Chase event in August-September.
The current Million Dollar Chase series is the postponed 2021 edition, moved back due to the Covid pandemic.
Briganti is confident Big Opal Rocks will continue his rapid development which could see him one of the dogs to beat come the lucrative 2022 series.
"There'll be no pressure. If he qualifies, great. If he doesn't, in a couple of months' time he'll be a lot better dog for it," he said.
"This is just a stepping stone for him. I'm a huge believer that when you're running against better dogs they become better dogs themselves.
"He'll take a lot from this experience. Hopefully he can get through Friday night. I don't like his chances, but the dog has pulled up an absolute treat.
"The box draw will just make it a bit harder for us."
Towards the end of this year, Briganti also believes Big Opal Rocks could be capable of running longer distances.
"Maybe 600m races. Or he might be a bit too brilliant to stay," he said.
"I've got a couple of other dogs in the litter who all go quite good, too. There are a couple there who look like they might be able to get further.
"But they haven't got his brilliance. If he happens to stay he'd be very exciting.
"But we won't put him through that until the end of the year. I think he can run 600m. He might be a bit too brilliant for 700m.
"He's a lovely dog. He's got a great temperament. He's a great traveller and he ticks a lot of boxes."
Briganti was delighted with the class Big Opal Rocks showed to win his Million Dollar Chase heat so comfortably, particularly after there was some early jostling for position heading into the first turn.
"I was very happy with the run being a young dog. He's only (22) months," Briganti said.
"He acquitted himself very well.
"From day dot I knew what I had. For the next Million Dollar race in a couple of months' time he'll probably be more mature and seasoned for that.
"When they have ability like he's got you've got to have a throw at the stumps."
Big Opal Rocks is currently a $4.60 chance with greyhound bookmakers to win the last of the eight Million Dollar Chase semi finals (race 10) on Friday night.
2022 Million Dollar Chase City Qualifying Heat 2 (Wentworth Park, 520m) – Big Opal Rocks (29.64)
---
Similar Greyhound Racing News