McInerney up for MDC fight despite unsuitable box draw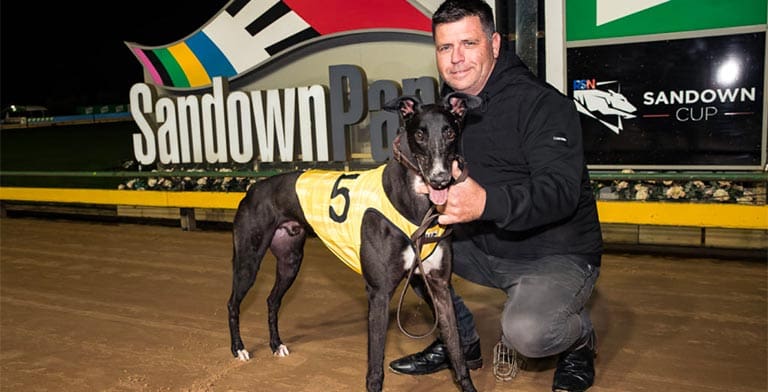 McInerney has drawn the coveted box one for the Million Dollar Chase Final at Wentworth Park on Saturday night, but trainer Brendan Pursell isn't exactly doing cartwheels about it.
"I'd prefer him out wide – eight like he was in the Nationals final," he said after his three-year-old saluted in a time of 29.68 seconds in his semi-final last Friday night.
"If he hits the start, then he's out of everyone's way and he can get quick around them.
"Then it's up to him."
That isn't to say the MDC's only interstate trainer – based in Lara, Victoria, with his Tasmanian chaser – isn't up for the fight.
In a very even field oozing with class, McInerney has been given a $5.50 winning chance with .
Million Dollar Chase semi-final replay | McInerney (1st)
That is because of the amount of talent he has, and he showed this ability when he ran 29.86 seconds to finish third in the National Sprint Championship Final on August 27.
"We're going to take this on," Pursell said.
In saying that, Pursell will spend this week hoping his chaser can start well after he was a little tardy coming out of box two on Friday night.
McInerney was third at the first turn before finding the speed which Pursell knows he possesses.
"When I saw the back of the boxes move I thought 'oh no, here we go – he's going to miss it again'," he said.
"He's just got electrifying speed, hasn't he?
"If he can just get himself up there. He ran the first corner – even though he gets out wide, he runs two to their one.
"He's very quick and he is getting stronger. It's just a shame he's got this pattern of wanting to get out wide.
"If he didn't do that, I think he'd be a super dog."
Pursell says McInerney qualifying for the 2022 MDC Final has made his long drives north worth the effort.
He knew his dog was a genuine shot at the MDC title after winning the Vic Bred Series Final at The Meadows on July 16, saluting by a massive nine lengths in a time of 29.81 seconds over 525m.
"This has been a long process. We've been coming up for three or four weeks," he said.
"One more time – that's when we want to come up and win.
"He's been racing really good in Tassie, and then we brought him back and he ran a couple of quick times at The Meadows.
"We could see him getting stronger and I just said to my son – because he used to train him in Tassie – 'look, leave him here'.
"He's got these Group races and he's good enough to be in them. So we'll give him a go."
Similar Greyhound Racing News