Comito on cloud nine after Hold Me Up books MDC Final spot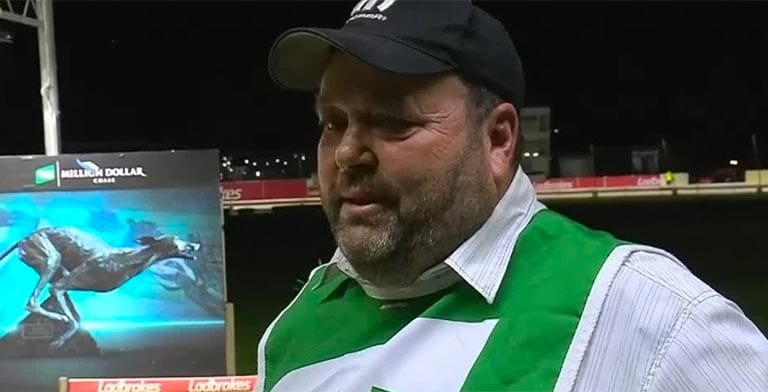 Hold Me Up proved to be well named on a busy first turn in the seventh Million Dollar Chase semi-final at Wentworth Park on Saturday night, displaying his strength and courage to progress to the final.
In a clash with the $2.70 favourite from box eight, Aston Barak, Hold Me Up held his ground from the No.5 lane.
It was the crucial moment he stood up and delivered for trainer Joe Comito, going on to qualify for this Saturday night's MDC Final.
The confrontation did not seem to faze him, either, going on to win by two lengths in a good time of 29.67 seconds.
Million Dollar Chase semi-final replay | Hold Me Up (1st)
Comito admitted he wasn't full of belief that his three-year-old could salute from the middle of the field.
"From box five we weren't confident tonight. I thought we needed the inside, but he got there," he said.
"He got to the front and I thought we were a chance.
"I thought he had a big run last week. He just got beaten on the line by Zippy Tesla.
"I thought that was a big run, so I'm very happy."
Comito said he was struggling to comprehend that he is now a one-in-eight chance of winning $1 million on Saturday night.
Hold Me Up is a $41 outsider with Ladbrokes for the 2022 MDC title, but the conditioner is just grateful to be there after his dog scraped through to his semi-final.
Comito's chaser was edged out by Zippy Tesla for Andrea Dailly, finishing in a time of 29.83 seconds, on September 10.
"It's unbelievable. It's a dream come true. We bred this litter from the start, and I just can't believe it," he said.
"A lot of great dogs missed out, so to get there is unbelievable.
"It's unbelievable and you don't know where to start. It's not all about the money – we love the dogs.
"We're in it for them."
Similar Greyhound Racing News