Jack Johnson claims his first win on debut at Addington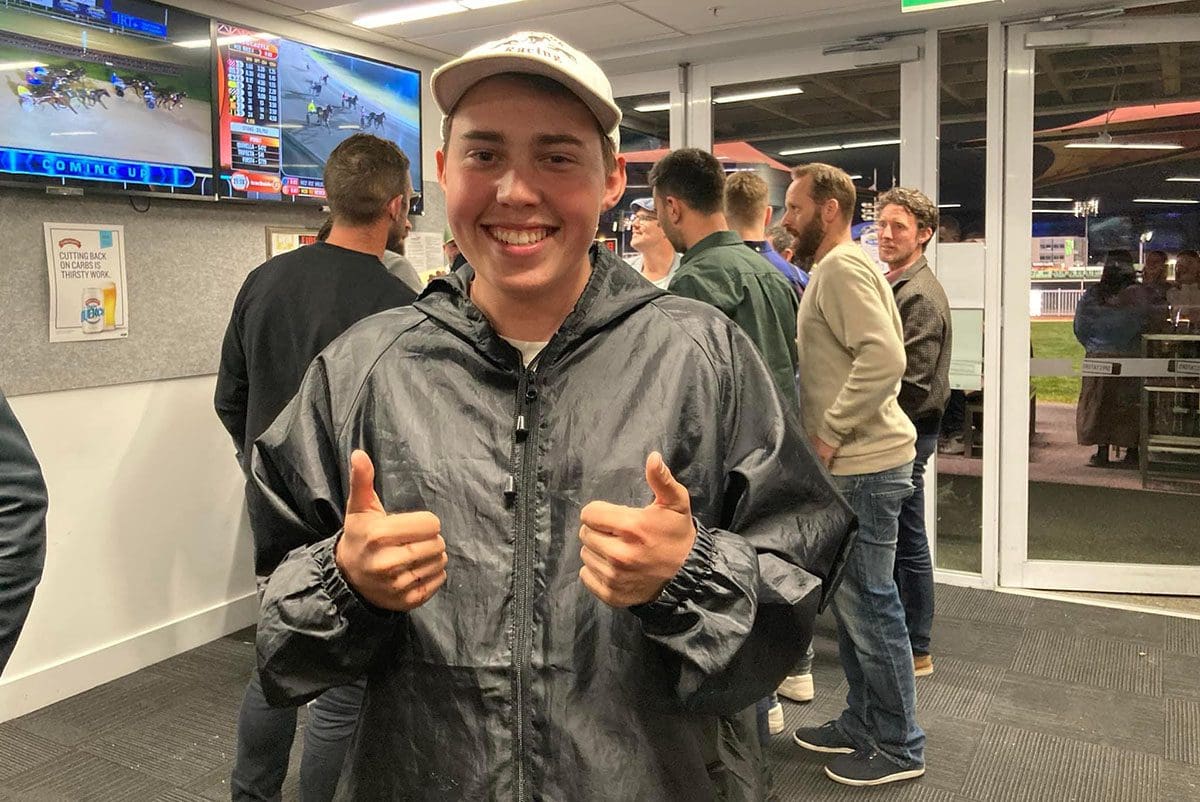 Few people can't attest to a better training debut than New Zealand's newest mentor 18-year-old Jack Johnson, with the first greyhound he's put the polish on Allegro Marshy, saluting at Addington over the 295m last Friday evening.
"I was a bit nervous; the boxes didn't open the first time the lure didn't start the first time they were in there and I was wondering if he was going to jump the next time it happened."
"It was a bit stressful, but he picked the jump and went good."
"I was in two-minds when it happened, as sometimes he's a bit slow away, but when I opened the back of the lids, he was right there ready to jump, so I thought he might bomb it."
"He jumped pretty good but managed to stay under the rail and the seven managed to roll off the top of the straight and he shot off underneath."
Allegro Marshy is by Walk Hard out of Allegro Lass and had eleven previous starts, prior to a friend of Johnson's purchasing him to train on his behalf.
"My friend Josh Hill found the dog, he owns the majority of him and wanted me to train him, but full credit to him for finding me the dog."
"He looks like he's going to be pretty promising."
"I think the boys had a pretty big night and were excited he got the win."
Despite Jack's dad Chris Johnson, being a renowned jockey in New Zealand, the youngster admits he always gravitated towards greyhound racing and was eager to become involved in any means possible.
"I've always been around the racing game, with my dad being a jockey, but I've always loved dogs, ever since I started working with them."
After scouting for a part-time job, Johnson scored an amazing opportunity with legendary trainers in Dave and Jean Fahey.
"I worked for them for three and a half years and they were successful trainers, I also worked for Matt Roberts for about six months and just took a bit from each of their training aspects to make my own."
"They get them out of the kennel every day and walk them around, which I find quite helpful."
"It's something different to what the other trainers do, and the dogs love it."
Also divulging into the breeding side of the sport, Johnson has already bred a litter, with the assistance of Fahey. As for his favourite sire, he has a soft spot for Meticulous Lodge star Fabregas, who recently passed away at the age of eleven.
"I like Fabregas, because he seems to have quite a few nice ones on the ground."
As for the most challenging aspect of training according to Johnson, he reiterated the importance of making sure you treat every dog as an individual and find out what makes them tick.
"Every dog is really different, and you have to find what dog will do what."
"Some dogs you might need to gallop a bit more, if they're a bit lazy and need a few more runs before racing."
As for Johnson's role models, he looks up to a number of trainers in developing his craft, reiterating you can learn something from everyone.
"Craig Roberts, he's quite successful and pretty much most trainers I look up too and want to learn off them."
"They're always great and willing to give advice."
As for other challenges being a trainer, Johnson explained the travelling requirements for some tracks are far more diverse than what most trainers are used to either driving or catching a plane.
"Manukau is like twenty-something hours from where I am, and you have to catch the ferry to get there."
"It's a different experience that's for sure."
As for venturing across to Australia, Johnson didn't rule out the possibility of making his way across the ditch, given an array of fantastic feature races now on the annual racing calendar.
"If I had one good enough for sure I'd consider travelling across to Australia to contest some of the races there."
"At some stage of my career, I'd love to just take a dog over and learn from other trainers over there and just watch some of the big races."
As for his favourite race in Australia, he particularly enjoys the match-race series, with several now staged at various tracks across the country, given greyhounds the opportunity to compete with minimal interference for incredible prizemoney.
Addington Race 11 Race Replay – 16/09/22
More greyhound news
Similar Greyhound Racing News