Mr Shire set to improve heading into Chairman's Cup heats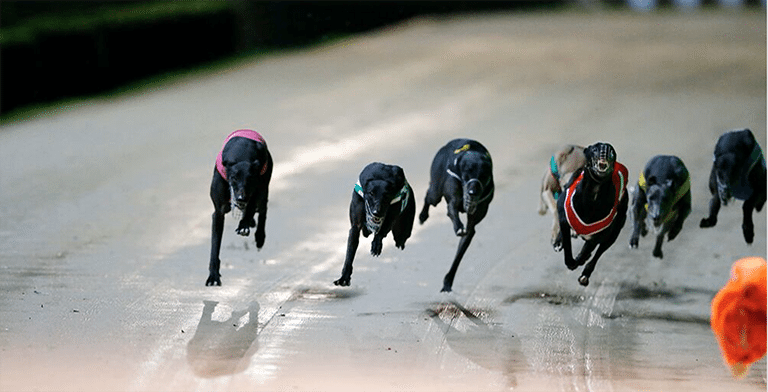 MR Shire (Magic Sprite x Slick Exit Mar '14) looks poised to qualify for his first group final when he jumps from box one in a heat of the Group 3 Chairman's Cup (720m) at Wentworth Park on Saturday night.
Owned and trained at Sawyers Gully by Bob Mccolm, the black greyhound finished fifth at headquarters last Saturday night, just the second time in his 29-start career he has finished out of the money.
Despite failing to feature in the first three, Mccolm said his kennel star had excuses, going into the race without much work and then finding trouble throughout the run.
"I was happy and disappointed at the same time,' Mccolm told Australian Racing Greyhound.
"It's the first time in his life he has begun well and he was up there with them early but then he just got bashed around.
"On top of that he was short of a run going into the race. He only had two 450s at Maitland and one post to post at The Gardens in the month leading up to last Saturday."
Mr Shire will face a quality field this Saturday night including Queenslanders Tahlia's Way (Spring Gun x Miami Gold Oct '14) and Jalapeno (Kiowa Mon Manny x Brook Lee Apr '15) and talented NSW stayer Starza Light (Barcia Bale x Zsa Zsa Dec '14).
Mccolm is expecting plenty of improvement from Mr Shire heading into this Saturday's heat, although concedes he should still derive plenty of benefit from the run if he is able to qualify for the final.
"He probably still needs the run on Saturday night, so I am just hoping he can finish in the first four and make the final – if he can do that I think he will give it a real shake.
"I would have preferred him in the seven or the eight even though he has won plenty off box one – it won't suit his racing style if they crowd him.
"I am hoping he can drop back in the early stages. If he does that he'll sit on the fence and wait for the run which is his best chance."

Although he has built an imposing record, winning 17 of his 29 starts, Mccolm said it has been a frustrating ride with the talented stayer – which boasts a slick 42.14 personal best at the track.
The lightly raced greyhound has always promised to be a top stayer, but has been held back by niggling injuries and limitations on where he can race in NSW.
"There haven't been any major problems with him – just a few minor little things like ripping his toe nail off. They aren't major setbacks but they still take a bit of time to get right.
"His other big problem is that he is top grade everywhere so I have been struggling to get a run with him. There are no 600s or 700s for him to race in so he just sits at home.
"I could send him down to Victoria to race – I have had plenty of offers – but I am nearly 70 and he is my dog, it is my fun.
"Besides that he is a part of the family and I don't think I could part with him. As far as I am concerned if he wins a heap more races that's good, but if he doesn't I don't really care."
Mccolm said he is keen to see what Mr Shire can bring to the table if he is able to qualify for the $25,000 to the winner final on September 9, with the respected conditioner holding a big opinion of the 31-kilogram powerhouse.
"I would love to see what he is capable of – I know how good he is but because I can never get a run with him we've never found out just how good he is once he gets fit over the staying trip – something has always come up with him," he said.
"I won't say straight out I think he will win, but he will be in with a big chance…I think he is capable of just about anything."
Two heats of the Chairman's Cup will be run on Saturday night, with the second heat bursting with quality chasers including six-time group 1 winner Fanta Bale (David Bale x Ucme Typhoon Aug '14), Billy's Bake (Barcia Bale x Evie's Entity Mar '15) and star Queenslander Outside Pass (Head Bound x Tina's Show Aug '13). The first four from each heat will qualify for the final on September 9.
The first heat is race three at Wentworth Park this Saturday night and will jump at 8.05pm.
Similar Greyhound Racing News