New Year & New Prizemoney Increases For NSW

The Board of Greyhound Racing NSW (GRNSW) today confirmed that the recently announced $3.5m prizemoney injection for NSW greyhound racing announced in early December 2008, will take effect from today with the TAB meetings at Maitland and Dapto being the first to race under the new minimum prizemoney levels.
GRNSW is lifting minimum prizemoney levels for TAB race meetings and increasing funding for non-TAB meetings from today while from 1st February Wentworth Park Saturday night race meetings will also receive a significant increase.

GRNSW will invest heavily in the TAB sector to raise graded prizemoney levels to a comparable rate to that which is on offer in Victoria and provide an increase in funding to the country sector to assist with grassroots racing.
The increases to minimum prizemoney for TAB meetings include :
Maiden races from $550 to $750 to the winner
5th Grade races from $750 to $1,000 to the winner
Top grade races from $1,000 to $1,250 to the winner
GRNSW Chairman Professor Percy Allan AM said that the prizemoney increases provided a welcome start to 2009 for NSW greyhound racing participants.
"The tough economic times of recent years have created an extra burden for many of our participants and the Board believed it imperative to provide as much support to the industry as soon as we were able," Professor Allan said.
"The advent of the Race Fields legislation and the resultant income stream has allowed GRNSW to achieve this prizemoney increase in a fiscally responsible manner that will benefit the whole industry.
Professor Allan said the decision to direct the majority of the increase towards TAB racing was a deliberate strategic decision of the Board aimed at maximising the quality and competitive position of NSW TAB racing.
"The Board's vision is to be Australia's premier supplier of greyhound racing and we are focused on long-term sustainable growth that will drive increased prizemoney returns to participants," Professor Allan continued.
"If we are going to be able to grow prizemoney levels across the entire industry, including in the non-TAB sector, we first must ensure that our racing product that generates revenue for the industry is best positioned to maximise the industry's income.
"This is increasingly important as the racing industry funding model continues to evolve in manner where each code is paid in a manner that is relative to the wagering conducted on its product."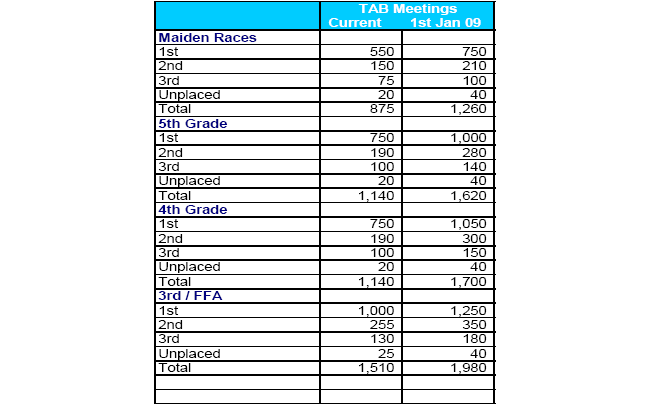 More Greyhounds News