Happy Ending For NZ's Lost GAP Greyhound Missy

Missy the greyhound may no longer be fast around the racetrack, but her story of survival over 24 days has highlighted her endurance skills.
Missy, a 10-year-old former racing and breeding greyhound adopted by Christchurch couple Barbara and Gary Miln two years ago through Hounds 4 Homes, was found on December 29th after disappearing on December 5.

Missy managed to get away from Gary Miln while they were at Richmond Park.
"She went through a gate someone's property and just kept going," Barbara Miln said.
She then wandered on to Marshland Road, where she was hit by a car, before disappearing into Bottle Lake Forest.
Notices on Trade Me and veterinary websites, posters and flyers distributed around the entrances to the forest, and regular searches failed to find Missy, despite repeated sightings from people in the area.
Yesterday morning the Milns received a call from a woman who found Missy in Lower Styx Road after she went on to the woman's property and started eating cat food.
"Gary had to get her to repeat it three times before he believed her, then we just dropped everything and went to get her," Miln said.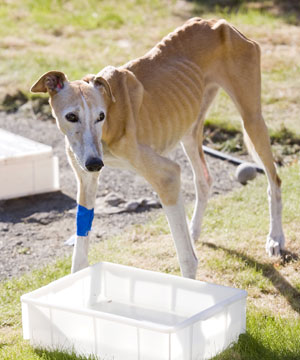 They took Missy to a veterinary clinic, where she was found to have lost more than 10kg during her ordeal.
"We all started crying me and Gary, the woman who found her, the vets who examined her. Her collar was barely hanging on her emaciated neck," Miln said.
She said Missy's eyes were "still bright" and she went home after being rehydrated with three litres of fluid and having a small meal.
Miln was looking forward to spending New Year's Eve with her pet. "Her Christmas stocking's still waiting for her. She can't eat any of it yet but it's there when she can," she said.
Courtesy : Sam Sachdeva, Stuff.co.nz
More greyhound news