Neeky's Way gives Dart cause for celebration winning QLD Futurity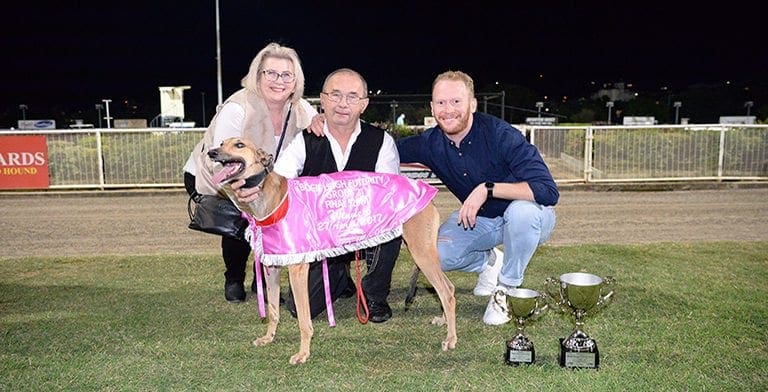 AFTER a tumultuous month, things finally seem to be going right for John Dart after he secured the quinella in Thursday night's Group 2 Queensland Futurity (520m) at Albion Park.
The Northern NSW-based trainer put the polish on Neeky's Way (box one) and Spare Cash (box four) in the $40,000 final – with the former spearing the lids and bolting clear to score by five lengths in a slick 29.85.
A daughter of Spring Gun and Miami Gold, the victory took Neeky's Way's career record to 12 wins and nine minor placings from 32 starts, with her prize money earnings now in excess of $60,000.
Dart said it was a big thrill to see the red fawn bitch showcase her best, adding her name to the Futurity honour roll which also includes other big names such as Bogie Leigh and Queen Lauryn.
"It was really good," Dart told Australian Racing Greyhound.
"We knew they had good chances because I thought they would both improve off their runs last week.
"It was a good run – she [Neeky's Way] keeps improving every start and she has taken a real liking for Albion Park – she has run 29.84 there in lower grade, but it was nice to see her make the step up in class and produce her best.
"She has always had the ability, but she is really starting to put it together now which is very satisfying because you put a lot of work into them, it's nice for things to go as you have planned them."
The victory was especially rewarding for Dart and his wife Glenda whose property near Murwillumbah was inundated by floodwaters at the end of last month as a result of Tropical Cyclone Debbie.
"We have lived here for 21 years and the worst it has been was waist high, but this time the water was 10 foot high, it came into the house and pretty much wrecked everything," Dart said.
"We have a safe place where we always put our dogs when it floods but because it was such a big one unfortunately we lost a few dogs – it was just devastating.
"We have been through six floods before and have never had a problem – but this was just a one in 500-year event that no one could have predicted."
Despite the circumstances, Dart says his family have remained optimistic as they continue re-building their lives.
"We are getting there – there is still a lot of work to do, we have had a fair bit of cleaning to do because there was mud everywhere and we had to put some fences back up.
"The water went up to the gutters in the kennels, but thankfully it was structurally alright so we just had to clean them out.
"When it first happened we thought we might finish up with the dogs, but as time has passed we have started to get back on top of things – we have been training full time for the last 28 years so they are the only thing we have ever really done.
"It's getting a bit better every day and we'll get there eventually."
Dart thanked all those who have helped his family get back on their feet over the past few weeks.
"The Brisbane Club let us trial one night because our straight track was out of action and we have had plenty of people offer to help which has been good.
"A mate of mine Steve Scott brought a car straight down and a fridge, freezer and sauna bath, Steve Cavanaugh leant me a trailer.
"There are too many other people to name, but it was fantastic what everyone has done for us and we are very thankful.
"It was a very special win given everything that's happened."
More Greyhounds News