Slick's stunning heat win puts him into Australian Cup calculations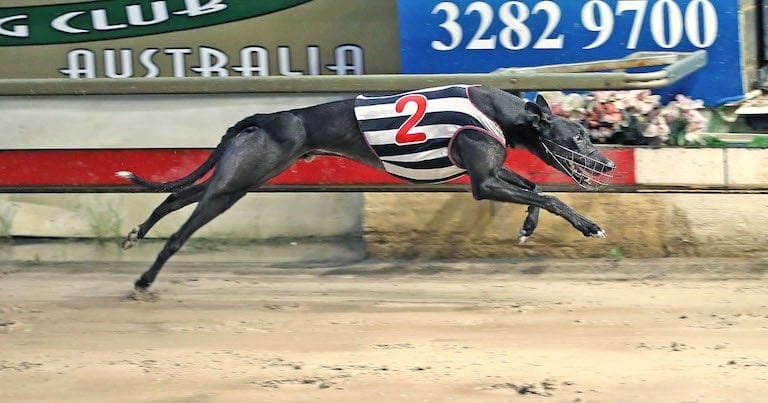 QUEENSLAND star Slick (Dyna Lachlan x Pearl Za Zinger Apr '15) stamped himself as one of the leading contenders for Saturday night's Group 1 Australian Cup (525m) at The Meadows with a brilliant win in his heat over the weekend.
Trained by John McCarthy, Slick was only fairly into stride off box four and copped early trouble which relegated him back to seventh in the run towards the first turn.
However, once out of the ruck, Slick hooked to the outside of the field and commenced his run, slotting into second spot behind front runner Demon Bale.
Swinging for home and it was a race in two, with Slick finishing too strongly for his West Australian rival in a handy 30.22.
"He came out flat-footed and I thought it was all over," McCarthy conceded.
"But then he went to the outside and showed his mid-race pace which is his greatest asset. To come from second last to win – it was a big run."
Queenslander Slick is the first dog into the Australian Cup final after a barnstorming 30.22 victory. Well done to trainer John McCarthy! @grv_news pic.twitter.com/mmupKkbHRo

— The Meadows (MGRA) (@TheMeadowsDogs) February 24, 2018
Slick has emerged as one of the country's hottest chasers in recent weeks. While he has always shown immense potential, it wasn't until last December when many participants really took notice of him, flashing home to finish second in the Group 1 Brisbane Cup.
After that series Slick strung together three wins in a row including a brilliant victory in his heat of the Group 1 Paws of Thunder at Wentworth Park. After another fair beginning in the final, the black powerhouse worked home strongly to finish one and a half lengths off Raw Ability – a dual group 1 winner.
His two group 1 placings were enough to secure him a spot in the invitation-only Temlee as first reserve. Slick gained a start following the scratching of fellow Queenslander Fast Times and put in a stunning performance to finish half a length second to Striker Light after spotting her 10 lengths down the back.
Amazingly, Slick has finished in the top three at 14 of his last 16 starts, and he heads into the final as the winner of 21 races and over $185,000 in prize money.
McCarthy says he is still coming to terms with racing in the biggest events in the country, but enthused he is thoroughly enjoying the whirlwind ride.
"It is a bit surreal. The dog has always had a motor but when you're running times at your home tracks it's one thing to wonder if you have something special and something else entirely to see them step up like this bloke has.
"I took him to Wentworth Park for the Paws of Thunder and all of a sudden he is matching it in a group 1 in Sydney. Then to be sitting on a plane going to Melbourne to take on the best in the land – I'm still pinching myself a bit."

Slick has been installed as a $5.50 chance of capturing the $250,000 to the winner final this Saturday night when he jumps from box one.
He will be taking on a talented field including Raw Ability, Melbourne Cup runner-up Chasin' Crackers and fastest qualifier Hecton Bale, but McCarthy says he is optimistic his gun greyhound can secure his first group 1 title.
"I am over the moon with him. Over the last couple of months, he has proven he can match it at this level, but I'd still I am going in there with hope more so than confidence.
"I was hoping for box seven or eight – but box one is the next best thing and you wouldn't complain about getting box one in any race let alone a big group one. The main thing was I didn't want to be drawn in the middle.
"In this latter part of his career he is nailing the start a bit better and more often – if he could manage to do that next week and get in front you'd have to think he'd be very hard to catch."
Slick will spend the week relaxing at home in Queensland before heading back down on Friday for the final. McCarthy says he will have one hit out up the straight and will then be on the lead as the Wivenhoe Pocket trainer concedes to feeling some of the pressure ahead of the final.
"It's been a bit of an emotional rollercoaster and anyone who says they don't get even a little bit anxious isn't telling the entire truth.
"The week between the Temlee and the Australian Cup heats it was all I could think about and I reckon it will be the same heading into the final – but it's enjoyable at the same time.
"I came off the track [Saturday] night and my phone was filled with missed calls and well wishes – it means so much.
"It's all part of the ride and it's tremendous – I've got people ringing me up all over Australia wanting to talk about my dog.
"It's something I hope everyone can experience at least once – it really is the best feeling.
"It sounds cliché but it would be a dream come true if he could win the final this week."
The Group 1 Australian Cup will be run and won at The Meadows this Saturday night.
Similar Greyhound Racing News