Thunder Rama roars for the final time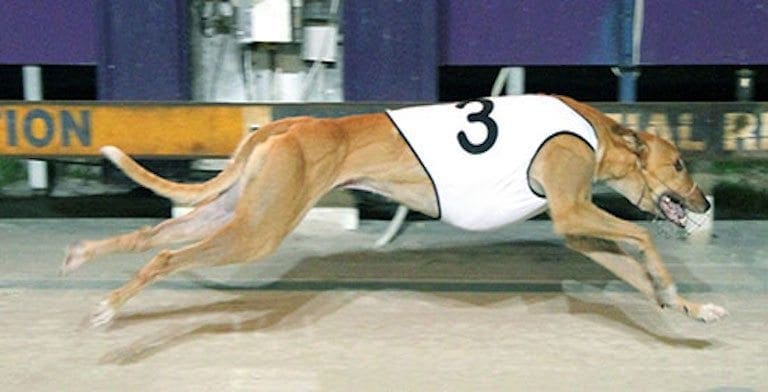 THE people's champion Thunder Rama (Hallucinate x Bananarama Sep '11) has been retired after going amiss at his 183rd race start on Friday night.
Lining up from box six at Mandurah, Thunder Rama found early trouble and was pushed into the running rail, resulting in a nasty laceration to his back leg.
The rising six-year-old underwent surgery on Friday night, with trainer John Iwanyk optimistic about his prognosis.
"He is expected to make a full recovery and, whilst it will probably take him a few months, after that he will live the life of luxury," Iwanyk told Australian Racing Greyhound.
"It was quite distressing for everyone involved and certainly not the way we wanted him to go out.
"The main thing is he is going to be ok – as long as he is happy and healthy that's all that matters to us."
Thunder Rama has been one of the most consistent greyhounds to grace the track in recent years, winning 46 of his 183 starts with a further 68 placings.
Having started his career in the east, Thunder Rama joined Iwanyk's kennel in September 2013, with the prominent local conditioner praising his chaser for a remarkable career.
"He came to us after a couple of starts in NSW and since then he has just been an unbelievable greyhound.
"He never won a big group race or feature race yet he won 46 races and $243,000 in prize money – he is certainly one of a kind.
"He never dropped further back then grade two – once he got to that level he has raced at FFA grade throughout his entire career which is just remarkable.
"He is the perfect athlete – even up until his last start he had this sensational will to win.
"He is everything you could possibly want in a greyhound."

Owned by Mark Hore, Colin Higgins and Dennis Kerr, Iwanyk said it was never about the money with Thunder Rama, with the red fawn rocket loving his life as a race dog up until the end.
"If he went sour or wasn't enjoying himself we would have retired him a long time ago – but he still wanted to be there," he said.
"He won three of his four starts prior to last Friday so that just shows how good he was and how much he still loved racing.
"He was just a joy to watch and it was an honour to train him.
"It's been the best ride of our lives."
Thunder Rama is expected to return home early this week to begin his recuperation – with his presence already missed around Iwanyk's Nambeelup kennel.
"I am picking him up [from the vets] on Tuesday or Wednesday and I can't wait – I am missing him already.
"He has been in the kennels here for over four years now so he is like a part of the furniture – it will be great to have him home.
"It won't be an easy recovery for him – we know it will take a while – but he is a special dog and he deserves to live out the rest of his days being a happy and healthy animal."
After he is back to his normal self, Thunder Rama will become a much loved pet.
"His handler Tony is going to take him – he knows Tony and they have a good connection so he will live out his days on the couch.
"Tony doesn't live too far from us which is great because it means we can still have a relationship with the dog – he is like part of the family now."
Similar Greyhound Racing News