Tullio loud and clear on Transponder's Launching Pad chances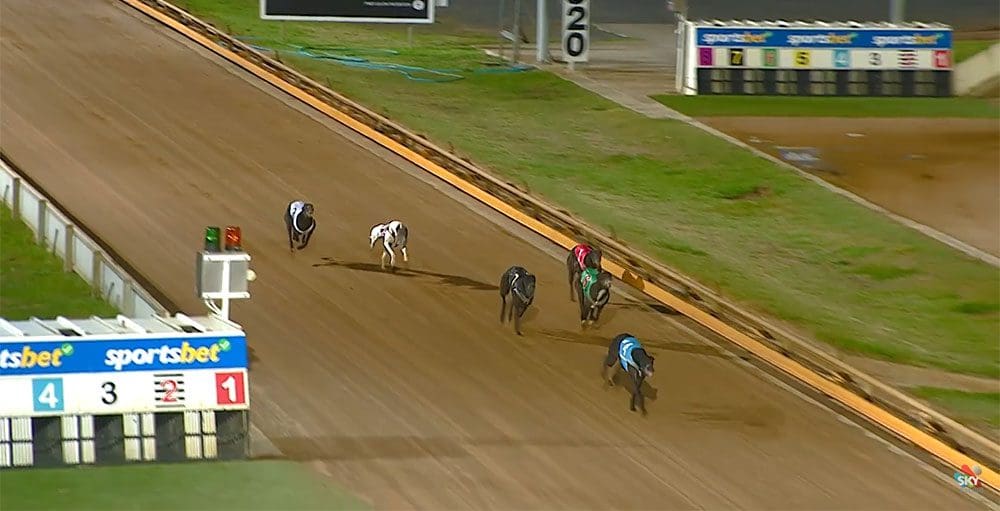 Victorian breeder-owner Amanda Tullio needed a moment when asked about emerging young gun Transponder before his Launching Pad Series heat at Sandown on Thursday night.
That is because Tullio was searching for superlatives when asked about her precocious talent, who is under the watch of top trainer Jason Thompson.
"How do I put this? He broke the track record at Geelong on Saturday in a trial," she told Australian Racing Greyhound.
"Only two dogs have ever broken 22 seconds there.
"The first one was Aston Kimetto – I know because I trialled him for Jason.
"He ran 21.98, and Transponder ran 21.96.
"I think the dog couldn't be in better shape, put it that way."
Transponder's raw athletic ability has turned a few heads, but his toughness has also been impressive.
After copping an early check from box four and falling to last spot, he bounced back on the outside in stunning fashion to win over 460m at Geelong on February 24.
It was an easy victory, saluting by 4 ¾ lengths and crossing the line in 25.95 seconds.
"The six just tore him in half out of the boxes and he was last," Tullio said.
"Then he went two (lengths) to their one."
Geelong R7 replay | Feb 24, 2023 | Transponder (1st)
Tullio has overseen her fair share of talented greyhounds, but with his combination of pace and toughness she believes Transponder tops the lot.
"I've had a lot of nice dogs and Group 1 dogs and been hanging around Jason the past 10 years," she said.
"He's the quickest I've ever had break in, and probably the quickest dog I've ever had.
"(Thompson) has had a lot of quick dogs who can run 22.10, and he's got that extra couple of lengths.
"He's just mad. He's a tough dog, that's what you put it down to.
"Pound for pound I don't think there's a dog quicker than him.
"And I think Saturday's trial proved it."
Calmness is another sought-after quality Transponder has, and this was evident from very early on.
"Just his temperament from a young age," Tullio said.
"You know with dogs who have good temperaments they could be good.
"They just do everything right the good dogs from day one.
"If they've got bad temperaments they're bad race dogs. They're fast, but they're bad race dogs.
"It's the quickest dog (Thompson) has ever put around.
"But Jason doesn't get too caught up with trials over track form, and I'm the same."
With the complete package of race tools at Transponder's disposal, Tullio is daring to dream that he can be competitive in the Melbourne Cup in November.
"He'll go through the Launching Pad, and if he performs the way he should then he'll go up to the Brisbane Carnival," she said.
"Then he'll have the Maturity at The Meadows, and then you're talking Melbourne Cup."
Online bookmakers have Transponder pegged as a $6 chance to win his Launching Pad heat, which is scheduled to jump at 8:19pm AEDT on Thursday night.
Launching Pad Ht5 Field

SandownR5515mGroup 1Thursday, March 23, 202320:19

2

Tammy

T: David MckenzieF: 21312Career: 12: 4-2-2Prizemoney: $15,185

3

Transponder

T: Jason ThompsonF: 11812Career: 7: 4-1-1Prizemoney: $17,285

4

Fifty Stars

T: Paul AbelaF: 14Career: 2: 1-0-0Prizemoney: $2,050

5

Hara's Skipper

T: Vicki WisenerF: 33425Career: 17: 5-3-4Prizemoney: $25,245

6

False Confidence

T: Aaron DebattistaF: 61338Career: 15: 6-0-6Prizemoney: $43,590

7

Promises Broken

T: Robert RedenbachF: 14116Career: 8: 4-0-1Prizemoney: $18,535

8

Make No Promise

T: Paul BartoloF: 11111Career: 10: 6-1-1Prizemoney: $32,160
Similar Greyhound Racing News