Vic Peters Classic the target for promising Kingsbrae Cheeko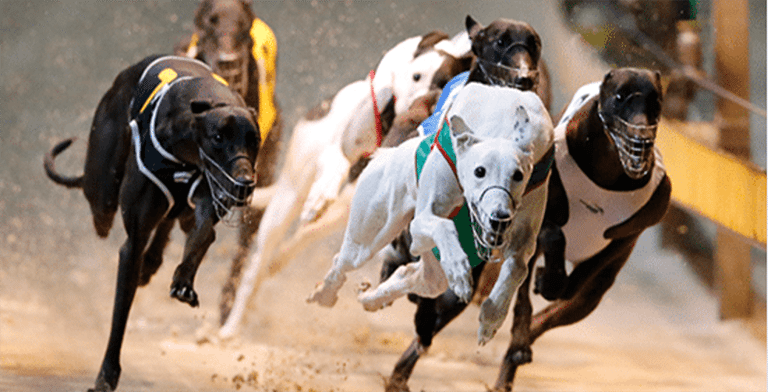 MARK Gatt says he isn't getting too excited about his promising greyhound Kingsbrae Cheeko (Banjo Boy x Proper Lucy Aug '15), despite the white and black chaser posting a sensational victory at Wentworth Park on Wednesday night.
Owned by the Murrell Hedges Syndicate, Kingsbrae Cheeko made it two on the trot on Wednesday, leading all the way from box eight to record a seven-length win in 29.64.
It was by far the fastest time of the night and the quickest any greyhound has recorded at the Harbour City venue in recent months.
Gatt said he is pleased to see Kingsbrae Cheeko back to his best after a string of unplaced runs throughout August which left the Thirlmere mentor scratching his head.
"There were a few runs where he went off a bit but I found an issue with his back and since getting that right he seems a lot happier and it is showing in his races," Gatt told Australian Racing Greyhound.
"I was very happy with his win on Wednesday – I haven't seen a dog go that quick in a long time.
"The track seemed a bit quicker than normal, but that's not taking anything away from the dog because he went very well.
"Hopefully he is starting to get some consistency back into his racing."
The 33-kilogram powerhouse started his career in the Northern rivers region where he won four of his first five starts under the care of Toni Northfield before being purchased by Gatt on behalf of his clients.
"I liked the look of him – I had eyes on him after a couple of starts because he just seemed like a winner," Gatt recalled.
"Obviously the class of racing is easier at Casino, but you have still got to have ability and a will to win because it is all corner starts and there are dogs going everywhere during the races."

Kingsbrae Cheeko has proved Gatt's faith in his abilities, having now won 11 of his 16 starts with two placings and more than $20,000 in earnings for connections.
Despite being in winning form and posting slick times, Gatt said he won't be taking Kingsbrae Cheeko to Dapto to contest the upcoming Group 1 Megastar (520m) – a race he won in 2011 with Oaks Road (Spiral Nikita x Leprechaun Pace Nov '08).
"I won't be going to Dapto with him – when he lost his form a few weeks ago I was wondering if I'd ever get him back to his normal self and get him winning fifth grades let alone group races.
"All of a sudden he came good but Dapto has come up too quickly – he has never been there so I would be asking too much of him.
"I'm just going to keep him racing at Wentworth Park and I will probably target the Vic Peters with him – I think that will be more suitable for him up against his own age."
Gatt, who has trained countless top performers including multiple group winner Ritza Hattie (Bombastic Shiraz x Midnight Flare Nov '11) says Kingsbrae Cheeko still has plenty to learn about being a race dog and, although he doesn't want to get too excited, believes he could be more than handy in the future.
"He is a very fast dog – I do wish he had a bit more early pace but he does tend to play up in the boxes a bit.
"If he gets some good habits who knows where he'll end up – he has heaps of ability and he is only young so hopefully he learns and can keep improving.
"I don't want to get too excited because there is a difference between running 29.60 on a Wednesday night at Wentworth Park and then doing it against the best in Australia.
"But we'll wait and see – hopefully he can keep improving and then I'll just let him do the talking."
More Greyhounds News