Victorian greyhounds whitewash SA Derby final with Schillaci win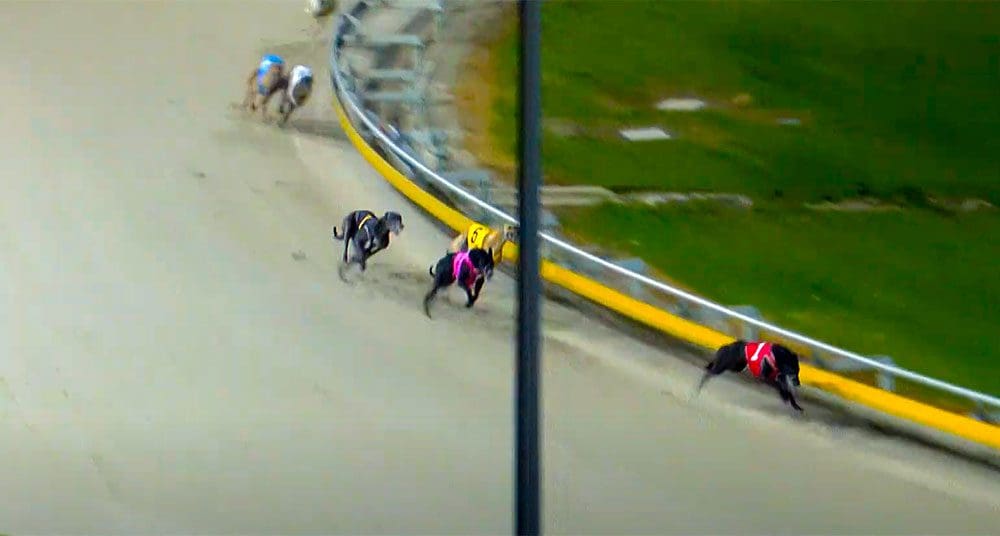 Victorian-trained greyhounds arrived en masse for the 2023 SA Derby final and left victorious after all five Victorian greyhounds were first home in the 2023 SA Derby final at Angle Park on Thursday night.
While Jeff Britton was looking for this third SA Derby trophy, it was Devon Meadows, Victoria, greyhound trainer Jihad Talgi who would claim the SA spoils with hot favourite Schillaci.
Punters sent Schillaci to the boxes as a red-hot -111.11 favourite with greyhound betting sites after qualifying quickest in last week's heats, and then drawing the inside box for the final.
And the Victorian greyhound did not let punters down, improving upon his previous first section time of 5.27, to run a flying 5.13 sectional on the way to a commanding all-the-way 30.00 win in the $25,000 to-the-winner feature race.
Jeff Britton's team of Mepunga Smokey, Weblec Wolfe, and Departed were left to do all the chasing in the run with a long gap back to the fifth Victorian-trained greyhound Aston Costello.
Britton's squad was unable to make any meaningful progress on tearaway leader Schillaci, leaving Weblec Wolfe to finish second, 5.5 lengths from the winner, and Mepunga Smokey back in third.
Departed was next across the line, followed by the Vicki Wisener-trained Aston Costello in fifth to complete the Victorian whitewash of the 2023 Group 3 SA Derby final.
2023 Group 3 SA Derby (Angle Park, 530m) – Schillaci (30.00) T: Jihad Talgi
---
Schillaci has now had 12 career starts for eight wins and three minor placings.
The son of Hard Style Rico and five-time winner Flying Hareeba, has posted best of the night times in five of his eight wins.
The black dog is bred, owned and trained by Jihad Talgi.
Thursday night's SA Derby win was Schillaci's first at black-type level.
2023 Group 3 SA Oaks
2023 SA Derby Results

Angle Park 530m Group 3 $25,000 to-the-winner Thursday, September 14, 2023 30.00

1st

1

Schillaci

T: Jihad Talgi 30.00 – $25,000 -111.11

2nd

5

Weblec Wolfe

T: Jeff Britton 30.39 5.5 lengths $6,000 +2000

3rd

7

Purified

T: Jeff Britton 30.42 6 lengths $3,000 +130

4th

8

Departed

T: Jeff Britton 30.44 6.25 lengths +1100

5th

4

Aston Costello

T: Vicki Wisener 31.17 16.75 lengths +1300

6th
7th
8th

SCR

In The Bug

T: Kiah Hurley
---
---