Where's Poppy defies betting drift for local 2023 SA Oaks triumph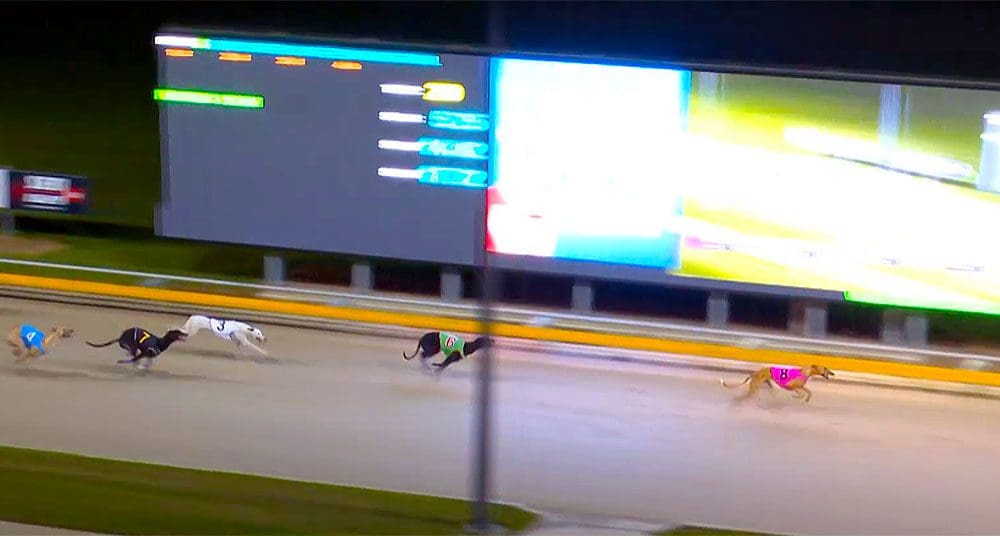 A brilliant beginning from Where's Poppy enabled a local victory for Hindmarsh, South Australia, greyhound trainer Kirin Corby, in Thursday night's 2023 Group 3 SA Oaks.
Where's Poppy, who is bred, owned, and trained by Corby, was able to spear to the lead from box eight and set up a decisive all-the-way win despite being pursued by interstate rivals.
The lead-up to the race was all about the betting, with Where's Poppy drifting in markets from +220 out to start a +320 second favourite with greyhound bookmakers despite winning one of the only two SA Oaks heats last week.
The cause of the price drift was a massive plunge on the Victorian-trained Mepunga Surprise, which had drawn box one in the final for trainer Jeff Britton.
Mepunga Surprise opened +170 but was crunched in to start a -105.26 odds on favourite by start time.
But a fifth SA Oaks victory for Britton wasn't to be when Mepunga Surprise was only just away with the field early before finding trouble and then being galloped on by Tasmanian greyhound Wynburn Honey, who had also missed the start and was attempting to make up lost ground.
The interference caused what looked like a nasty fall for Mepunga Surprise, but she was able to get back to her feet and finish the race.
While Where's Poppy was out in front in clear running, Britton's other two Oaks contenders, Weblec Jewel and Purified, were left to try and catch the leader.
Despite tiring late in the run, Where's Poppy was able to maintain the lead, going on to beat Weblec Jewel by 3.5 lengths in 30.58, with Purified finishing in third.
2023 Group 3 SA Oaks (Angle Park, 530m) – Where's Poppy (30.58) T: Kirin Corby
---
Thursday night's SA Oaks victory is Where's Poppy's first at black-type level from an 11-start career that has seen eight wins and three placings, with all but one of those wins being at Angle Park.
Locally SA-bred by Corby, she is a daughter of Sennachie and the Group 3-placed Fabwik, which makes her a full sister to 2023 Group 1 Maturity finalist Professor Snitch.
Where's Poppy has now won $39,155 in prizemoney for connections.
2023 Group 3 SA Oaks
2023 SA Oaks Results

Angle Park 530m Group 3 $25,000 to-the-winner Thursday, September 14, 2023 30.58

1st

8

Where's Poppy

T: Kirin Corby 30.58 – $25,000 +320

2nd

6

Weblec Jewel

T: Jeff Britton 30.83 3.5 lengths $6,000 +1500

3rd

3

Purified

T: Jeff Britton 31.03 6.25 lengths $3,000 +1000

4th

7

Zipping Mahalia

T: Nicole Price 31.05 6.5 lengths +900

5th
6th

2

Magical Mystic

T: Bosko Stamenkovic 31.29 10 lengths +10000

7th

5

Fast Headache

T: Lachlan Mill 31.34 10.75 lengths +10000

8th

1

Mepunga Surprise

T: Jeff Britton 36.37 Fell -105.26
---
---