Watch The Wasp dominates in Group 2 Bob Payne Spring Sprint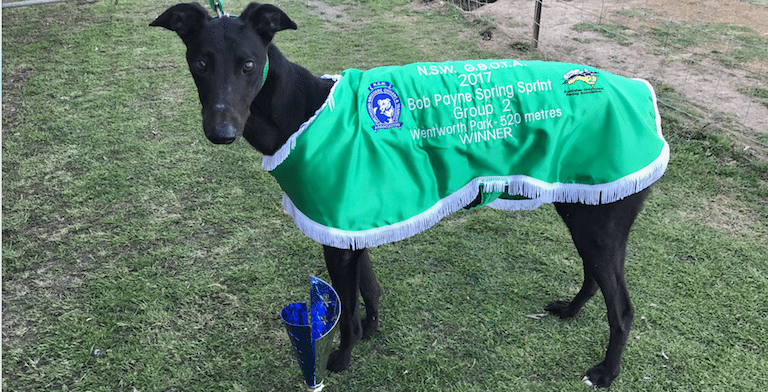 WATCH The Wasp (Shakey Jakey x Midnight News Jan '15) stamped himself as one of the rising stars of greyhound racing with a tenacious win in Saturday night's Group 2 Bob Payne Spring Sprint (520m) at Wentworth Park.
Stepping from box two, Watch The Wasp snuck into third spot behind early leader Up Hill Jill (Premier Fantasy x Where's Demonica Feb '15) before ducking off at the first turn and clipping the heels of Mister Twister (Collision x Double Twist Jan '15).
Once he balanced up, Watch The Wasp produced a powerful finish, finding the lead in the home straight and kicking clear to defeat Up Hill Jill by a length in 29.99.
Vineyard trainer Dean Swain said he couldn't be happier with his greyhound's effort.
"Money can't buy this feeling," Swain told Australian Racing Greyhound.
"I thought he was well boxed in the two and I was just hoping he could stay in touch with the leaders and finish over the top of them.
"He actually jumped a lot better than I thought he would but he got off a bit on the first turn and copped a check. Luckily he didn't lose too much momentum, but Up Hill Jill was still six lengths in front – to be honest I didn't think he had a chance."

Watch The Wasp has now won eight races from 17 starts with six placings, his prize money towering above $75,000 for Swain and first-time owner Robert Jones.
After giving away plenty of experience to his more seasoned rivals, Swain said Watch The Wasp has now proven just how good he is.
"He has only had 17 starts and he was up against dogs like Up Hill Jill which has been in eight group races and Mister Twister who has won over $300,000," he said.
"To beat them is one thing – but he was giving them a massive start and he was still too good on the night. Full credit to the dog to do that – he is very strong and so tenacious."
Swain said there are no immediate plans for Watch The Wasp, which looks destined to win over further ground later in his career.
"I'll probably step him up at some point but I am not in a rush whilst he is racing so well over the sprints as he is only young," he said.
"For now he'll just have a few quiet days – the win took a lot out of him as he tried so hard – so he'll have a short freshen up and stay home this weekend without racing and then we'll have a look at what's on for him and go from there."
Similar Greyhound Racing News