Young gun and old stager give Harris two in SA Distance final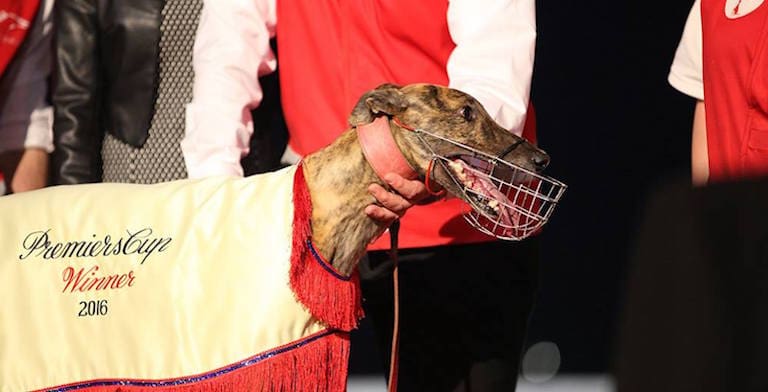 McLaren Vale trainer Gavin Harris will be represented by two greyhounds in this Thursday's SA Distance final (731m) at Angle Park.
Harris has rising stayer Springvale Carla (Bekim Bale x Springvale Cool May '15) and the consistent Springvale Bryne (Oaks Road x Little Looper Dec '13) engaged in the feature, with the winner set to represent SA in the Group 1 National Distance Championship at Albion Park on August 25.
Both bitches competed in the qualifier for the SA final last Thursday, with all seven competitors progressing through to the decider due to the small number of nominations for the series.
Particularly impressive was Springvale Carla which was debuting over the staying trip after just three runs over the middle distance.
Starting from box two, the black bitch was poorly away but worked her way into a midfield position, finishing off solidly to cross the line third behind star SA stayers Purpose Driven (Bekim Bale x Alana Blues Dec '14) and Bogie Bekim (Bekim Bale x Bogie Skye Apr '14) in 43.51.
Same field for the state stayers final next but will the result be the same? pic.twitter.com/O8LFHxUC2G
Harris said he was happy with the performance of Springvale Carla which was having just her 18th start on Thursday night up against 20-time winner Purpose Driven and Group 1 winner Bogie Bekim.
"She has been showing strength in her races – she won her last 600 coming home very well so I was confident she'd run it out but I guess you never really know until you step them up," Harris told Australian Racing Greyhound.
"It was a hard race to start out in, but I was hopeful that she'd perform well which she did so I was very pleased with her as she is only fairly young and she was giving away a lot of experience."

Harris is hopeful Springvale Carla will gain some improvement out of her first 700 when she jumps from box three in the final, but is wary that his youngster is competing against some top-class staying greyhounds, notably Bogie Bekim which resumed from a two and a half month break last Thursday night.
"Some dogs don't back up at their second 700, but I have trained a lot of stayers and I expect her to improve heading into the final," Harris said.
"There are some good dogs there this year – I think Bogie Bekim will be the one to beat. He had a lot of time off prior to last Thursday so he is going to be much better for the run.
"I do give her a chance in the final – but I realise she is going to be more of a place chance and will need a fair bit of luck."
Harris was also happy with the effort of Springvale Bryne which finished fourth, four and a half lengths off the winner.
Springvale Bryne, a winner of 28 of her 86 starts, has been racing below her best in recent months, with Harris conceding she has been struggling with injuries.
Despite her injury woes, Springvale Bryne, a litter sister to star SA sprinter Worm Burner, still brings plenty of class to the race, with Harris hopeful she can showcase her best for the final.
"She has been pulling up sore after her runs so I have to work on her in between her races to get her right," he said.
"She is probably a bit past her best – she is three and three quarters – but you can't leave her out because she has been such a good bitch.
"She ran third in the National Distance final last year so it would be nice to see her go well again this year."
Box draw for SA state final! Can On Fire make the most of box 1 next week? pic.twitter.com/cHH2TaEiav
Also scheduled to be run this Thursday night is the SA Sprint Championship, with the early favourite being Cameron Butcher's On Fire (Bekim Bale x Alana Blues Dec '14).
A litter brother to Purpose Driven, On Fire has stamped himself as the best sprinter in the state, having won 14 of his past 15 starts including his sensational 29.54 heat victory last Thursday.
The 28-race winner will start from box one in the final, a draw from which he has won four of his six starts, with Butcher aiming to win his second straight National Sprint Championship, having won the group 1 final last year with Worm Burner.
Similar Greyhound Racing News