Top 17 greyhound racing moments of 2017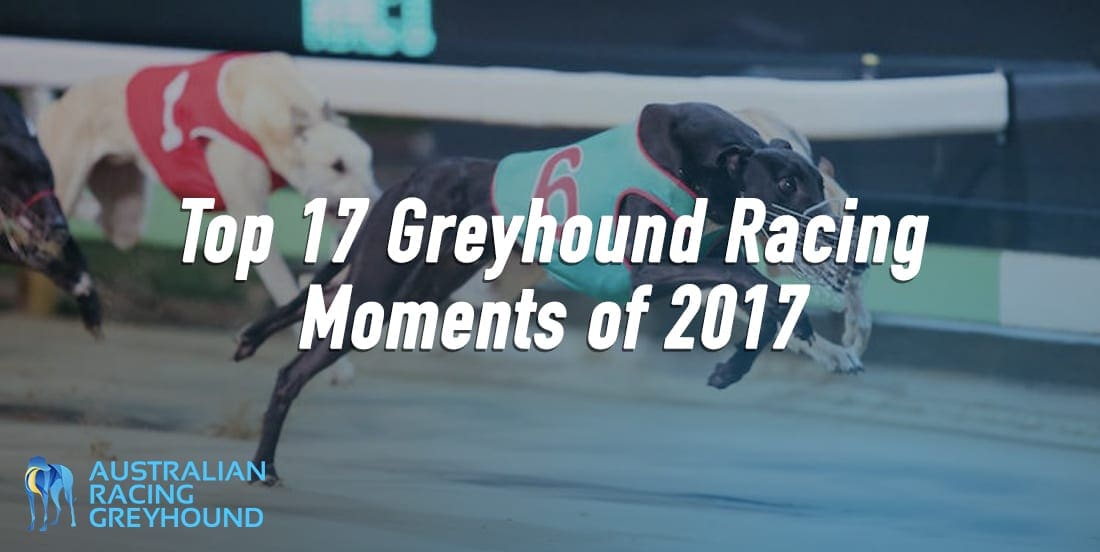 IT'S been a massive year on the track for greyhound racing fans – we have farewelled champions set to embark on breeding careers and lives of retirement, and we have also welcomed some rising stars to the group racing stage.
As we prepare to kick off 2018 with a bang, Australian Racing Greyhound is looking back at the 17 biggest racing moments of 2017.
Not all of them focus on just one race, some reflect on the standout careers of the year as a whole and some share the background stories leading up to a major win.
Top 17 moments of 2017
No.17 – An Aussie invasion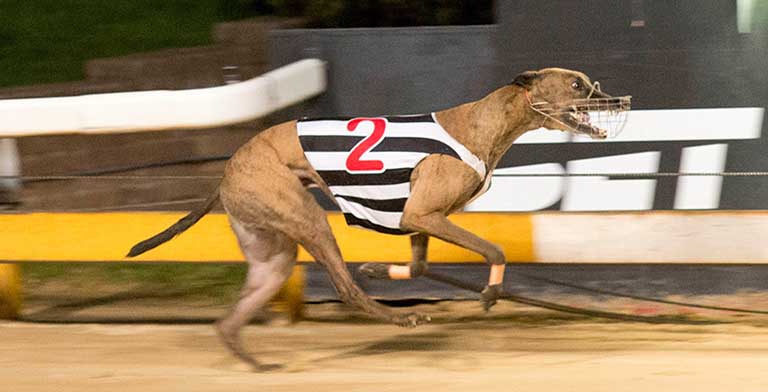 It was a bittersweet moment for Gerry O'Keeffe when he boarded a plane to NZ earlier in the year. The Victorian trainer was making the trip in pursuit of Group 1 glory with his consistent stayer Ring The Bell (Kinloch Brae x Absolute Stunna Nov '13), but at the same time he knew he would be coming home solo and leaving his brindle racer in NZ to chase further success at the highest level. Ring The Bell made an instant impact, winning the Group 1 Duke of Edinburg Silver Collar, while he also went on to take out the Group 1 Stayers Cup.
It was a brilliant year for our Aussies in NZ, with Nature's Gent (Shakey Jakey x Midnight News Jan '15) saluting in the Group 1 NZ Cup and Allen Ablett (Fernando Bale x Langi Bale Aug '15) claiming the Group 1 Spion Rose.
No. 16 – Cyndie's Magic was the Queen of Albion Park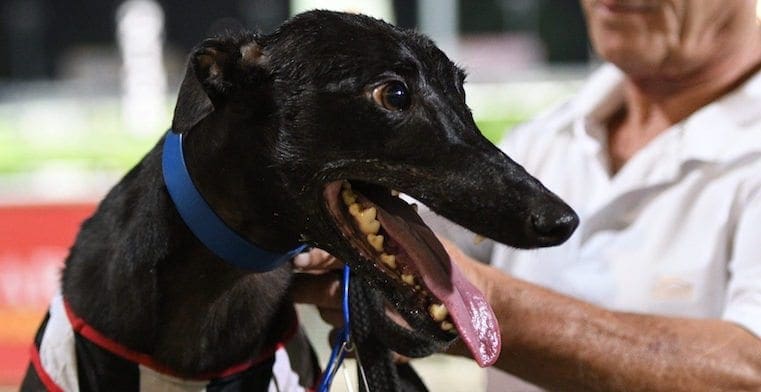 It's tough to narrow down Cyndie's Magic (Magic Sprite x Regal Silver Mar '13) greatest performance in 2017, because she was just so good throughout the entire year, winning 12 races. Trained by Bill Elson, Cyndie gets a mention for the way she captivated audiences throughout the year, with her last to first performances over the 520m sprint having to be seen to be believed. Cyndie's Magic, a rising five-year-old, finished 2017 with 44 wins and over $404,000 beside her name.
No. 15 – Equanimity wins the Perth Cup
It's always a thrill to see someone win their first group 1 race. In February, prominent WA trainer Enzo Crudeli experienced that thrill when his consistent greyhound Equanimity (Barcia Bale x She's Historic Mar '15) landed the cash in the Group 1 Perth Cup at just his 10th career start the blue dog would go on to have a cracking year, also winning the Group 2 All Stars Sprint and the lucrative Anniversary Cup final. It was also a brilliant year for Crudeli, taking out the Group 3 SA Derby with Black Bombshell and training just under 200.
ICYMI – Equanimity became the youngest ever Perth Cup winner giving veteran trainer Enzo Crudeli a maiden Group 1! @TABradio @OfficialRWWA pic.twitter.com/gDKGrv1p61

— TABtouch (@TAB_touch) February 7, 2017
No. 14 – Watch The Wasp…. what a run!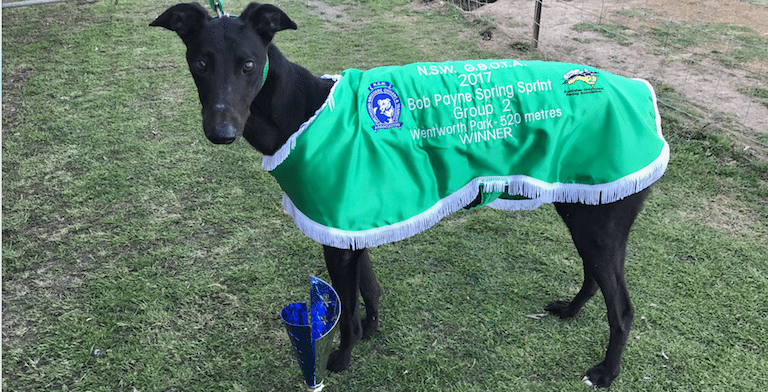 Plenty of people told Dean Swain to step his smart greyhound Watch The Wasp (Shakey Jakey x Midnight News Jan '15) up in trip to see his best, but the Vineyard conditioner didn't listen and it paid dividends when the black dog won the Group 2 Bob Payne Spring Sprint at Wentworth Park. Despite finding trouble and spotting the classy Up Hill Jill seven lengths down the back, Watch The Wasp never gave in and was too strong when winning by a length in 29.99.
Watch The Wasp Stings Opposition In Bob Payne https://t.co/XAER04OCcy pic.twitter.com/5PE8ak5BZ0

— The Dogs (@Thedogs_com_au) September 9, 2017
No.13 – The resurgence of Mister Twister
There is a reason why Jason Mackay is one of the best in the business and he worked his magic again in 2017 with Mister Twister (Collision x Double Twist Jan '15). The regally-bred greyhound always looked pretty special, but early on in his career he went through a stage where he was struggling to run out a super strong 500. Mackay knew something was wrong and Mister Twister was diagnosed with tonsillitis. He returned to win 12 races including the $100,000 Listed Richmond Riches, the Group 1 Peter Mosman Classic and the Group 2 Black Top.
Mister Twister put in a superb performance last night to win the Group 2 Black Top @ladbrokescomau Gardens. Check out the run here pic.twitter.com/bilHs4KzBe

— The Dogs (@Thedogs_com_au) August 26, 2017
No.12 – Zinzan Brooke the dual cups King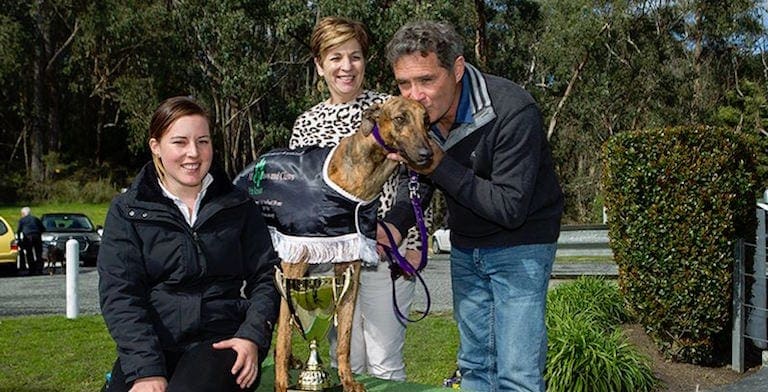 Zinzan Brooke (Knocka Norris x All Fired Up Jan '14) proved to be one of the most underrated greyhounds in training when winning two country Cups throughout 2017 – the Group 2 Shepparton Cup and the Group 3 Healesville Cup. His performances were made especially remarkable given the Wayne Thomson-owned greyhound had a near-death experience whilst in pre-training when his stomach flipped over – the incident required his stomach to be stitched into place to avoid any future problems.
No.11 – Two firsts in one night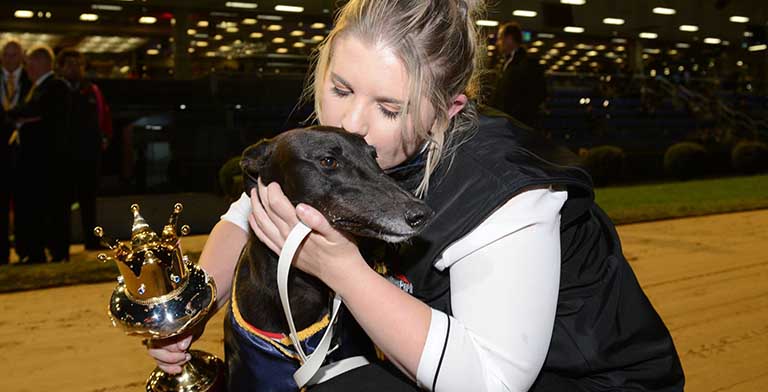 Rising trainer Ashlee Terry got her first taste of success at the highest level when Maja Mahi Mahi (Spring Gun x April's Legacy Oct '13) won the Sapphire Crown at Sandown Park. Formerly trained in NSW, Maja Mahi Mahi made the move to Victoria just a couple of months prior to the series and, when the lids flew open on May 25, she put her best paws forward and was able to lead all the way.
Later that night, Anthony Karabitsakos also got his maiden group 1 win when Black Mumbo (Stagger x My Path Princess Nov '13) took out the Group 1 Harrison Dawson, defying all challengers to win by one and one quarter lengths in a handy 29.53.
How good was Black Mumbo winning last night's Harrison-Dawson! pic.twitter.com/mKMWws0e4l

— Sandown Greyhounds (@sandowndogs) May 26, 2017
No. 10 – Pantera Nera gets a rare Tasmanian double
The recently-retired Pantera Nera (Milldean Panther x Go Jessie's Girl Nov '13) was a proven top class performer, winning four times at group level. Two of his major wins were in Tasmania where he took out the Devonport Cup and the Launceston Cup – making him just the fifth greyhound to achieve the rare double. Unfortunately, Pantera Nera was injured in a heat of the Shepparton Cup and was later retired.
No.9 – Rockoon rockets to group 1 glory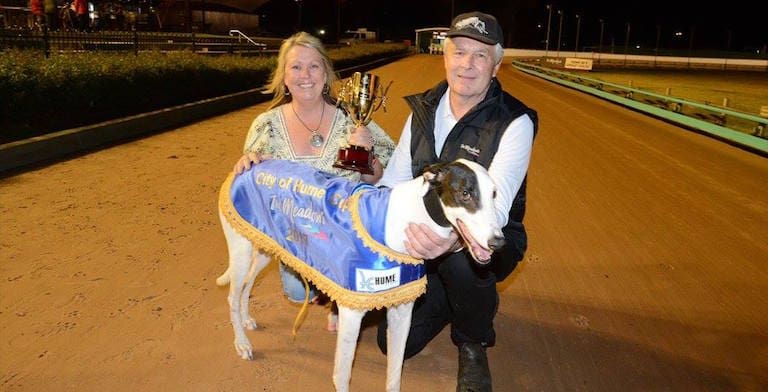 Keith and Lisa Hellmuth got their first group 1 winner a few years ago when Peter Rocket (Where's Pedro x Belron Blue Aug '10) won the Group 1 Dapto Megastar. Believing their chaser had what it took to make it at stud they chose to use him over their proven producer Raya Riot (Bombastic Shiraz x Holly's Gem Aug '07). The result was Rockoon and in 2017 the white and black dog emulated his father by winning at the highest level – taking out the Group 1 Hume Cup at The Meadows. The effort would have to be close to being the run of the year – the classy chaser weaved his way through the pack from the back and stormed clear in the home straight.
No.8 – Striker Light takes out the Golden Easter Egg
Kelly and Brett Bravo won NSW's richest and most prestigious race with their bonny bitch Striker Light (Kc And All x Pretty Fancy Mar '15). It was one of the most thrilling editions of the race in recent years as Striker Light went stride for stride with outsider Lagoon Jazzy (Barcia Bale x Lagoon Lowanna Jun '14) but was able to travel home too strong when winning by a head in 29.99. It was the second group 1 for Striker Light, having previously won the National Futurity, and she would go on to race in the top races throughout the year including the finals of the Group 1 Sapphire Crown, the Paws of Thunder, the Temlee, the Topgun, the Adelaide Cup and the Melbourne Cup.
No.7 – Aston Dee Bee wins the Melbourne Cup
You couldn't have a list of the top 17 moments without mentioning the world's richest greyhound race, which was taken out by Seona Thompson's Aston Dee Bee (Barcia Bale x Aston Elle Apr '15). The powerhouse sprinter had been knocking on the door of a big win for months, running placings in the Topgun, the Adelaide Cup and the National Sprint Championship. It was also an emotional win for Thompson, being her first win at the highest level after taking over the training reigns from her husband, Jason.
No. 6 – Up Hill Jill finally gets her group 1 win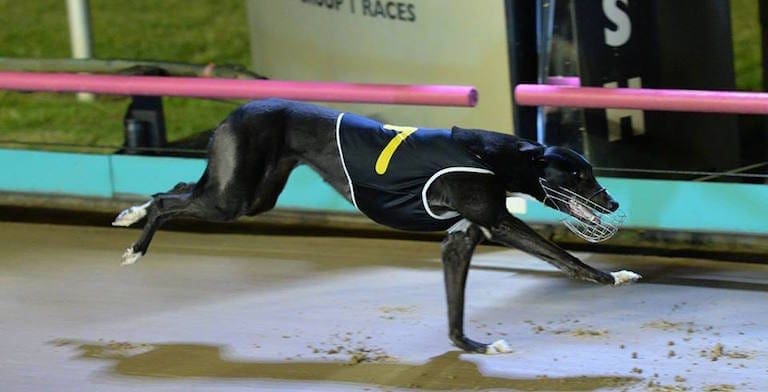 Always the bridesmaid, never the bride. That was the sentiment felt by David Geall whose front running sprinter Up Hill Jill (Premier Fantasy x Where's Demonica Feb '15) had competed in nine group finals heading into the Group 1 Topgun, still searching for her first win at the highest level. Up Hill Jill looked awkwardly drawn in box seven and Geall had little confidence, but when the lids flew open Up Hill Jill made it a one act affair, leading all the way in 29.89 at The Meadows.
REPLAY: UP HILL JILL from Box 7 has won the 2017 @SkyRacingAU #TOPGUN for trainer DAVID GEALL. #GreyhoundRacing pic.twitter.com/nnNh6wLb7f

— Greyhound Racing Vic (@GRV_News) October 28, 2017
No.5 – Tony's terrific year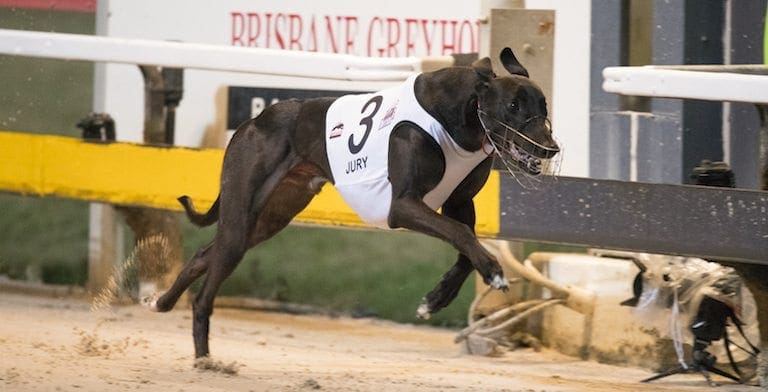 The past year was massive for Tony Brett – winning three group 1 races as well as a stack of other features. Jury (Cosmic Chief x Velocity Sheba Mar '15) defeated a high class field when winning the Group 1 National Sprint Championship and Fast Times (Barcia Bale x Clockwise Apr '15) bagged a double when winning both the Group 1 Winter Cup and the Group 1 Brisbane Cup. Brett also took out the Group 2 Geelong Cup with Thirty Talks (Where's Pedro x Unfinished Jun '14), the 2017 Rockhampton Cup with Split Image (Where's Pedro x Unfinished Jun '14), the Group 3 Gold Coast Cup with Opal Nera (Dyna Tron x Black Sambuca May '15) and the Group 2 Lismore Cup with Jury.
REPLAY: Fast Times stamped his authority on his competitors winning last night's Group 1 Sky Racing Brisbane Cup. Trainer Tony Brett also showing his dominance on this race by going back-to-back Brisbane Cups. ? @BrisGreys @Puntersland pic.twitter.com/uPFqPLMAIm

— The Dogs (@Thedogs_com_au) December 8, 2017
No. 4 Bogie Bekim defeats Fanta Bale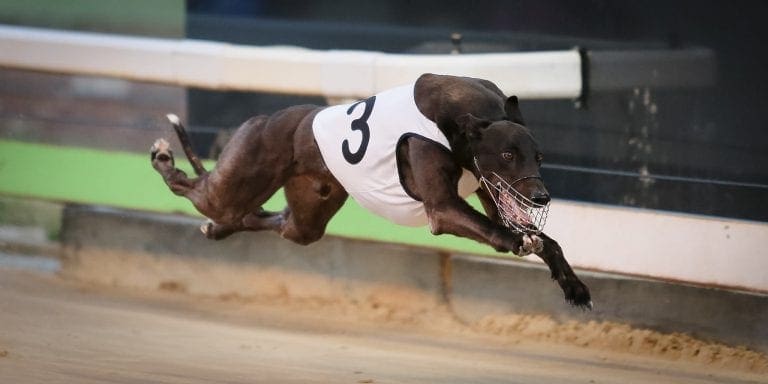 The Group 2 Topgun Stayers was set to be all about champion greyhound Fanta Bale (David Bale x Ucme Typhoon Aug '14) and when the lids flew open everything seemed to be going to plan when she jumped straight to the front. It was too bad South Australia raider Bogie Bekim (Bekim Bale x Bogie Skye Apr '14) had other plans – running down the sport's golden girl in the home straight.
The win was the second big race win for Bogie Bekim which had also saluted in the Group 1 Galaxy at Cannington earlier in the year – giving young gun trainer Ben Rawlings his biggest milestones throughout his time in greyhound racing.
REPLAY: BOGIE BEKIM from Box 4 has won the 2017 @SkyRacingAU #TOPGUN STAYERS for trainer Ben Rawlings. #GreyhoundRacing pic.twitter.com/WzGSVpJLU3

— Greyhound Racing Vic (@GRV_News) October 28, 2017
No. 3 – Fanta Bale gets the group 1 hatrick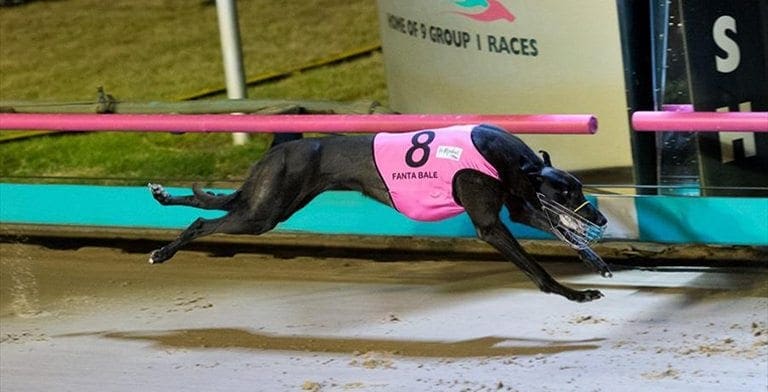 Fanta Bale stamped herself as one of the all-time greats in 2017 when she completed a treble never achieved before – becoming the first greyhound to win a group 1 over 500m, 600m and 700m. Fanta Bale took out the Hume Cup (600m) in 2016 before defeating a stellar field to take out the Group 1 Australian Cup (525m) at the start of the year, collecting $250,000 for the win. She then went on to take out the world's richest staying race, the Group 1 Sandown Cup (715m) in May.
No.2 – Who wants to be a millionaire?
Fanta Bale takes out another spot on our list for another unique achievement – joining the seven figure club. When she won the Group 1 Bold Trease in November, Fanta Bale became just the third greyhound to earn over $1 million in the history of greyhound racing – the others to achieve the feat being Fernando Bale and Dyna Double One. Incidentally, all three dogs are owned by leviathan owner-breeder Paul Wheeler.
2017 Group 1 Bold Trease, Sandown Greyhounds. Australia's newest Millionairess Fanta Bale Box 3. Congrats to owner Paul Wheeler and Trainer Robert Britton. 41.975. pic.twitter.com/a3GYoefb1S

— John Brasch (@Bunny_Brasch) November 24, 2017
No.1 – An emotional win
Our top moment of the year wasn't a group 1 feature or even a heat of a major race, but it was without a doubt one of the most moving wins you will eve see. At the start of the year, the greyhound fraternity was rocked to the core by the passing of prominent Queensland trainer Peter Ruetschi, who was killed in a car accident on his way home from the track.
As a way to pay tribute to their fallen comrade, a group of participants, led by Tony Brett, decided to race Ruetschi's greyhounds in his name one last time, just days after his passing. The last runner to race in his name was a black and white dog named My Awesome Magic (Magic Sprite x Awesome Knocka May '14).
During the race My Awesome Magic found plenty of trouble and looked 100-1 down the back – but he never gave in and fittingly saluted ensuring there wasn't a dry eye on track – or in lounge rooms and pubs around Australia.
A touching moment at Albion Park last night, with My Awesome Magic winning in the name of trainer Peter Ruetschi who passed away on Tuesday. pic.twitter.com/cCjW9fVjY4

— Sky Racing (@SkyRacingAU) March 3, 2017
Similar Greyhound Racing News