Nature's Gent wins 2017 Group 1 NZ Cup at Addington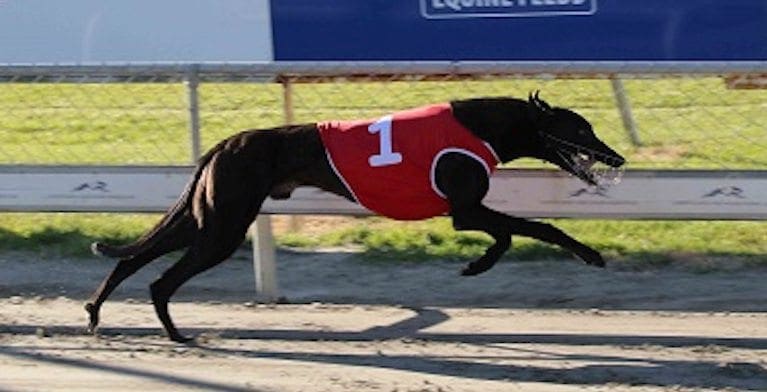 NATURE'S Gent gave Shakey Jakey (Collision x Kiacatoo Pearl May '12) his first group 1 win as a sire when collecting top honours in Thursday night's Group 1 NZ Cup (520m) at Addington.
Trained at Foxton by Angela Turnwald and Paul Freeman, Nature's Gent (Shakey Jakey x Midnight News Jan '15) was sent to the boxes as a $5.40 chance off the four, coming into the event on the back of three straight wins including a smart 30.11 triumph in his semi-final the week prior.
When the lids flew open, Nature's Gent was only moderately into stride, finding a few bumps before dropping back to the fence and railing through in pursuit of the leaders around the first turn.
Once he found clear galloping room Nature's Gent proved too strong for his rivals, charging to the line to defeat Cactus Jack (Barcia Bale x Size It Up Apr '14) by three quarters of a length in 30.32.
Race favourite Avenger Bale (Fernando Bale x Langi Bale Aug '15) finished third for trainer Craig Roberts and owner Paul Wheeler.
It was the first NZ Cup success for Turnwald and Freeman who were both delighted to have won their country's richest race.
"It was a very big thrill to win it," Freeman told Australian Racing Greyhound.
"We've been lucky enough to win three group 1s in the past year, but there is something special about the NZ Cup and it is also worth three times the amount as a normal group 1 over here.
"It was also very special because Angela and I were both in Christchurch 10 years ago, so it was basically our home track and we have a lot of our friends from there who we don't get to see too often."
Nature's Gent was purchased by Freeman and Turnwald who now race him with some friends and other owners.
The black dog was bred in NSW by David Pringle, who also bred and raced his sire and dam.

Shakey Jakey famously faced the starter on just one occasion – smashing the Wentworth Park track record on debut with a scintillating 29.07 display.
Midnight News (Bombastic Shiraz x Midnight Movie Oct '10) was no slouch herself, winning eight of her 23 starts including a phenomenal 29.45 at Wentworth Park.
The litter has been remarkable, also including Group 2 Bob Payne Spring Sprint winner Watch The Wasp and Sandown Cup finalist Midnight Elsa.
Prior to coming to New Zealand, Nature's Gent was trained in Victoria by leading conditioner Jason Thompson before heading back to Pringle's property to spell when he injured his shoulder.
The original plans were for Nature's Gent to head back to Thompson for the Group 1 Melbourne Cup – that was until Freeman managed to secure him when making a random phone call to Pringle.
"It was a chance in a lifetime to get a dog like him – he isn't like a lot of dogs which come to New Zealand because they have issues.
"He has always been a very good dog and they had a big opinion of him in Australia – so we were very fortunate to get a hold of him."
Nature's Gent has now won 11 races from 24 starts, his prize money in excess of $91,000.
Freeman says he has plans to tackle more feature success with Nature's Gent over the next few months and hinted that a trip to Oz could be on the radar in the New Year.
"We have two more major group races for him in New Zealand – one in December and one in March.
"After that if things are going well I'd love to take him over to Australia for a crack at a few races over there – you don't have to worry about him acclimatising or trialling because he knows where he is going over there.
"But it would be a great holiday and an experience to take a dog to Australia – the other owners have already told me they wouldn't be afraid to take on the dogs back in Victoria, so it's definitely an option down the track."
Similar Greyhound Racing News