Zinzan Brooke wins 2017 Group 2 Shepparton Cup final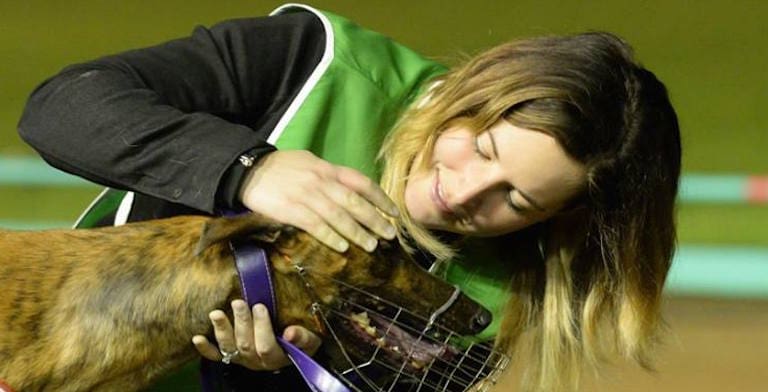 WAYNE Thomson has commended husband and wife training duo Brooke and Jamie Ennis after Zinzan Brooke (Knocka Norris x All Fired Up Jan '14) scored a sensational victory in Saturday's Group 2 Shepparton Cup (450m).
Jumping from box eight, the red brindle dog was only fairly into stride but mustered plenty of early pace to rush up towards the front of the pack before colliding with the leader Good Girl Sandy (Magic Sprite x Jebrynah Glory Feb '15).
The incident cost the speed machine considerable ground, however he quickly found his momentum again, railing through to take the lead in the home straight, holding off a late challenge from Bewildering (Black Magic Opal x Outlandish Feb '15) to score in 25.32.
REPLAY: ZINZAN BROOKE from Box 8 has won the 2017 Group Two CKH Painting #SheppartonCup for trainer BROOKE ENNIS. #GreyhoundRacing pic.twitter.com/yWreVTG4eb

— Greyhound Racing Vic (@GRV_News) July 29, 2017
Owned by Thomson and trained by team Ennis, Zinzan Brooke has now won 24 of his 33 starts with two minor placings, his career earnings now in excess of $107,000.
Thomson, who lives in Queensland and trained Zinzan Brooke early in his career, said he was relieved to see his chaser finally pinch a feature race trophy.
"It was a big thrill to win and I think it was well overdue – he had been unlucky in a few big finals so it was nice for the dog to get a group win beside his name," Thomson told Australian Racing Greyhound.
"It was a huge run by the dog. He didn't begin all that well but he showed that explosive speed and he probably got to the lead too quick as he ran up the back of the leader.
"Normally when speed dogs have their momentum stopped that's the finish of them, but he got going again and was able to hold off Bewildering – it was a massive effort."

Thomson, who also bred Zinzan Brooke, says the powerhouse performer has always shown ability, however a query on whether he would see out the 500m journey led to him being sent down to Victoria.
"We are very limited in Queensland because we don't have a one-turn track around this area so 400m dogs are limited to bend starts which can just be carnage," he said.
"Because I didn't think he'd run the 500 I sent him and his brother Judicial Man down to Brooke and Jamie and they have done a terrific job with them.
"Now that he is on the beautiful one turn speed tracks he is able to show what he is made of."
That Shepparton Cup win by Zinzan Brooke was outstanding. Nearly fell

— PuntersHQ (@Punters_HQ) July 29, 2017
With such an imposing record, it is hard to fathom that Zinzan Brooke's career almost didn't happen after the three-and-a-half-year-old suffered a life threatening medical condition prior to making his debut last year.
"At one of his pre-race trials as a pup he nearly caught the lure over 331m at Albion Park," Thomson explained.
"After the run I took him home and I knew something was wrong with him. We had to rush him to the vets where we found out his stomach had turned.
"He had to be operated on to flip his stomach back around and it got stitched so it couldn't turn again.
"There were no guarantees he would make it through the surgery or the recovery period, so for him to survive everything he went through and still be as good as he is, he is just a miracle dog."
More Greyhounds News