Remember when: Head Honcho won the Shepparton Cup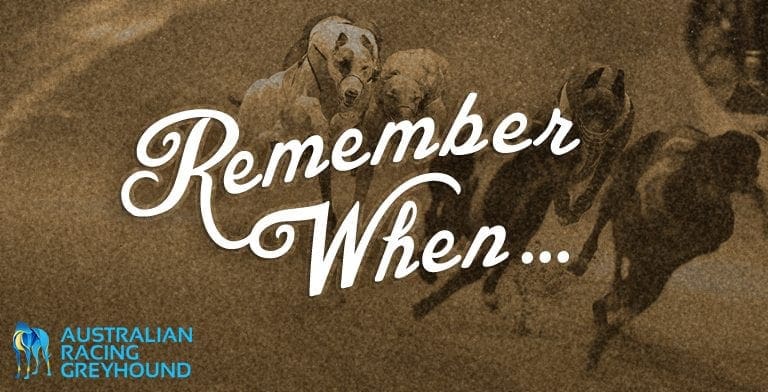 ONE of the greatest sires of the last decade of the 20th Century, Head Honcho first made his mark on the racetrack in a brief but incredibly successful career.
A black dog whelped in July 1990 by Walkabout Sid out of Fitzroy Lass, Head Honcho was owned by Phil and Barbara Pryor and trained in the early part of his career by Len Ketelaar, and later by Jason Thompson.
Head Honcho made his racing debut over 440m at Shepparton in a maiden heat on April 9, 1992 at the age of 21 months. From box five he bounced straight to the lead and went on to score by two lengths in 24.88, the best time of the night. He annexed the maiden final a week later in similar fashion, leading all the way to win by four and a half lengths in 24.78, again the best time of the night.
Taken to Bendigo, he scored by seven lengths in a fifth grade heat over 430m, running a sizzling 24.31, despite pouring rain. In the final on May 11, Head Honcho scored by six length and established a new track record of 24.23.
A month later the black speedster trekked to Angle Park in South Australia to contest the Champion Puppy Classic series over 512m. He won his heat by just over six lengths, scored a length and a half win over Hard Hazard in his semi-final and used his early speed to full advantage in the final, spearing out of box seven and giving nothing else a chance as he crossed the line seven lengths in advance of Capitulate in 30.13, the best time of the night.
Returning to Victoria, Head Honcho ran over 511m at Olympic Park on July 6. Despite drawing box seven for the third time in a row and being unusually slow out, Head Honcho found the lead in the back straight and went away to win by four and a half lengths in a brilliant 29.97, the best of the night.
Head Honcho cracked a bone after going into the catching pen and the injury forced him out of racing for the best part of two months. Unbeaten in eight starts, Head Honcho resumed on September 4 in a handicap event over 457m at Geelong. Although he began fairly well, Head Honcho found trouble and stumbled, and could only finish fifth.
Head Honcho bounced back, in a heat of the Diabetes Cup over 450m at Ballarat, leading all the way to score by just over three lengths in a best of the night 25.86. He took the Diabetes Cup final with an all-the-way win, just holding off Gibbon Avenue to record a neck victory in 25.76, again the best of the night.
Head Honcho returned to South Australia, to tackle the St Leger at Angle Park. The black sprinter drew box three for his heat on October 6, the closest he had been to the fence in 12 outings. He made no mistake, leading all the way to score by four and a half lengths in a sizzling 29.91. In his semi-final he drew box two and led all the way to score by four lengths.
For the final of the SA St Leger, Head Honcho drew box eight. Len Ketelaar had the sprinter right at his peak and Head Honcho went straight to the lead and led all the way to win by almost four lengths from Whisper One in a race record 29.95. After the race he was found to be severely injured, having ruptured a tendon in three places at the back of a wrist.

The injury was severe enough to consider having a toe amputated, but the Pryors decided instead to retire the champion to stud. Head Honcho had competed just 14 times for 13 wins. His impeccable lineage and early speed made him a natural hit as a stud dog.
His injured wrist and toe began responding to treatment and he went back into training. He was trialling well and so it was decided to let him have another crack at the track. Head Honcho's preparation was taken over by Jason Thompson and, nine months after his SA St Leger victory, he made his long-awaited return, over 424m at Warragul on July 13, 1993.
He didn't let supporters down, leading most of the way to score by four and a half lengths. Unfortunately, he was galloped on in the catching pen after the race and the resultant injury required 16 stitches and sidelined him for a further two months. Head Honcho again resumed over 424m at Warragul, on September 28, and ran a best of the night 24.50 in winning by just over four lengths.
Three weeks later, Head Honcho contested a heat of the 440m Shepparton Cup. For only the second time in 17 starts he drew box two. From here he jumped straight to the front and, although he faded a little in the run home, still scored by three lengths in 24.92.
The Shepparton Cup final, run on October 28, saw Head Honcho make it three wins from three major races as he led all the way from box seven (running a fast 12.57 seconds second section) to down his kennel mate Tranquil Flame by a length and a half in a race record 24.74, easily the best time of the night and marginally outside the track record.
With the injuries he had suffered in his career Head Honcho was a day-to-day proposition and needed sufficient time between races to regain his fitness. Despite this, connections aimed him at the Melbourne Cup, a tough race even for the fittest greyhounds.
Thompson was unable to free gallop Head Honcho in the days leading up to the November 18 heats, and the black dog went into his race severely under-done. From box three, and having his first start over 511m at Sandown Park, Head Honcho rocketed out of the boxes and carved out a 5.96 seconds first section, the equal best of the night. He set up a big break down the back straight but turning for home was beginning to wilt.
Head Honcho managed to hold off Midnight Sting to win by a neck in 30.28, only 7/100ths outside the best of the night. It was his 10th win in a row. The heat effort told on the dog and after being checked at the first turn in the final he lost momentum but ran a respectable fourth behind Silver Chisel.
Head Honcho was retired permanently after the Melbourne Cup with the incredible record of 18 wins from just 20 race starts. He had won first-up on seven of the eight tracks at which he started and was undefeated in six outings at Angle Park. His average winning margin was 3.7 lengths.
He died in late 2001 after a phenomenally successful career at stud.
Similar Greyhound Racing News