On Fire equals Worm Burner's record for trainer Cameron Butcher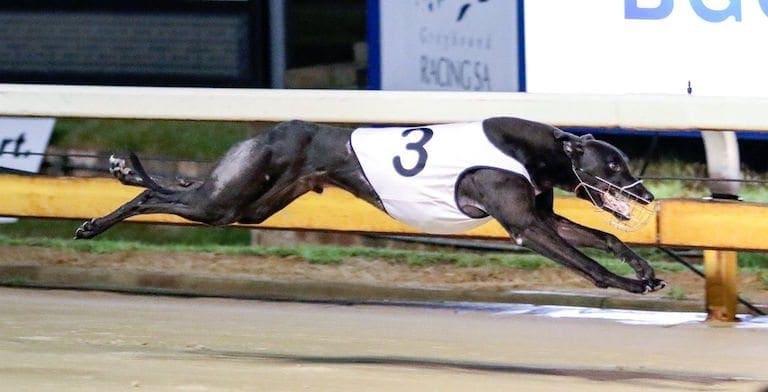 WHEN On Fire (Bekim Bale x Alana Blues Dec '14) skipped past the post ahead of his rivals over 515m at Angle Park on July 20, the sleek 33kgs black sprinter established a singular milestone for his South Australian trainer Cameron Butcher.
The win was the 13th in succession for On Fire, and means Cameron Butcher becomes the first mentor in Australian racing history to have guided two of his charges into double-figure win sequences.
In 2016, Butcher skillfully managed an amazing set of 13 consecutive victories when in charge of the preparation of champion sprinter Worm Burner (Oaks Road x Little Looper Dec '13).
That greyhound, as most people will be aware, is presently in Victoria and having qualified as a Victorian resident under the tutelage of Seona Thompson will be attempting to win back-to-back National Sprint Championships. This year Worm Burner will represent Victoria, while in 2016 he represented South Australia whilst under the care of Butcher.
On Fire, in the meantime, is also being aimed at the National Sprint Championship, and Butcher will no doubt be hoping to extend his brilliant sprinters' winning streak beyond the South Australian record of 15 on end, set by Kate's A Scandal, ironically when she annexed the 1981 National Sprint Championship, run that year at Olympic Park in Melbourne.

At this stage, On Fire's 13 on end ranks equal fourth in South Australian history, behind the aforementioned Kate's A Scandal, Time Machine (which won 14 on end in 1988), Pinot Noir (which won 14 straight in 1999), Wild Country (13 in succession in 1987) and, of course, Worm Burner.
At this point, On Fire's sequence is the equal 16th in Australian history for all tracks, behind the amazing 24 in a row set by Tropical One in Queensland between 2003 and 2004 and the 21 on end set by Sophocles in 1987. Those two sequences were all non-TAB races.
When looking at TAB performances, the record stands at 16 in a row, jointly to the credit of Miss Elly Mint (2008 to 2009) and the mighty Fernando Bale (2015).
Greyhound fans, here's South Australian star On Fire (Box 3) winning a 9th straight race, with winnings over $90K… pic.twitter.com/sFKtQcIZ2Z

— Sportsbet.com.au (@sportsbetcomau) June 23, 2017
On Fire is set to race again on July 27 and, all being well, will contest the heats of the South Australian National Sprint Championship on August 3 and the final on August 10.
If, and it is a big 'if' based on history alone, On Fire manages to win all three of these contests he will, obviously, have equaled the all-TAB Australian record of consecutive wins and would then, in a real serendipitous moment be attempting to break the mark with a win in the National final, just as Kate's A Scandal did 36 years ago.
On Fire's average starts are definitely not going to help him in his record attempt as it is notable that all of the greyhounds mentioned above were usually fast, or at least good, beginners.
Nonetheless, no matter what happens from here on, nothing can diminish the achievement of trainer Cameron Butcher.
Similar Greyhound Racing News