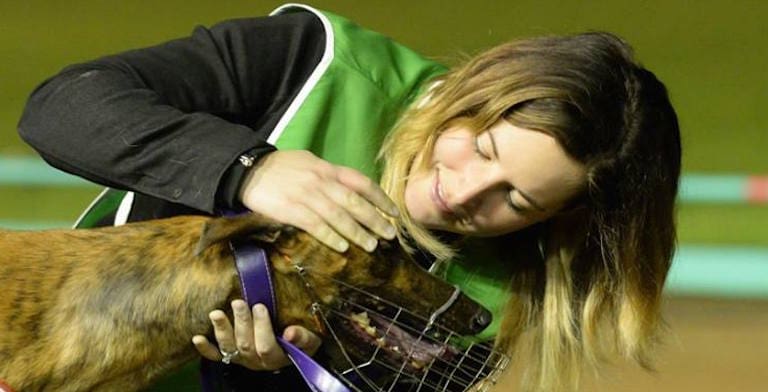 The Shepparton Cup is the main feature of the Shepparton GRC and is run over the 450m journey.
The race holds group 2 status, with winning connections pocketing a lucrative $47,000 winner's cheque.
The most recent edition of the Shepparton Cup was held in July 2017 and was won by powerhouse performer Zinzan Brooke for trainer Brooke Ennis.
Betting on the Group 2 Shepparton Cup
Being the major feature at Shepparton, the Cup always attracts the best chasers from Victoria as well as interstate.
With some stellar fields, there is plenty of betting interest on the series, with our recommended online bookmakers all offering fixed odds betting on the final as soon as the field and box draw is confirmed.
Many bookies also offer markets on the heats and semi-finals, allowing punters to shop around and find the best early odds about their chosen runner(s) throughout the series.
Some bookies also offer all-in markets for the winner of the final once the fields have been released for the heats. This market usually offers some great value, with big prices available if you think you can spot the potential winner early on in the series.

Bookmakers for the Shepparton Cup
History of the Group 2 Shepparton Cup
The Shepparton Cup was first run back in 1973 when taken out by Garner Bin and since that time has grown in stature to become one of the most sought after Country Cup titles.
Some greats of the sport have saluted in the race including Highly Blessed (1990), Head Honcho (1993), Kantarn Bale (2000), Whisky Assassin (2004), El Grand Senor (2011) and Paw Licking (2013).
For many years it was used as an important lead up race for the Group 1 Melbourne Cup, with greyhounds such as Highly Blessed, Master Giant, Kantarn Bale and El Grand Senor completing the lucrative double during their careers.
Since its inception only one greyhound has won the race twice – former talented racer Thorgil Magic which took out back to back editions of the feature in 1985 and 1986.
The Cup was held at the Shepparton Showgrounds track from the early 1970s until 2006 when the Club moved to its new state of the art racing facility located in the heart of the Goulburn Valley.
Group 2 Shepparton Cup – the recent years
Jumping from box eight, the red brindle dog was only fairly into stride but mustered plenty of early pace to rush up towards the front of the pack before colliding with the leader Good Girl Sandy (Magic Sprite x Jebrynah Glory Feb '15).

The incident cost the speed machine considerable ground, however he quickly found his momentum again, railing through to take the lead in the home straight, holding off a late challenge from Bewildering (Black Magic Opal x Outlandish Feb '15) to score in 25.32.

2017 Shepparton Cup results

July 29, 2017. July 29th, 2017. Shepparton. First Prize: $47,000
Zinzan Brooke (KNOCKA NORRIS X ALL FIRED UP) Date of birth: 01/01/2014. Red Brindle DOG
Winning Time: 25.31 Margins:
Owner: Wayne Thomson, Trainer: Brooke Ennis.
Others in finishing order: Bewildering, Lucky Chap, Alpha Lucky, Annabelle's Boy, :Ando's Mac, Good Girl Sandy, Rockin Rico

The race was re-programmed in 2016 which meant that there were two runnings of the feature.

The first was taken out by Gotta Get Back for trainer John McLelland, defeating a quality field to salute by one and a half lengths in 25.10.

The second edition of the race was claimed by Aston Bolero for owner Ray Borda and leading trainer Jason Thompson – prevailing by just half a length on the line.

2016 Shepparton Cup results

1.

February 12, 2016. Shepparton SGRC First Prize $47,000
Winner: Gotta Get Back (Vee Man Vane x Majestic Land) Born Dec 2012 Black and White Dog
Owner: P Dooner and D Morden, Trainer: John McLelland.
Time: 25.10. Mrgins 1.50 x 1.75.
Others in finishing order: Bearville Azza, Big Ticket, Dalgetty, Proven Kodiak, Dewana Result, Legend, Aston Bolero.

2.

September 24, 2016. Shepparton SGRC First Prize $47,000
Winner: Aston Bolero (Fabregas x Aston Dream) Born: Oct 2013 black and white dog
Owner: Raymond Borda. Trainer: Jason Thompson.
Time: 25.06. Margins: 0.5 x Nose.
Others in finishing order: American Monster, Shima Song, Bears Gold, Marley Bale, Marbo's Magic, Sleek Master, Invictus Rapid.

The son of Collision and Alotta Mojo won the 2015 Group 2 Shepparton Gold Cup in devastating fashion to take his career earnings past the $100,000 mark.

It was a very similar performance to his heat win after spearing to the front early and giving the chasing brigade no chance from there.
Dyna Villa started the race as the clear second favourite but seemed to stumble soon after box rise and was unable to get into the race from there, finishing a clear last.

Both Allen Malik and Tiggerlong Amigo found the line strongly to fill the minor placing, however neither were ever winning possibilities.

2015 Shepparton Cup results

February 8, 2015. Shepparton SGRC First Prize $45,000
Winner: Azza Azza Azza (Collision x Alotta Mojo) Born: May 2012 Brindle Dog
Owner: Whittington Sprod Synd. Trainer: Wayne Vassallo.
Time: 25.12. Margins: 4.75 x Nose.
Others in finishing order: Allen Malik, Tiggerlong Amigo, Armed and Ready, Midnight Flynn, Ronray Spirit, Sisco Rage, Dyna Villa.
Shepparton Cup honour roll
Shepparton Cup Past Winners
1973
Garner Bin
1974
Morning Glow
1975
Tivashley
1976
Marungi Boy
1977
Near History
1978
Relle Louise
1979
Mannerism
1980
Proven Bold
1981
First Question
1982
Golden Impulse
1983
Blue Echo
1984
Blitzem Bill
1985
Thorgil Magic
1986
Thorgil Magic
1987
Nan's Pal
1988
Fantasy Boy
1989
Pure Talent
1990
Highly Blessed
1991
Bomber Gleeson
1992
Master Giant
1993
Head Honcho
1994
Thorgil Tex
1995
Hanson Diamond
1996
Bahama Image
1997
World Title
1998
Ashigga
1999
Star Of Mine
2000
Kantarn Bale
2001
Salong Bale
2002
Knockabout Wok
2003
Puzzle Prize
2004
Whisky Assassin
2005
Not Held
2006
Slater
2007
Overflow Breaker
2008
Hanify's Impact
2009
Gardam Prince
2010
Din's Son
2011
El Grand Senor
2012
Blackall's Boss
2013
Paw Licking
2014
Not Held
2015
Azza Azza Azza
2016 (February)
Gotta Get Back
2016 (September)
Aston Bolero
2017
Zinzan Brooke