Western Australia greyhound racing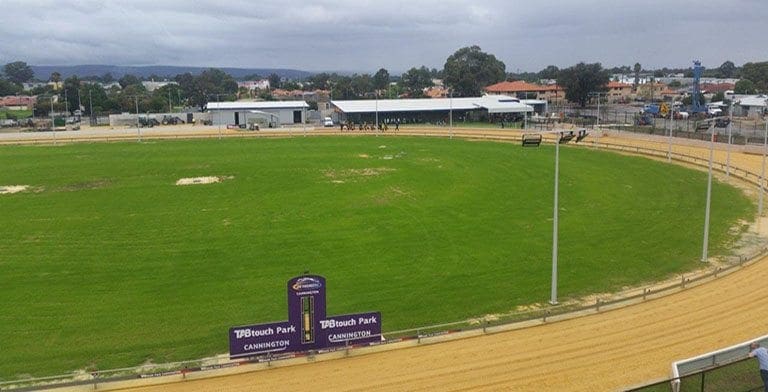 GREYHOUND racing is a prominent industry in Western Australia which was established in the early 1970s.
The sport is regulated by Racing and Wagering Western Australia (RWWA) which commenced its operations on August 1, 2003, after the promulgation of the Racing and Wagering Western Australia Act.
RWWA is responsible for governing the industry and is also in charge of off-course TAB wagering, with the Hon Colin Holt MLC, the Minister for Racing and Gaming, the minister responsible for overseeing the controlling body.
Meanwhile, the commercial aspect of the industry is run by the Western Australian Greyhound Racing Association (WAGRA) which manages racing at the three venues within the state – Cannington, Mandurah and Northam.

WA Greyhound Betting
History of greyhound racing in Western Australia
The first greyhounds reached WA in 1971 and were being held for auction by local vendors. The demand for greyhound racing was growing, with trials being conducted at venues surrounding Perth.
In 1972 the Greyhound Racing Control Act was passed through the state parliament which allowed for the formation of the WA Greyhound Racing Control Board.
The Canning Greyhound Racing Association was announced as the successful applicant for the first greyhound racing licence on September 18, 1973, with the site for racing announced as the Canning Agricultural Showgrounds.
Work on the new greyhound racing site commenced the following year, with the first meeting attracting more than 15,000 when held on December 12, 1974. The eight race card generated more than $60,000 in TAB turnover whilst the on-course tote took in almost $120,000.
Greyhound racing was introduced in Mandurah in 1979.
The Western Australian Greyhound Association was established in 1981 under the WA Greyhound Racing Association Act, with the assets and liabilities of the Canning Greyhound Racing Association absorbed by WAGRA.
The WAGRA Act of 1981 also saw the absorption of the Mandurah Greyhound Racing Association.
In 1995/1996 the WAGRA committee approved another greyhound track at Northam which was initially planned for the purposes of trialling and training. The first race meeting was held at Northam on September 30, 1996.
Since greyhound racing was introduced to WA during the 1970s, the sport has undergone numerous changes such as the conversion from grass to sand on all tracks, the change to an above ground lure system, the major redevelopment of Mandurah to include a 599m one-turn track, and a brand new track at Cannington which was opened in early 2016.
All up, six meetings are held in WA each week.

Greyhound tracks in Western Australia
Cannington: Cannington is the home of city-class racing in WA. The current Cannington track was opened in early 2016 and is based on land adjacent to the previous Cannington greyhound track which was home to greyhound racing for more than four decades. The new track hosts racing on Monday, Wednesday and Saturday nights – with Saturday night being the main metropolitan meeting of the week.
Mandurah: Mandurah is the only one-turn track in the West and is located approximately an hour south of Perth. Greyhound racing is conducted at Mandurah on Tuesdays, Thursdays and Fridays, with racing held over 302m, 405m, 490m and 647m.
Northam: Racing is held at Northam on Monday afternoons from approximately 1pm from April through to October.
Feature racing in Western Australia
There are a number of feature races in the west each year, the main ones have been summarised below:
Group 1 Galaxy (715m) – Cannington
Group 1 Perth Cup (520m) – Cannington
Group 3 Mandurah Birthday Cup (405m) – Mandurah
Group 3 Perth Cup Consolation (520m) – Cannington
Group 3 Mandurah Cup (490m) – Mandurah
Best WA greyhounds
Miata:
The most recent star of greyhound racing. Miata was a fawn bitch which immediately made an impact on the track, setting new track records at her third, fourth and fifth starts. From 2011 through to mid-2013, Miata won five group 1 races, one group 2 and one group 3 – a feat which saw her retire as the highest ever prize money earner with $715,508 to her name. The daughter of Bombastic Shiraz and Winsome Bluebird was twice announced as National Greyhound of the Year – an honour which had never been achieved before.
Sandi's Me Mum:
The brindle bitch faced the starter on 92 occasions from which she saluted on 62 occasions with a further 18 minor placings and $273,000 in prize money earnings. Whelped in the late 1980s, Sandi's Me Mum was bred, reared and trained by the late Gerry O'Keefe who owned her with his partner Betty Lorrimar. Amazingly, Sandi's Me Mum came from a litter which accumulated 196 wins. Sandi's Me Mum, known by her kennel name 'Cuddles' is the only greyhound to have ever won two National Sprint Championships, winning successive titles at Cannington in 1989 and Sandown Park in 1990.
Afro Freeway:
A winner of 27 of his 39 starts, Afro Freeway only missed a place twice throughout his career – a feat which earned him the title of 'The Invincible'. Owned and trained by Keith Harding, Afro Freeway still holds the state record for the most consecutive wins at 14, with all of those victories being over 638m and 740m at Cannington and Mandurah. Afro Freeway set four track records at Cannington and Mandurah over 638m along with two at Cannington and one at Mandurah over the 740m trip. Afro Freeway was awarded 1983 WA Greyhound of the Year – a remarkable feat considering his career was plagued with injury including when he was attacked by two domestic dogs on a Fremantle Beach.
Mister Toewyte:
One of the first champions of racing in the state, Mister Toewyte was by Real Blast out of Benny's Delight and was the last from his litter to be sold when purchased by Vince Davey. When Davey took the black puppy home, his wife did not want it and launched a campaign to sell the youngster, with 20 buyers turning down the greyhound pup. Eventually, the Daveys decided to keep the pup – a move which paid off handsomely with Mister Toewyte winning 19 races and more than $37,000 in earnings.
Where to bet on WA greyhound races
All of our recommended online bookmakers offer fixed odds and pari-mutuel betting on all TAB covered greyhound events in Western Australia.
Most bookies release fixed odds approximately 20 minutes prior to the jump, which gives punters plenty of time to compare odds from different websites.
You don't have to be worried about security when betting with our bookies, with Australian Racing Greyhound only recommending the safest and most reputable online bookmakers to ensure your financial and personal details are always protected.
Additionally, all of our recommended online bookmakers feature a lucrative welcome bonus to help you get started on your winning way.