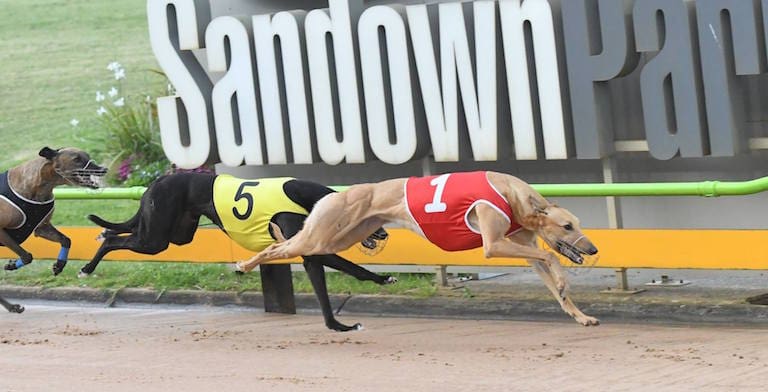 THE Bold Trease is a group 1 greyhound race which is run at Sandown Park over the testing 715m journey.
The race is held on the same night as the world's richest greyhound race, the Group 1 Melbourne Cup, and offers a lucrative prize itself – with winning connections pocketing a sizeable $100,000.
The most recent edition of the Bold Trease was won by Fanta Bale for leading Victorian conditioner Rob Britton.
Betting on the Group 1 Bold Trease
Being a group 1 race, only the best greyhounds tackle the Bold Trease series – which in itself generates plenty of betting interest.
However, because there isn't generally a great deal of depth amongst the Australian staying ranks, it is common for the series, including pre-post betting, to be dominated by just a couple of greyhounds – in comparison to sprint races where dozens are given a genuine chance of claiming the top prize.
This doesn't mean there isn't any value if you like to back roughies. The beauty of greyhound racing is it is exciting and full of surprises – there is no such thing as a certainly.
Dogs aren't like racehorses – they don't have a jockey on their backs to steer them through fields from behind and like all animals, sometimes they have a mind of their own and don't bring their A-game.

Bold Trease Betting
Group 1 Bold Trease – race history
The Bold Trease is one of the most prestigious staying races on the Australian greyhound racing calendar. The race is named in honour of former champion Bold Trease (Roy Trease x Irish Temptress Mar '84) which won an unprecedented four Sandown Cups in 1986, 1987, 1988 and 1989.
Bold Trease is often regarded as the greatest stayer of all time and was immortalised in the Australian Greyhound Racing Association Hall of Fame in 2002.
Interestingly, despite most greyhounds being black, fawn greyhounds have a good record in the Bold Trease – fitting considering Bold Trease was also a fawn flash.
The race, originally known as the Carnival Cup, was inaugurated in 1999 when won by Chain Of Lagoons (Head Honcho x Go Duchess May '97) which – fittingly – a blue fawn greyhound. Collecting $40,000 for the win, Chain Of Lagoons defeated Tamingo Magic (Acacia Ablaze x Cry For Me Nov '97) by five lengths in 42.54 over the 715m distance.
A white and fawn greyhound won the race in 2001 when Sara Magee (Ginger Magee x Kellcoll Feb '99) clocked a moderate 42.87 for trainer A. DeDonato when causing a boilover at $44.20.
The following year, the Carnival Cup went to Naughty Nita (Worth Reward x Ready To Rain May '00) for trainer Peter Giles. Run at The Meadows over 725m that year, the red fawn bitch was well drawn in box two and was dominant despite being a double figure chance, winning by two lengths in 42.83.
The honour roll also boasts the name Fallen Zorro (Lilli Pilli Lad x Chinatown Babe Dec '05), another blue fawn greyhound, which made the race her own in 2008.
A litter sister to champion Chinatown Lad, Fallen Zorro was the 2008 Sandown Greyhound of the Year and has gone on to produce some quality offspring including dual group 1 winner Cheetah Zorro (Bombastic Shiraz x Fallen Zorro Aug '10) which emulated her mother's feat when winning the Bold Trease in 2013.
Three years later, another fawn greyhound got the job done in the Bold Trease when Zipping Malfoy (Malfoy x Or Catra) got the job done in 41.79. Trained by Anthony Azzopardi, the Terry Kingcott-owned greyhound won by nearly four lengths on the line, collecting $75,000 for his win.
One of the best greyhounds of the modern era was Miata (Bombastic Shiraz x Winsome Bluebird Oct '09) which won the race in 2012. The red fawn bitch, trained by WA mentor Paul Stuart, retired as the highest prize money earner at the time, having banked a massive $715,508 throughout her career.
Group 1 Bold Trease – the recent years
Group 1 Bold Trease – honour roll
| | |
| --- | --- |
| 1999 | Chain Of Lagoons |
| 2000 | Mr Boswell |
| 2001 | Sara Magee |
| 2002 | Naughty Nita |
| 2003 | Proven Adonis |
| 2004 | Arvo's Athena |
| 2005 | Texas Gold |
| 2006 | Sargent Major |
| 2007 | Cash Express |
| 2008 | Fallen Zorro |
| 2009 | Drill' Em |
| 2010 | So Seductive |
| 2011 | Zipping Malfoy |
| 2012 | Miata |
| 2013 | Cheetah Zorro |
| 2014 | Sweet It Is |
| 2015 | Bourbski Fever |
| 2016 | It's A Bird |
| 2017 | Fanta Bale |