Beast ready to unleash in Group 2 Launching Pad heats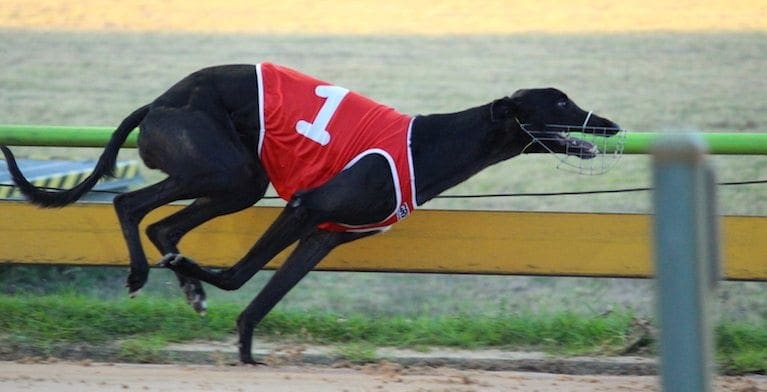 PETER Lagogiane is hopeful his decision to target the lucrative $150,000 Group 2 Launching Pad at Sandown Park pays off when he heads south along the Hume Highway with a trio of runners this week.
Spear-heading his chances is the exciting Beast Unleashed (Barcia Bale x Little Miss Hap Apr '16) which heads into the series having strung together back to back wins over the track and trip.
After making an unsuccessful debut at Sandown on February 25, Lagogiane pushed on with his black speed machine and his faith has been rewarded, with Beast Unleashed scoring in 29.43 and 29.44 at his two subsequent starts.
His natural ability was enough for Lagogiane to purchase the greyhound with one of his owners, Dawn Garrett, in order to chase group glory.
"He has shown ability since day one," Lagogiane told Australian Racing Greyhound.
"After his first win at Sandown Park I think his original owner started to get itchy feet – but we didn't want to lose the dog.
"We pre-trained him so we knew how much ability he had – it would have been heartbreaking to lose him after doing all the work.
"Thankfully Dawn was willing to purchase him and we also bought a small share – hopefully he can go on to make it a good decision now."
Beast Unleashed has faced the starter five times, registering four wins for Lagogiane and his wife Jodie. He will be giving away experience to some of the other runners in the series, open to dogs with 1-6 wins from less than 30 starts, however Lagogiane says it has always been his main aim.
"I ear-marked this series after his second win at Gosford, but he strained his hock ligaments which set us back. Even then this was always his goal.
"We have done a lot of travelling with him to trial him for this series, so he has been given every chance.
"I predicted he'd run about 29.40 which he did – and I think he is only going to get better. The ability he has shown me here in trials is outstanding.
"The other great thing about him is he is a great chaser. He puts in every start – that's the reason we bought him."

Beast Unleashed will start from box seven in the fourth heat of the Launching Pad at Sandown Park this Thursday night. He will take on a talented line-up including WA sprinter Waterloo Monelli (Fernando Bale x Bingle Monelli Nov '15), Group 3 The Great Chase winner Despacito (Black Magic Opal x El Brooklyn Jan '16) and promising youngster Uncle Donuts (Kinloch Brae x Cop A Sling May '16).
"I don't think it would matter what box he drew," Lagogiane said.
"He has shown he can come out and break 5.00 seconds to the first mark – if he can reproduce that this week he will be virtually un-leadable.
"He is running group dog times after five starts – hopefully he can do everything right this week.
"We are pretty excited about him."
Lagogiane will also line-up with Zipping Kelly (My Bro Fabio x Scarlett Girl Feb '16) and Set To Storm (Barcia Bale x Set To Shine Jul '15).
The latter is one of the most experienced chasers in the series, having won six of her 18 starts and having qualified for both the Group 3 Magic Maiden and the Group 1 Peter Mosman Classic throughout her brief career.
Set To Storm has only had one start since last October, finishing down the track at Wentworth Park in January.
"She has been travelling up and down with Beast and she has been trialling well," Lagogiane said.
"She is proven at group level and I am hoping that experience benefits her – she is a mature race dog.
"She has been on the sidelines with a bad injury – but with thanks to Jason Mackay she has made it back to the track and while she has probably lost a couple of lengths I think she was that good she could probably afford to and still be good enough to be competitive."
The Launching Pad series has attracted some gun chasers in 2018. My Redeemer (Fernando Bale x Where's Demonica Mar '16) – a little brother to Topgun winner Up Hill Jill – looks a threat in heat two.
Zipping Buck (Fernando Bale x Zipping Tess Sep '15) looks capable of improvement in race seven with three Victorian runs under his belt for Anthony Azzopardi, Hobart Maiden Thousand winner Hunkapapa (Bella Infrared x Paris Montana Jan '16) appears well positioned in box two in the ninth event, while there is plenty of hype surrounding Queensland contender Bago Bye Bye (Barcia Bale x Keira's Charm Feb '16) for Darren Russell.
Eight heats of the Group 2 Launching Pad series will be run at Sandown Park this Thursday. The first qualifier is race two which is set to jump at 7.25pm AEDT.
Similar Greyhound Racing News