Print The Money primed for Mt Gambier Cup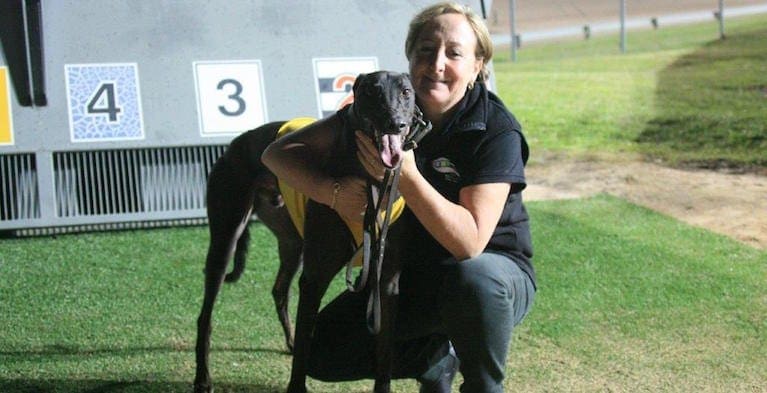 PRINT The Money (Red Lesta x Rellim Lilly Jun '15) will be looking to record a home-town victory when he heads to the south-east corner of SA this Sunday to contest the Listed Mt Gambier Cup (512m).
Trained in Victoria by Michelle Mallia-Magri, Print The Money is owned by the Mt Gambier-based Southern Bar Boys Syndicate, and qualified for the $15,000 to the winner final with an impressive win in his heat on the weekend.
Jumping from box one, Print The Money was only fairly away, but hooked to the outside around the first turn and circled the leaders to assume the front entering the back straight. Once on the bunny it was a case of times and margins, with Print The Money stretching out to win by six lengths in a fast 29.68.
"We were very proud of him," Mallia-Magri told Australian Racing Greyhound.
"We never had the chance to trial him, but we were expecting him to go well. I did get a bit concerned after our first two went around, they both went down on their noses [at the start], and he stumbled a bit too – but he recovered quickly.
"He is a very honest dog and he loves doing what he does best. We took him to Hobart for the Thousand and he won first up there sight unseen – so you can't really fault him."
Print The Money, which finished second in December's Group 1 Hobart Thousand final, has faced the started 46 times for 15 wins, nine seconds and 11 thirds, with his prize money in excess of $57,000.
He moves into box two this week, taking on a quality field including new track record holder Lektra Stomp (Walk Hard x Lektra Angie Jul '15) which stopped the clock in 29.45 on Sunday afternoon.
"I'd prefer him out wide, but box two isn't too bad," Mallia-Magri said.
"Obviously it's going to be a hard race – one of the other heats was won in very fast time – but he is a pretty smart dog himself.

"He had a lot going against him on Sunday, it was his first look, he stumbled and the sand is very soft at Mt Gambier – it's also a track with a unique shape so he'll definitely be better for the run.
"Some of the locals have said they can find four to five lengths off his their first run at the track – so if he can do that he is going to be in with a big chance."
Mallia-Magri explained it would be a particularly special win for the owners who are over the moon to have made the final with their home-bred chaser.
"He is pretty special to them as well because they raced his sire Red Lesta and one of the boys also owned his mother," she explained.
"Red Lesta was no champion and the mother was nothing flash – but they decided to breed them together and they ended up with a nice litter.
"It just goes to show you don't need to breed a champion to a champion to get a good dog.
"They reared the pups beautiful and they have done everything right by this bloke, so they really do deserve to win a nice race and so does the dog.
"To win the Mt Gambier Cup would be amazing – they are a great bunch of guys and it would be a massive thrill for them to see him win.
"They are stoked to have made the final, they were in tears after his heat, so it would be lovely to get him up on the podium."
The Listed Mt Gambier Cup will be run this Sunday.
2018 Listed Mt Gambier Cup box draw
1 – Xtreme Caution
2 – Print The Money
3 – Paraphenalia
4 – Verev
5 – Lektra Stomp
6 – Blazing Moment
7 – Megallas Fairy
8 – Galactic Panther
Reserves
9 – Swift Limes
10 – Xtreme Notice
Similar Greyhound Racing News