Better Call Caul: Shocks continue in English Derby heats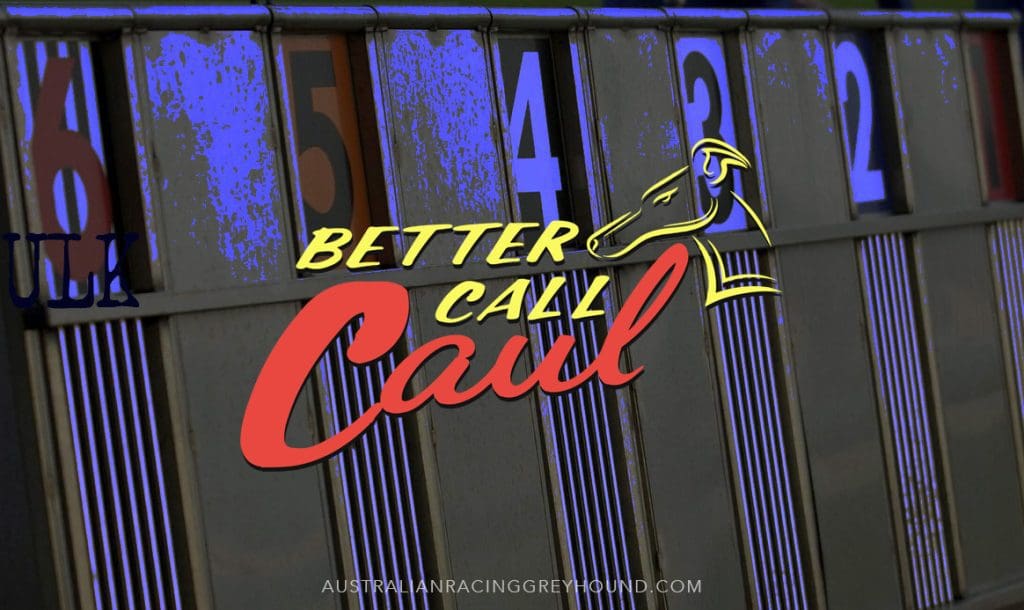 It's safe to say that getting to grips with the Towcester track from a punting perspective is a skill that eludes most. That proved the case yet again last weekend as we seen a host of strongly fancied runners not only encounter defeat, but also suffer elimination from the famous competition.
Personally, I still can't get the track right, some of the most consistent trappers in the sport can miss the start by yards. On the other hand, dogs with proven ability over much further can lead and get picked up! Go figure.
We lost some of the biggest names in the competition last weekend, including original antepost favorite Part Blake. He was slowly away in heat 10 on Saturday night and departed the competition along with his star kennel mate Knight Tornado. Deanridge Skippy and Skywalker Barry went off $2.37 favorites for heats 11 and 12 respectively and both finished last. Wide Open in heat 13 was next up at $2.62, she too finished at the tail of the field. Hoodoo Brown was next to face elimination, the $2.87 chance came home in fifth. Sporting Chile, Scarthy Yank were others to depart on Saturday, while on Friday we saw the last of Cushie Concorde, All About Ted, Deadly Showtime, Bubbly Apache and Ballymac Leon in this year's competition.
We are now down to our last 48. All eight heats will take place this Saturday night. Let's try and solve the mystery that is Towcester Racetrack.
---
2022 English Derby heats – Saturday, June 4
Derby Winning Traps (Round 1 and 2 combined)
Trap 1. 10 wins
Trap 2. 11 wins
Trap 3. 9 wins
Trap 4. 8 wins
Trap 5. 8 wins
Trap 6. 2 wins
(m) Middle seed
(w) Wide seed
Heat 1
Swift Iconic
Deelish Frankie
Kilkenny Santy
Kildare
Bockos Vieira (m)
Coppice Brewer (w)
On first glance it may look as if Kildare has a tricky enough draw in box four; however, he has much more early pace than Kilkenny Santy in three and Deelish Frankie in two. Peter Cronin's youngster is still relatively lightly raced and looks to be improving as the competition progresses. Bokos Vieira was a good winner in round one but missed the kick from box six last week. He should break better from five and with a possibility of Kildare moving inwards on the run to the corner he could get a dream run in the early yards. Like Kildare, Bockos Vieira is lightly raced and may yet improve further. Swift Iconic should not be too far away with an ideal draw in red.
Selection: Bockos Vieira
Heat 2
Ballymac Fairone
Romeo On Tilt
Ballymac Belvult
Romeo De Niro
Droopys Goodtime (m)
Priceless Jet (w)
Last year's beaten finalist Ballymac Fairone ran a blinder in defeat behind the impressive Singalong Sally and he has the perfect draw in one this Saturday. Liam Dowling's son of Ballymac Matt (Irish Derby winner in 2015) seems to run the Towcester venue extremely well and that is a huge asset to have around here. His form figures at the track read 31121422. Another dog who runs Towcester well is former track record holder Priceless Jet. It was a bit of a rush to get him here in time but speaking to connections at Shelbourne Park on Saturday night they expect him to improve with every round as his fitness progresses. Last weekend's appearance was only his second race since March, and you can see why he is expected to improve. Romeo On Tilt was a good winner last week but I find it hard to see him leading up Ballymac Fairone.
Selection: Ballymac Fairone
Heat 3
Farneys Maestro
Makeit For Waz
Romeo Magico
Jaytee Wexford
Signet Goofy (m)
Faughan Rebel (w)
Romeo Magico is expected to go off around about even money in heat three, but you should beware of Jaytee Wexford in four. Although Romeo Magico is the better of the two its worth noting that Jaytee Wexford can take a mighty step to his left at box rise. This might not be evident to many yet because Wexford has run from trap one on both occasions in the competition thus far. Cast your mind back to Shelbourne Park on May 6th when he ran from box four, on that occasion he broke well but immediately went for the rail. The race comments for the three runners on his inside that night read, baulked run-up, bumped-run-up and baulked run-up. They finished 4th 5th and 6th. Romeo Magico will need to be on his toes early. Signet Goofy is unbeaten in the competition and both his wins have come from box five where he finds himself again on Saturday. It may be worth taking a chance that there could be some trouble on the run-up.
Selection: Signet Goofy
Heat 4
Headford Mike
Singalong Sally
Signet Ace
Glengar Scholar
Derrinasafa Boss (m)
Thorn Falcon (w)
Defending champion Thorn Falcon will be popular here with the locals. He has yet to really hit the lids like we know he can, but he has displayed huge pace and power to qualify comfortably in both rounds to date. We have seen him fly from boxes on plenty of occasions its just a case of when. If he does produce one of his flying starts, he will be hard to contain. Last years Irish Derby runner-up Singalong Sally was an impressive all the way winner last week and should have no issues from box two. Signet Ace holds the key to the race, a dog blessed with serious early pace he will try to get loose early and hope for the others in behind to encounter some traffic. I just get the feeling Thorn Falcon is due one of his better breaks, if that is the case, he can pick up the front runners.
Selection: Thorn Falcon
Heat 5
Make Noise
Barefoot Supremo
Spinosaurus
Cape Cloud
Mickys Barrett (m)
Ninja Kerry (w)
An intriguing heat. Mickys Barrett is unbeaten in the competition to date and has displayed huge courage and power to do so, you sense this is his toughest assignment to date and he may need to show more. Barefoot Supremo has really taken to this place, he powered home in the first round to nab Bubbly Apache late and ran well behind kennel mate Jaytee Wexford last week. He will need to avoid Spinosaurus in three who tends to move for the rail. Cape Cloud has the competitions fastest sectional to date and will try to make all. The lead is all important in this heat, so I'll side with Cape Cloud to make all.
Selection: Cape Cloud
Heat 6
Droopys Cavalry
Signet Denver
Innfield Trojan
Savana Beau
Milton Noah (m)
Lautaro (m)
Lautaro is currently odds on to win heat six but its worth noting that we have only seen two dogs win from trap six in the entire competition (48 races). He is the current track record holder and if the truth be told he has drawn one of the easier heats. Signet Denver looks the main danger. He has won seven from his last seven when running from box two and is unbeaten in his last five starts. The last dog to beat him in a trial was, you guessed it, Lautaro.
Selection: Lautaro
Heat 7
Aussie Captain
Bockos Belly
Narcos The Great
Ballinabola Ed (m)
Blackrose Tadhg (m)
Current Derby favourite Ballinabola Ed will be all the rage here, Pat Buckley's youngster has been incredible in the competition thus far. He is highly likely to be the shortest favourite of the night and its easy to see why. He hasn't made a flying exit in the event so far, but his excellent early speed has carried him to the front before the first bend in both rounds. Not only should he take this, but if the track is going well on the night, he could give the track record a real shake. Last year's semi-finalist Bockos Belly and Ed's own kennel companion Bobsleigh Dream should follow him home.
Selection: Ballinabola Ed
Heat 8
Global Vision
Hello Hammond
Antigua Cuddles
Burnchurch Mick
Coppice Fox (m)
Trumps Benefit (m)
Hello Hammond took a while to get accustomed to the unique Towcester venue but judging by his last two runs the penny has finally dropped. He put in an eye-catching display in the semi-finals of the Shelbourne Open 600 prior to this event and if he can keep trapping like he has been he will be hard to keep out of the frame going forward. Antigua Cuddles and Coppice Fox will look to make early bids for glory and do not rule out Burnchurch Mick who is very capable on his day.
Selection: Hello Hammond
---
Irish Oaks continues at Shelbourne
The Sporting Press continues its sponsorship of the Irish Oaks, and this year marks the 31st year of their sponsorship. Defending Champion Susie Sapphire went out in round one where Maries Wedding was the star of the show winning in a stunning 27:99, the fastest time of the year around Shelbourne Park. Last weekend seen Raha Mofo as the fastest second round heat winner when she stopped the clock in 28:15. Scooby Duchess and Droopys Gloss both won heats impressively in 28:28 as to did Droopys Request in 28:23. Ballymac Whispa and Cloheen Lass served up a thriller and at the line they could not be separated in 28:18. The four quarter finals are up for decision this Saturday night.
---
National Produce Stakes Final at Clonmel
The hottest property in Irish greyhound racing at the moment is arguably Swords Rex. In his glittering career to date the Graham Holland trained youngster has raced fifteen times winning ten and placing in the other five. He has already accumulated well over Au$110,000 in prize money and will be a warm favourite to add another Au$25,000 to that tally at Clonmel on Sunday evening. His kennel companion Newinn Homer will be his chief rival but if Rex can come away on terms, he should prove a cut above his rivals.
---
Best bets for Towcester on Saturday, June 4
Greyhound
Bockos Vieira (18:35 GMT)
*Odds correct at time of publication
Greyhound
Ballinabola Ed (20:26 GMT)
*Odds correct at time of publication